With eight weeks in the books, most fantasy owners are probably just about fed up with their high draft picks who still aren't producing. It may seem as though they are already lost causes, but there is still an entire half of the season left to play, and it's possible that things will start to turn around in Week 9.
As easy as it would be, giving up on an early fantasy selection at this juncture would be a bad idea. These players were taken in the first few rounds for a reason, and it's because they have a history of fantasy success. It isn't unheard of for a player to be a fantasy bust, but more often than not, the cream ultimately rises to the top.
Here are three struggling stars who will make up for their slow starts by breaking out with massive performances in Week 9.
Few players in the NFL have been talked about more than Washington Redskins quarterback Robert Griffin III in recent weeks. That was the case last season as well, but much of the discussion focused on his incredible play as he led the Redskins to the playoffs as a rookie.
RG3 has been unable to capitalize on that thus far, though, as Washington is struggling as a team. In addition, he has failed to live up to the lofty standards that he set for himself in 2012.
It isn't particularly surprising that he has experienced a drop-off due to the fact that he suffered a significant knee injury in the playoffs last season, but that doesn't make his poor showings any easier on fantasy owners.
He opened the season with three 300-yard games, but he wasn't really playing well. Following his bye week, though, he looked much better and started to run the ball with more confidence. That came to a screeching halt against the Denver Broncos last week, as Griffin struggled and seemingly re-injured his knee, but head coach Mike Shanahan told 106.7 The Fan that RG3 will be fine, according to Pro Football Talk.
Shanahan: Robert Griffin III could have returned to game http://t.co/xSuKpN5LUJ

— ProFootballTalk (@ProFootballTalk) October 28, 2013
If Griffin is ever going to turn things around, it will happen this week, when the Redskins host the surprising San Diego Chargers. The Bolts are among the worst teams in the league against the pass, surrendering 273 yards per game. They have only given up 10 touchdowns through the air, but they only have three interceptions, so Griffin's ceiling is high in this game.
With the Redskins desperately needing a win, look for RG3 to finally come through with a vintage performance.
Week 9 Fantasy Projection: 280 passing yards, two passing touchdowns, 65 rushing yards and one rushing touchdown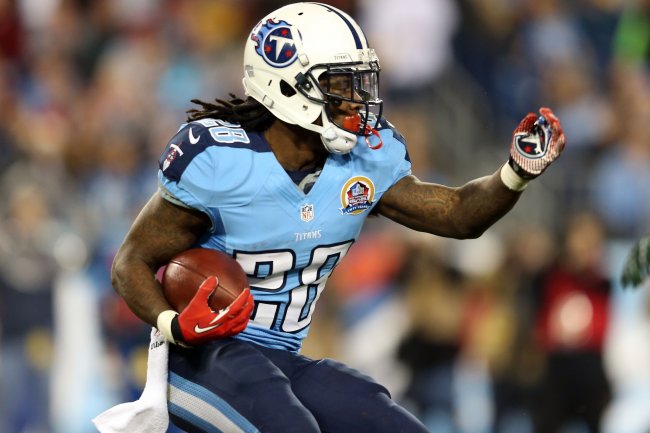 Andy Lyons/Getty Images
The Tennessee Titans have fared surprisingly well this season, but they have done it without stellar play from star running back Chris Johnson. He has struggled to regain the form that allowed him to rush for more than 2,000 yards a few years ago.
Johnson will face his former head coach Jeff Fisher when the Titans take on the St. Louis Rams this week. Fisher is fully aware that Johnson still has what it takes to come through with a monster game, according to the Rams' official Twitter account.
"His numbers are down, but the skill set is not. He's still got the vision. He's still got the explosiveness." – Fisher on Chris Johnson

— St. Louis Rams (@STLouisRams) October 31, 2013
There is some cause for concern when it comes to Johnson, as he has yet to break 100 rushing yards in a game. He does have two total touchdowns, but he hasn't scored one on the ground, so it's safe to say that he has been a major disappointment. Also, after averaging more than 20 carries per game in Tennessee's first three contests this season, he hasn't had more than 15 carries in a game since. He also hasn't broken 39 yards rushing in a game since then, so his usage is disturbing.
With that said, the Rams are allowing more than 116 rushing yards per game, and they have given up seven rushing scores as well. The Titans are a much more complete team when Johnson is running well, and one has to believe that Tennessee will re-establish the run coming off the bye week.
If he is unable to get the job done on Sunday, fantasy owners should be worried about him moving forward.
Week 9 Fantasy Projection: 135 rushing yards, two receptions for 20 yards and two touchdowns
Carolina Panthers wide receiver Steve Smith has been one of the NFL's most consistent pass-catchers over the past decade, but he has been unable to settle in this year.
Quarterback Cam Newton started the season off poorly as well, but he has heated up in recent weeks. That hasn't led to big numbers for Smith, but Newton is the NFL's most efficient passer over the past three weeks, according to the Panthers' Twitter account. As a result, Smith is bound to break out.
#Panthers QB Cam Newton has an NFL-best passer rating of 130.3 over the past three weeks

— Panthers PR Dept. (@PanthersPR) October 28, 2013
Which struggling star will have the best fantasy performance in Week 9?
Which struggling star will have the best fantasy performance in Week 9?
Robert Griffin III

Chris Johnson

Steve Smith
While he hasn't really been shut down in any game this season, he has yet to turn in a huge performance. He hasn't broken six catches or 69 receiving yards in any game, and he has just three touchdowns on the year as well. Newton has spread the ball around to the likes of Ted Ginn, Brandon LaFell, Greg Olsen and others, which has limited Smith's fantasy production.
Smith is Newton's best and most trusted receiver, though, which means that he is bound to dominate at some point. The Atlanta Falcons have struggled against the pass this season, giving up 250 passing yards per game and allowing 16 total passing touchdowns. That bodes well for Smith since he is still Newton's main option in the red zone. Also, the Falcons are susceptible to big plays, so look for Smith to make some down the field.
Week 9 Fantasy Projection: Seven receptions for 128 yards and two touchdowns
Follow @MikeChiari on Twitter