Week 9 will likely feature a number of lopsided games and tough matchups, which means that there are going to be a number of players who will be fantasy duds.
Players like Robert Griffin III and Arian Foster disappointed a number of fantasy owners last week, putting up a combined four points. It's always tempting to start players of their caliber, but sometimes you just have to look at the matchup and decide to go in a different direction.
Let's take a look at a few players to bench for Week 9 based off some tough matchups along with a breakdown of why they shouldn't be starting on your fantasy team.
Note: All information regarding points scored is based off ESPN's standard scoring leagues.
Tom Brady, QB, New England Patriots
This obviously sounds like heresy to any New England Patriots fan, but based off how he's played over the past few weeks, it's best to bench Tom Brady in Week 9.
Over the past two games, Brady has put up just 13 points. Over the past four games, he's thrown just two touchdowns and four interceptions. He's on pace to throw just 18 touchdowns and 12 interceptions this season, which would be the worst season of his career.
Things won't get much better this week, as the Patriots will be taking on the Pittsburgh Steelers. The Steelers have had their struggles offensively, but they've been solid against the pass on defense. They're currently allowing just 181 passing yards per game and five passing touchdowns while holding opponents to a 78.9 passer rating.
Fantasy owners will want to start Brady based off his reputation, but there are a number of other quarterbacks who aren't as popular but will put up more points this week. Avoid Brady in this matchup, and find someone else to start off the waiver wire if you don't trust your backup.
Ray Rice, RB, Baltimore Ravens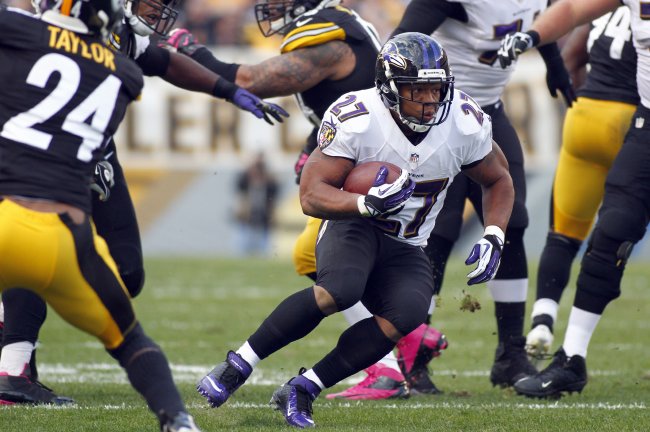 Justin K. Aller/Getty Images
Something is seriously wrong with the Baltimore Ravens and their running game in 2013, which is very bad news for Ray Rice and fantasy owners alike.
Rice has only had two games with more than six points all season, and he's run for just 79 yards over the past two games despite getting 29 carries.
The problem isn't all on Rice. Football Outsiders has the Ravens as the worst run-blocking offensive line in the NFL. Things are so bad that the Ravens rank last in the NFL with just 2.8 yards per carry.
It won't get any easier for Rice against the Cleveland Browns. They're holding opponents to just 103.6 rushing yards per game, averaging 3.7 yards per carry. Keep in mind that the Browns have also faced running backs like Eddie Lacy, Reggie Bush, Adrian Peterson and Jamaal Charles, so those numbers are a bit more impressive.
I don't think Rice can get anything done this year behind that offensive line, which means that it's going to be a rough year for fantasy owners who drafted him early and are still trying to stick with him. It's time to bench him and look for another option, at least for this week.
Alshon Jeffery, WR, Chicago Bears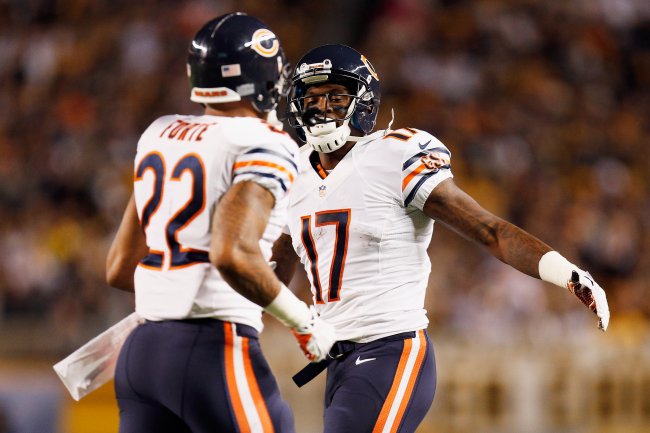 Gregory Shamus/Getty Images
Although we've seen some huge outings from Alshon Jeffery this year, it might not be the best idea to start him in Week 9 against the Green Bay Packers.
Jeffery scored a combined 47 points in two games against the Detroit Lions and New Orleans Saints, but he's had 14 total in the past two games. To make matters worse, Jeffery will have Josh McCown throwing to him on Monday night instead of Jay Cutler.
The Packers haven't been the best team against the pass, allowing 248 yards through the air per game and 12 total passing touchdowns. However, they finally got Casey Hayward back, and he will certainly be a big lift in the secondary.
The secondary has looked a lot better over the past two games. They've allowed just 294 passing yards and one touchdown in those games, with the wide receivers doing very little.
A backup quarterback and a solid defense is very bad news for Jeffery this week. He tends to have big-play potential, but this isn't going to be one of those weeks.