Even the biggest stars have a bad day at the office.
In fantasy football, there is no such thing as a guarantee. You can always try to plan and exploit favorable matchups with your key players. Those plans don't always work out, though.
Especially with the big-name players, poor performances can almost single-handedly cause you to lose the week. The silver lining is that those big-name players are unlikely to follow up a bad game with another bad game; otherwise they wouldn't be considered elite.
With that in mind, these three fantasy studs will find their form again in Week 7.
Tony Romo, Dallas Cowboys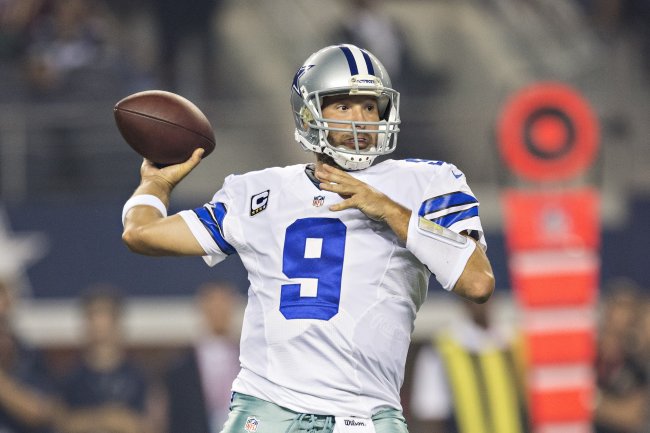 Wesley Hitt/Getty Images
Against what's been a poor Washington Redskins defense, it was surprising Tony Romo only had 170 yards and one touchdown. To make matters worse, he had that interception take away from what few fantasy points he had amassed.
Don't expect lightning to strike twice. He's not going to be disappointing two weeks in a row.
The football gods have smiled down upon Romo, as the Dallas Cowboys get the Philadelphia Eagles in Week 7. The veteran signal-caller has gotten lucky enough to get a defense that's actually worse than Washington's.
While it will be almost impossible for Romo to replicate his Week 5 performance against the Denver Broncos, he should return to his usual self and feast on a weak Eagles secondary. Romo could push the 300-yard mark with two or three touchdowns.
Adrian Peterson, Minnesota Vikings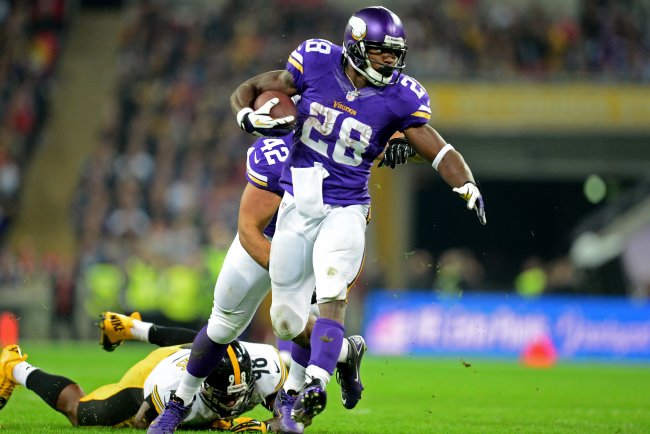 Jamie McDonald/Getty Images
Adrian Peterson's struggles against Carolina shouldn't have come as a shock. The Panthers are one of the best defensive teams in the league, and the Minnesota Vikings aren't balanced enough on offense to be productive against top defensive teams.
Now AD is looking at the New York Giants, who have had one of the worst defenses in the league. In addition, Josh Freeman will be getting the start, via ESPN's Adam Schefter.
QB updates: Bills HC Doug Marrone said EJ Manuel will be sidelined 4-6 more weeks; Vikings announced Josh Freeman will start Monday night.

— Adam Schefter (@AdamSchefter) October 16, 2013
No matter how it turns out, the fact that Freeman is starting should boost Peterson's production this week. Either Freeman will succeed and take pressure off AD and pen up the run game, or he will struggle, and Peterson will be charged with shouldering more of the offensive burden.
No matter which way it lands, you win.
Jordan Cameron, Cleveland Browns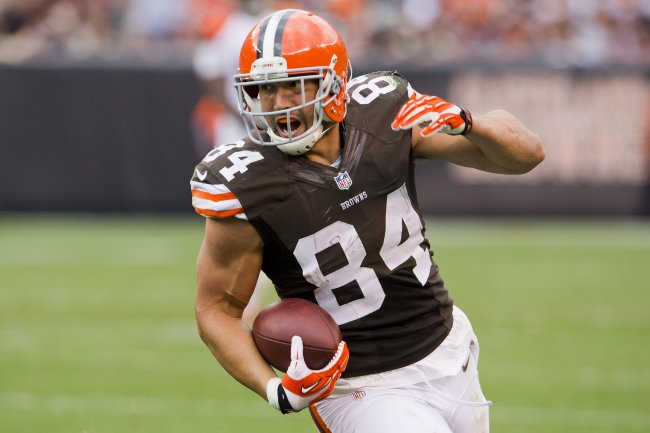 Jason Miller/Getty Images
For weeks, I had been predicting doom for Cleveland's receivers, only to have them make me look like a fool. The one week when I lay off, Brandon Weeden goes and Weedens all over the Browns offense, dragging guys like Jordan Cameron down in the process.
It's been two weeks since Cameron has scored a touchdown, which feels like a lifetime considering the run he was on with Brian Hoyer at QB.
Now the Browns get a Green Bay Packers defense even Weeden should be able to break down. Cameron will be targeted often and offer a great safety valve for Weeden when he's under pressure, just so long as he doesn't try to flip the ball like he did last week.
Cameron should see numbers similar to the ballyhooed Hoyer Era. You should expect at least a touchdown and close to 70 yards receiving.