Six weeks into the 2013 fantasy football season, and it's been one of the most unpredictable campaigns in recent memory, as many of the game's most reliable performers have been disappointing thus far.
Matt Ryan, Chris Johnson, Matt Schaub and Colin Kaepernick are just a handful of the former fantasy studs that have come up short during the early stages of the season, but by that same token, a number of the game's best have continued to perform at the level that's expected of them.
Heading into Week 7's slate of Sunday and Monday games, here's a look at the best fantasy plays at each offensive position.
Running Backs
After a very difficult week, Adrian Peterson will get to face the New York Giants and their floundering defense in Week 7, which is exactly what he needs to get back to being the game's most dominant back.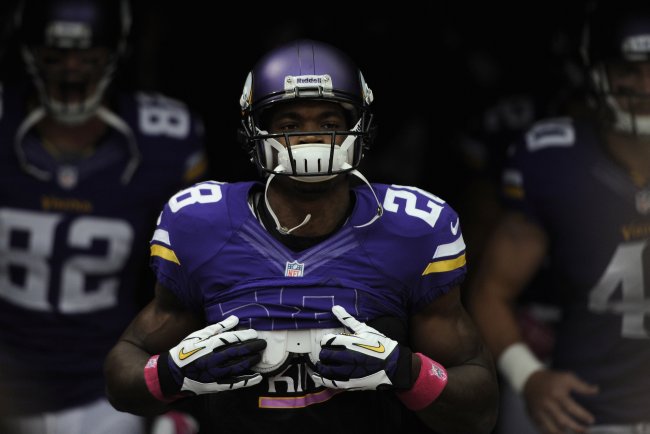 Hannah Foslien/Getty Images
Against the Panthers in Week 6, Peterson failed to reach 100 all-purpose yards for the first time all season, but with the Vikings set to take on New York's 26th-ranked run defense, he'll reverse that trend on Monday night.
The only factor to keep an eye on is whether Peterson's hamstring prevents him from carrying the mail for the Vikings, but at least for now, he seems like a pretty safe bet to be on the field and ready to go on Monday.
While the Bears have been dynamic through the air offensively, Matt Forte has steadily put up huge numbers for Chicago, and that trend will certainly continue on Sunday.
Against one of the league's most dysfunctional defenses in the Redskins, Forte will absolutely author his sixth game with at least 100 all-purpose yards in Washington.
Forte's least productive game this season was a 55-yard rushing effort against New Orleans, in which he also hauled in four passes for another 40 yards through the air. He's a lock to be more productive than that against the game's 27th-ranked run defense.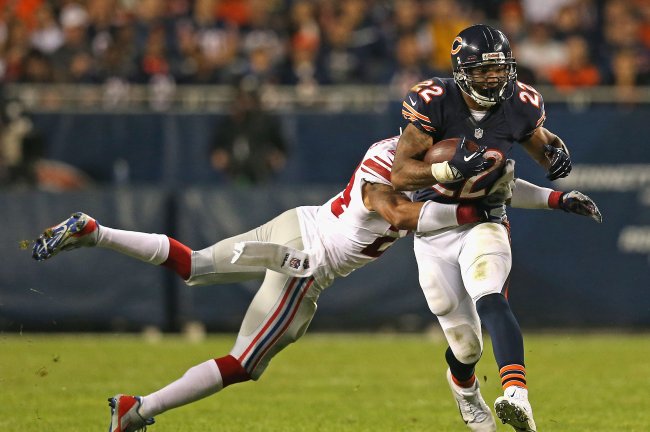 Jonathan Daniel/Getty Images
Quarterbacks
As the game's most dangerous quarterback, Peyton Manning never needs additional motivation to elevate his game, but the bulletin board material Colts owner Jim Irsay issued this week certainly won't hurt.
Now, with Manning set to return to the city in which he delivered a Super Bowl title, the former Colts star is a lock to have a big day against a very average Indy defense.
After a mediocre performance against the Jaguars, expect Manning to throw at least three touchdowns and light his former team up in a big way on Sunday night.
With 22 touchdowns and just two picks so far this season, Manning's been as productive as ever, and expect that to continue in Indianapolis in Week 7.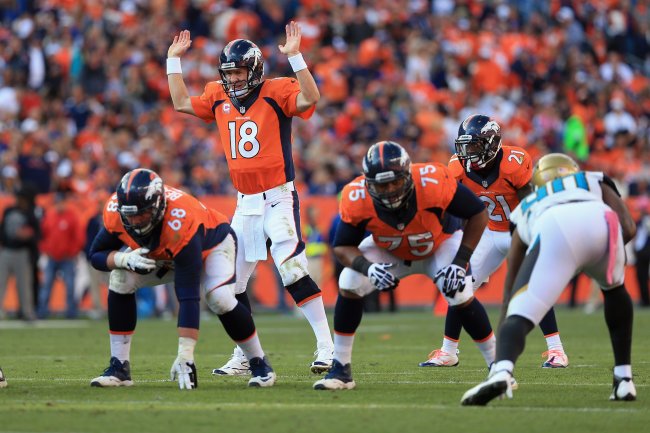 Doug Pensinger/Getty Images
Philip Rivers
Though Philip Rivers continues to be rather inconsistent as the focal point of the Chargers offense, the former Pro Bowler has once again been solid from a fantasy perspective.
No, he hasn't been immune to turning the ball over (five picks this season), but Rivers' 14 touchdowns in his last six games are impressive. With the Chargers set to face the porous Jaguars defense, the 31-year-old is sure to have a big day statistically.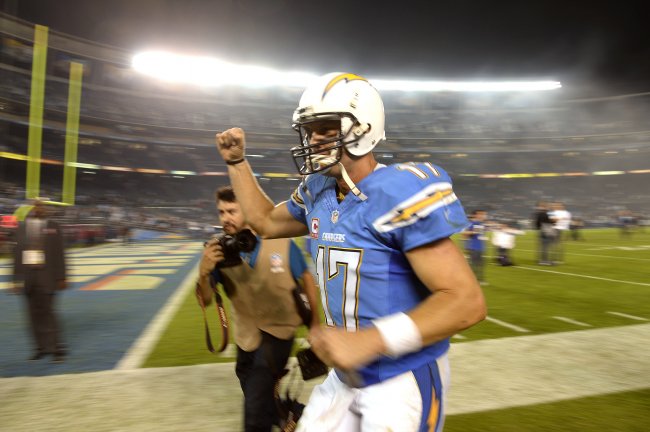 Kevork Djansezian/Getty Images
The Chargers' fifth-ranked passing offense has help on the ground in Ryan Matthews, so with Jacksonville left to deal with him as well, Rivers will put up big numbers en route to San Diego moving to 4-3.
Wide Receivers
As is the case with Forte, Brandon Marshall projects to make his fantasy owners happy on Sunday when the Bears face the struggling Redskins defense in D.C.
No, Marshall hasn't hit 100 yards receiving since Week 2, but he's been finding the end zone on a regular basis, with touchdowns in each of his last two outings, including two against the Giants last week.
And now, with the Redskins' 24th-ranked pass defense on deck for Marshall, Forte and Jay Cutler, expect all three to rack up big numbers as Washington's struggles in the secondary continue.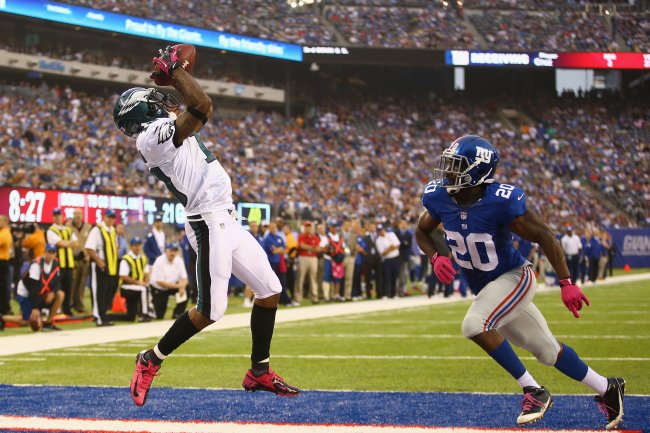 Al Bello/Getty Images
Despite the Cowboys' 3-3 record, the team's pass defense has been atrocious this season, which is why the unit ranks among the league's worst heading into their Week 7 matchup with the Eagles.
And that's good news for owners of Philadelphia's DeSean Jackson, who currently sits second in the league in receiving yards with 589 yards and near the top of the league in yards per game and touchdown catches.
Against Dallas' 30th-ranked pass defense, Jackson will get at least 70-80 yards through the air and a touchdown, especially now that the team has found some stability under center.
After Nick Foles' breakout performance against Tampa Bay, it seems only logical that the pair will connect for another impressive outing in Philadelphia in Week 7.
Tight Ends
Tony Gonzalez
With both of Atlanta's top receiving threats out for the Falcons' Week 7 clash with Tampa Bay, Tony Gonzalez is unquestionably Matt Ryan's best bet through the air, which is good news for his owners.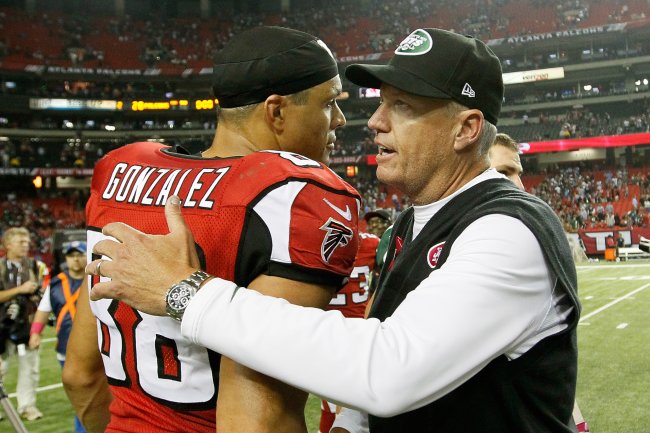 Kevin C. Cox/Getty Images
Aside from Gonzalez, Ryan's best option is Harry Douglas, who has never racked up 500 yards receiving in a season.
So, with the Falcons facing a Buccaneers team that has struggled mightily against tight ends this season, Gonzalez will surely put up numbers similar to what he has in his last two outings in which the 37-year-old has averaged 123 yards receiving a game.
Jason Witten
In a clash between two of the league's most incompetent defenses, the Dallas Cowboys and Philadelphia Eagles are both looking poised to put up big offensive numbers.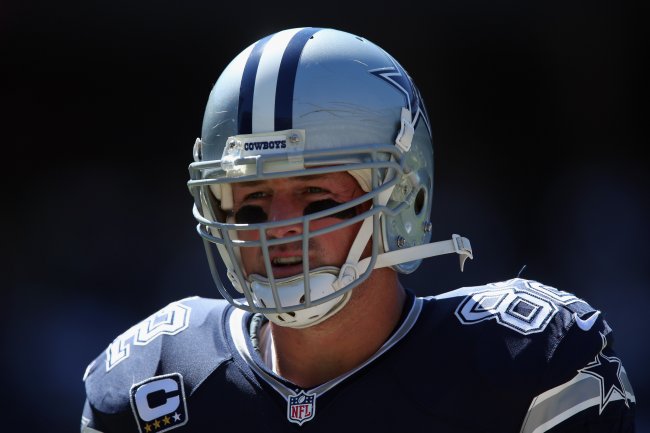 Jeff Gross/Getty Images
And, assuming that's the case, Jason Witten will be a stud on Sunday when the Cowboys clash with the Eagles, who currently lay claim to the league's 31st-ranked passing defense.
Last week, Witten was a non-factor in Dallas' crucial victory over the Redskins, but he'll get back to his usual productive self in a favorable matchup.