There are a number of friendly quarterback matchups in fantasy football Week 7. Picking the right one for your team, however, is a little bit harder.
We'll cut through the noise and break down the best QB plays this weekend.
Read on to find out more.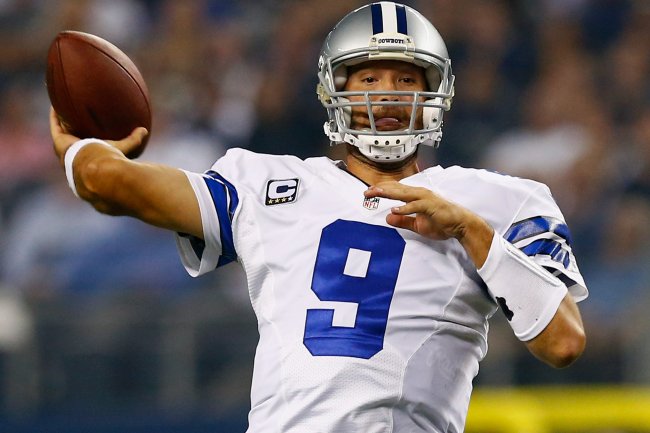 Tom Pennington/Getty Images
Romo is having a fantastic season. He's thrown for 1,693 yards, 14 touchdowns and only three picks. He's been dominant in the past few weeks, throwing for 676 yards and six touchdowns.
He's going up against a Philadelphia Eagles defense that couldn't stop a sloth covered in molasses. They give up just under 30 points per game and they have the 31st-ranked pass defense, giving up 314.5 yards through the air per game.
Adding to that is the fact that running back DeMarco Murray did not practice on Thursday, according to Rainer Sabin of the Dallas Morning News. If Murray doesn't play, then the burden will fall on Romo to make big plays.
Even if Murray does play, Romo will still have a big game. The Eagles just do not have a good defense, and Romo has shown that he can put up big numbers against bad defenses, as in the Denver game.
Romo is a must-start this weekend and could end up having the most fantasy points of any quarterback.
Philip Rivers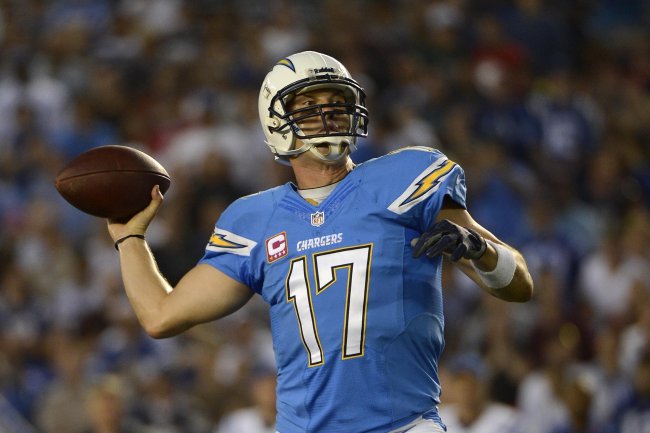 Donald Miralle/Getty Images
The Chargers are better than their 3-3 record would indicate, and they would be in the playoff hunt if they weren't in a division with two of the best teams in football—the Denver Broncos and the Kansas City Chiefs.
A big reason for their fine play is Philip Rivers. He's thrown for 1,847 yards, 14 touchdowns and only five interceptions. He has a gaudy 72.6 percent completion percentage.
He's going up against an awful Jacksonville team, a game that should be an easy win for the Bolts. The Jags give up 33 points per game and have just the 14th-ranked pass defense.
Rivers has renewed his chemistry with Antonio Gates, who has 466 receiving yards and two scores. In addition, he has forged a bond with Keenan Allen, a rookie wide receiver. Allen has 15 catches for 222 yards and two touchdowns in the last two weeks.
Between Gates and Allen, Rivers has plenty of options with which to torch the beleaguered Jags. It shouldn't be too hard for Rivers to have a big game. He's a must-start.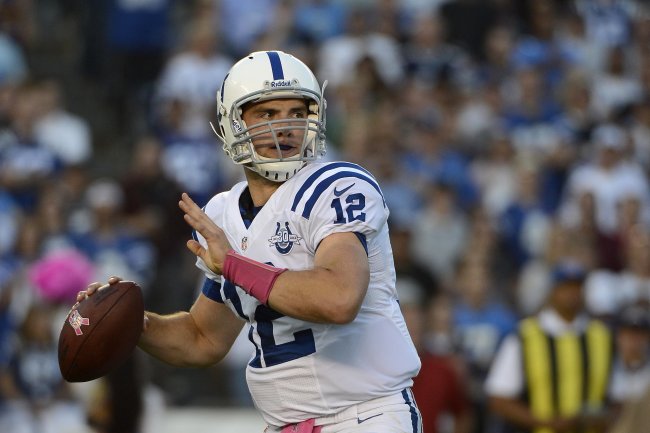 Donald Miralle/Getty Images
All the focus is on the return of Peyton Manning to Indianapolis, and that storyline is certainly intriguing.
But for fantasy purposes, it's pretty clear that Andrew Luck is going to have a huge game.
Despite all their offensive accolades, the Denver Broncos do not have a good defense. In fact, if there's a game where their offense struggles, they will have a hard time winning.
The Broncos give up an NFL-high 337 passing yards per game. They gave up 303 yards to Chad Henne last week.
Luck is having a fantastic season and looks poised well beyond his years. He's thrown for 1,346 yards, seven touchdowns and a 61.8 completion percentage.
He has big-time weapons in Reggie Wayne and T.Y. Hilton. In addition, Coby Fleener has started to come on in recent weeks.
Even without a good running game, Luck has been able to carry the Colts to a 4-2 record and to first place in the AFC South. He's the real deal.
It would not be a surprise if he put up more than 20 points. The Broncos defense is bad, and the heroics of Peyton Manning has masked that fact. Luck will be able to take advantage of that and put up big numbers.