Several top stars are poised for huge games in Week 6, but Peyton Manning is one of the players at a skill position who will lead the way in fantasy leagues.
While fantasy owners are looking to replace injured stars such as wideout Julio Jones, they should be able to rely on stars to carry their team. The Atlanta Falcons and the Miami Dolphins are both on byes this weeks, so there are several playmakers, like Matt Ryan, who will be out of fantasy lineups.
Injuries will keep players like Calvin Johnson from having a big week. However, there are several stars who will have huge games this week.
Below is a list of players who will be the top scorers at their position in Week 6, with points projections based on ESPN standard scoring.
QB: Peyton Manning. Denver Broncos
Oddly, Peyton Manning could end up being a "risky" start this week. The undefeated Denver Broncos will host the winless Jacksonville Jaguars. It will be a blowout, but it's tough to gauge what Manning's numbers will be. However, he is going to lead his team to another huge win.
How long will Peyton Manning play against the Jacksonville Jaguars?
How long will Peyton Manning play against the Jacksonville Jaguars?
One quarter

Two quarters

Three quarters

Full game
Jacksonville has the league's worst run defense, so Denver could just pound the ball most of the game. The Broncos will get out to a huge lead behind Manning and run the ball a lot in the second half.
The numbers for Manning are incredible. The 37-year-old has thrown for 20 touchdowns to only one interception, and he has thrown for at least 300 yards in every game this year. Oh, he also has a rushing touchdown.
He is off to the best start in NFL history, and the Broncos lead the league in scoring. They have scored at least 51 points in back-to-back weeks and have averaged 46 points per game this season. The Jaguars have 51 total points this season.
Nobody knows how long the Broncos will keep pressing on offense. This game could be over by halftime, which means Manning may not be throwing much in the second half if he's still in the game. Despite the potential for a short afternoon, Manning will make the most of his time on the field.
Fantasy projection: 300 yards, 4 TD, 0 INT (28 points)
Top 10 Fantasy QBs for 2013

| | | |
| --- | --- | --- |
| 1 | Peyton Manning | Denver Broncos |
| 2 | Drew Brees | New Orleans Saints |
| 3 | Aaron Rodgers | Green Bay Packers |
| 4 | Tom Brady | New England Patriots |
| 5 | Cam Newton | Carolina Panthers |
| 6 | Colin Kaepernick | San Francisco 49ers |
| 7 | Matt Ryan | Atlanta Falcons |
| 8 | Robert Griffin III | Washington Redskins |
| 9 | Matthew Stafford | Detroit Lions |
| 10 | Russell Wilson | Seattle Seahawks |
Kyle Newport (rankings are based on projections, not current points)
RB: Arian Foster, Houston Texans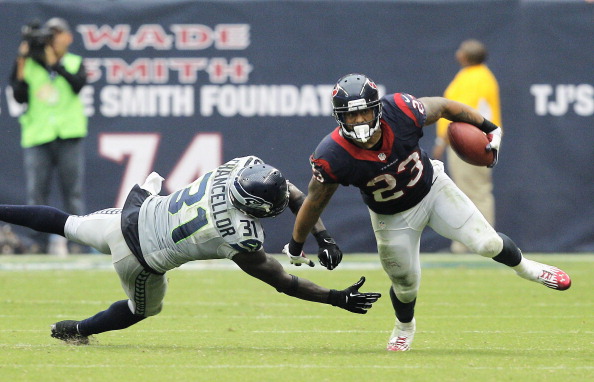 Bob Levey/Getty Images
Arian Foster has been one of the game's elite running backs for years, but he got off to a slow start in 2013. The 27-year-old averaged only 63.3 rushing yards through three games but has averaged 100 yards on the ground in the last two games.
Will Matt Schaub's recent struggles get Arian Foster more carries?
Will Matt Schaub's recent struggles get Arian Foster more carries?
Foster had less than 20 carries in each of the first three games. He has reached that mark in each of the last two weeks. When he got to carry the load, he has taken advantage of his touches.
With the Texans struggling, Foster will become the biggest playmaker on offense. Quarterback Matt Schaub has been turning the ball over a lot lately, so the coaches will call plays to take the pressure off the passer. That will lead to Foster carrying the football around 20 times.
Houston's Week 6 opponent, St. Louis, is tied for the fourth-worst run defense in football. The Rams allow 4.5 yards per carry, and Foster has averaged four yards per carry. The Rams are also tied for the fourth-most rushing touchdowns allowed, which is an area in which the running back has struggled. He has only one score this year, but he will find the end zone more than once this week.
Foster can still hurt teams on the ground, and he is beginning to hit his stride.
Fantasy projection: 20 attempts for 78 rushing yards, 1 reception for 12 receiving yards, 2 TD (21 points)
Top 10 Fantasy RBs for 2013

| | | |
| --- | --- | --- |
| 1 | Adrian Peterson | Minnesota Vikings |
| 2 | LeSean McCoy | Philadelphia Eagles |
| 3 | Jamaal Charles | Kansas City Chiefs |
| 4 | Arian Foster | Houston Texans |
| 5 | Marshawn Lynch | Seattle Seahawks |
| 6 | C.J. Spiller | Buffalo Bills |
| 7 | Ray Rice | Baltimore Ravens |
| 8 | Doug Martin | Tampa Bay Buccaneers |
| 9 | Trent Richardson | Indianapolis Colts |
| 10 | Matt Forte | Chicago Bears |
Kyle Newport (rankings are based on projections, not current points)
WR: Demaryius Thomas, Denver Broncos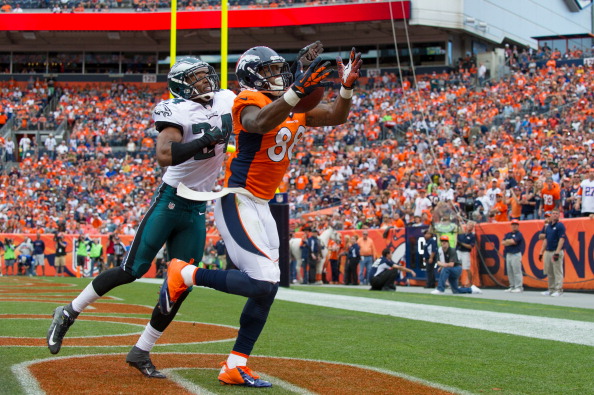 Dustin Bradford/Getty Images
Picking which receiver Manning will use the most is always tough, but Demaryius Thomas will get back to being his quarterback's top target this week.
Who will be the Broncos' leading receiver in Week 6?
Who will be the Broncos' leading receiver in Week 6?
Demaryius Thomas

Eric Decker

Wes Welker

Julius Thomas
Jacksonville allowed Reggie Wayne to get 100 receiving yards earlier this year, and three Seattle Seahawks receivers had at least 76 yards in their game against the Jaguars. Teams haven't had to put up impressive numbers through the air against Jacksonville, but the Jaguars have had trouble stopping teams with strong passing attacks.
Thomas has seen his receptions and yards decline in each of the last two weeks. That trend is going to turn around this week.
In the last four weeks, Thomas has caught all but one pass thrown his way in each game. He and Manning are on the same page, but the quarterback has done a good job of spreading the ball around.
The 6'3″ receiver will make his mark in this game in the end zone. He may not finish with the most yards by a receiver this week, but his production in the end zone will be enough to lead the way.
Fantasy projection: 5 receptions for 67 receiving yards and 2 TD (18 points)
Top 10 Fantasy WRs for 2013

| | | |
| --- | --- | --- |
| 1 | Calvin Johnson | Detroit Lions |
| 2 | A.J. Green | Cincinnati Bengals |
| 3 | Brandon Marshall | Chicago Bears |
| 4 | Dez Bryant | Dallas Cowboys |
| 5 | Demaryius Thomas | Denver Broncos |
| 6 | Larry Fitzgerald | Arizona Cardinals |
| 7 | Vincent Jackson | Tampa Bay Buccaneers |
| 8 | DeSean Jackson | Philadelphia Eagles |
| 9 | Andre Johnson | Houston Texans |
| 10 | Randall Cobb | Green Bay Packers |
Kyle Newport (rankings are based on projections, not current points)
*All stats are courtesy of NFL.com