Fantasy football isn't all about drafting a good team. Half the battle is won by keeping an eye on the waiver wire, detecting trends and, of course, watching matchups. You might have one of the league's best running backs, but if he's going against the best running defense in the league, you might have a bad week.
As the NFL heads into Week 6, here are a few matchups that fantasy owners everywhere should keep an eye on as they decide who gets the start and who gets the bench.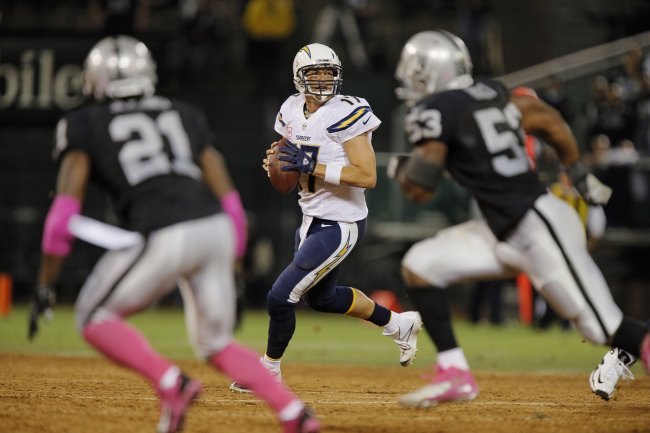 Brian Bahr/Getty Images
Rivers has looked good, but can he keep it up against Indy?
Philip Rivers vs. Indianapolis Defense
Rivers has been playing like the Philip Rivers of old. He's putting up huge yardage, slinging the ball around the field and using what little weapons he has to put his team in a good position to win. Rivers has put up over 20 points three times in ESPN leagues and has kept his interceptions down, throwing five picks, which came in just three of his games, giving him two clean performances.
While Rivers has been solid and is ranked as the third-best QB by ESPN fantasy behind just Peyton Manning and Drew Brees, you might want to rethink a start in Week 6 as the Chargers take on the Indianapolis Colts.
The Colts field the sixth-best passing defense in the NFL, which allows just over 200 yards per game through the air. The talented Indy secondary has also picked off passes in all but one of its games, including the last three consecutive games.
The Indy defense gave up 28 points to Seattle last week, but San Diego doesn't have nearly as good of an offense. Rivers has a ton of injuries around him, and the Chargers are relying on his precise passing and sound decision-making to stay alive in the AFC, which is scary.
The Colts defense has been causing turnovers and securing victories all season, and it'll pose a very tall task to Rivers and the Bolts. If you're a Rivers owner, you might want to check out a few other options at QB for Week 6.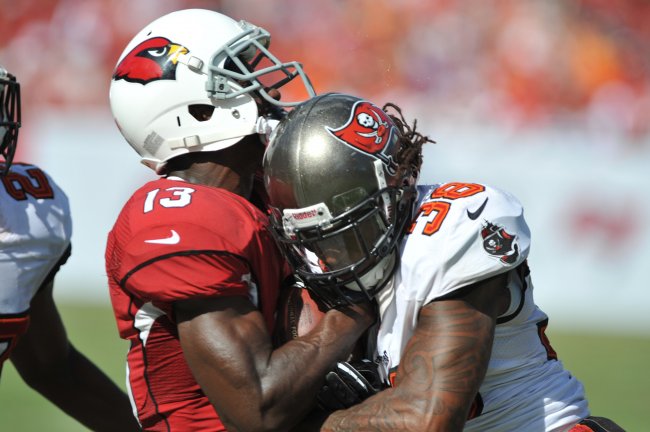 Al Messerschmidt/Getty Images
Tampa's defense is surprisingly solid for an 0-4 squad.
LeSean McCoy vs. Tampa Bay Defense
This may look like a joke, but it's far from that. The Tampa Bay Buccaneers are 0-4 and look pretty bad, especially on offense. Surprisingly, somewhere amidst all the losses they've managed to field the 10th-best rushing defense in the NFL, allowing just 94 rushing yards per game.
Tampa Bay has been impressive in handling running backs. The Buccaneers have given up 100 yards rushing only once this season and have not given up a rushing touchdown through four games. Two of those four games were against the high-octane offenses of New Orleans and New England.
Pretty good for an 0-4 squad.
LeSean McCoy has thrived in Chip Kelly's offense so far, but against the Broncos, a solid run defense, he wasn't able to find the end zone or rush for more than 80 yards. McCoy is obviously one of the best backs in the NFL, but the Eagles offense just isn't all there yet. Bringing that offense against Tampa Bay could put LeSean McCoy and his fantasy owners in a bad way during Week 6.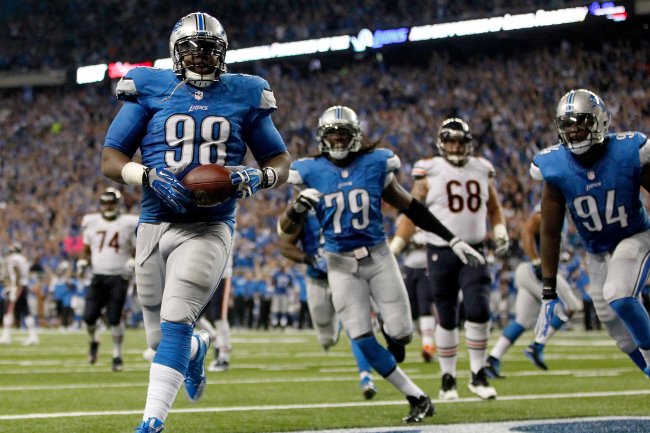 Gregory Shamus/Getty Images
The Lions defense is full of a bunch of terrifying bullies. Browns beware.
Jordan Cameron/Josh Gordon vs. Detroit Defense
Any fantasy owners who had the intestinal fortitude to stick with or pick up Jordan Cameron and/or Josh Gordon of the Cleveland Browns after the Richardson trade are truly gods of the game.
Why?
1. They don't have a quarterback, so why would you pick up/stick with their receivers?
2. They're the Browns.
Well, if you were one of those owners, grats, because you got some winners. Jordan Cameron has been a stud at tight end, with five touchdowns, a few games of 90-plus yards and a few big-point days in fantasy leagues. Gordon has two touchdowns, over 300 yards and almost 20 catches in just three games with the Browns, which has to be encouraging for Browns fans and Gordon owners.
Not so fast.
This week the Browns will take on a terrifying, bullying Detroit Lions defense. The Lions D isn't great on paper, 20th in passing defense and 26th in rushing defense, but on the field the players are psychopaths. Their ballhawk DBs fly around the field with reckless abandon, hitting everything and anything that moves. The Lions have tallied up a whopping eight interceptions in their first five games.
Let's do the math. Cleveland doesn't have a reliable quarterback at the moment, the Lions defense is terrifying and forces a ton of turnovers, and the Browns really only have Cameron and Gordon on offense. Add all of that up, and I can see a very long day for the Browns offense in Week 6, Gordon and Cameron included.