Although Week 5 of the NFL season isn't technically in the books just yet, it's never too early to start looking toward the future when a fantasy football championship is at stake.
With that in mind, it's due time we took a sneak peek at the Week 6 situation.
After promising and disappointing performances over the weekend, fantasy owners everywhere are probably trying to decipher their most recent lineup while trying to plan for next week's lineup in the process.
Below, we'll take a look at a few can't-miss matchups you should exploit in Week 6. Needless to say, the players mentioned in the next few sections have "must start" written all over them.
Green Bay Packers WR James Jones vs. Baltimore
After a complete no-show in Week 1, Jones has rebounded to officially become one of Aaron Rodgers' top receiving options.
Which Green Bay wideout will finish with the most fantasy points?
Which Green Bay wideout will finish with the most fantasy points?
James Jones

Randall Cobb

Jordy Nelson

Jermichael Finley

Other
He's been targeted a whopping 26 times over the past three games, and he turned in a four-reception, 127-yard day in Week 5, spurred by an 83-yard touchdown catch.
While Jones is doing most of his damage on big plays, it's clear that he's still a top target on the outside, and Rodgers feels comfortable trusting him to make plays as a possession receiver as well.
The Packers will visit Baltimore in Week 6, a team that allowed Ryan Tannehill to throw for over 300 yards and a touchdown without an interception on Sunday. Also, he and No. 1 receiver Mike Wallace hooked up seven times for 105 yards on the afternoon.
It's a virtual crapshoot in regards to which Green Bay receiver will have the best performance every week, but Jones has been good for at least four catches since Week 2 and doesn't appear to be slowing down. Start him with confidence against an average Ravens secondary.
Houston Texans RBs Arian Foster and Ben Tate vs. St. Louis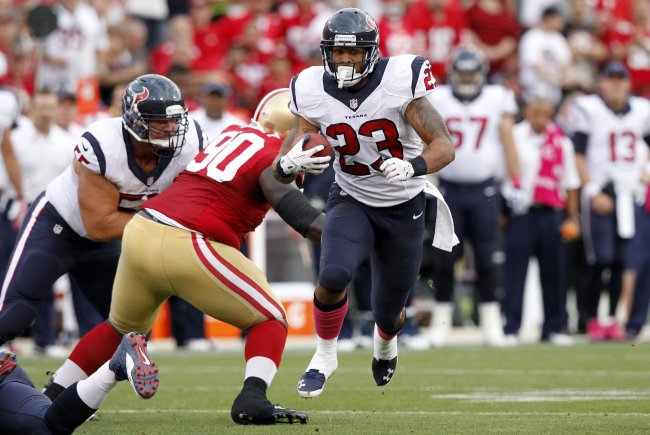 Cary Edmondson-USA TODAY Sports
It's not often that two running backs from the same backfield are listed as potential starters when both are healthy and active.
Tate and Foster are the exception to that rule in Week 6 against St. Louis, however.
It's clear that Houston is going to have to run the ball well to win games. Matt Schaub proved that, yet again, with a three-interception game against San Francisco on Sunday night, while the duo listed above still managed to combine for 126 rushing yards on 28 carries.
St. Louis has had problems stopping the run all year, and a promising performance in Week 5 is negated when you consider the opponent (Jacksonville). Currently, the Rams are the fifth-worst team in the NFL in rushing yardage allowed each game at—wouldn't you know it—126.0 per contest.
I like Foster and Tate to score at least one touchdown each in Week 6. Gary Kubiak will need to rely on the running game to turn things around, and the Rams are the perfect opponent for the Texans to run ragged against.
Any Denver Broncos Starter vs. Jacksonville
What Denver is doing on offense is simply unfair.
The Broncos put up 51 points against Dallas on Sunday afternoon, and Peyton Manning lead the way among fantasy with 414 passing yards, four passing touchdowns and one rushing score. He did throw an interception, but that's hardly of note here.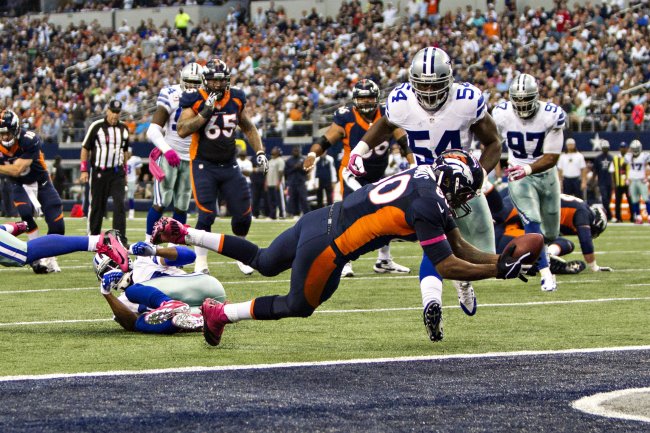 Wesley Hitt/Getty Images
Can the Denver Broncos finish 16-0?
Can the Denver Broncos finish 16-0?
Against the winless Jags in a game that will likely feature one of the biggest spreads in NFL history, count on Manning, Wes Welker, Demaryius Thomas, Eric Decker and Julius Thomas to be viable options for your fantasy roster. Heck, even Knowshon Moreno has been consistent out of the backfield so far.
Jacksonville gives up the most rushing yardage (160.6) in the league per game. They have been better against the pass, but a matchup with the Broncos is hardly an ideal proving ground for the Jacksonville secondary.
Expect an offensive onslaught from Denver in this one. It's starting to feel very cliche, but you seemingly can't go wrong by starting a Bronco in your fantasy lineup each week.
Follow B/R's Ethan Grant on Twitter.