Tony Romo enjoys a day quarterbacks usually can only dream of; yet, he's still going home unhappy, throwing the costly interception to hand Peyton Manning's Denver Broncos the game. Fantasy footballers know all about how everything can go right, and you still don't wind up on the winning side of things.
You could have finished every week as the second-highest scorer in head-to-head formats and still be 0-5. Pure madness.
We sort through all of the happenings of Week 5 and help you look ahead to the middle of the fantasy football regular season.
1. Romo Doesn't Get Enough (Fantasy) Respect
Where will Tony Romo finish among fantasy quarterbacks this season?
Where will Tony Romo finish among fantasy quarterbacks this season?
Top three, like he is now

From 4-8, like he has been in past years

Low-end fantasy starter (9-12), as he was drafted

Out of the top 12…Romo will choke this away, as always
Criticize Romo all you want for the game-changing interception, but he was masterful for fantasy owners, throwing for 505 yards and five touchdowns. The huge performance leaves only Manning and Drew Brees as higher-scoring quarterbacks through five games.
Not bad for the quarterback who was 12th—dead last among "starters" in standard, one-quarterback leagues—in consensus average draft position, according to FantasyPros.com.
If you didn't draft your quarterback in the middle rounds, print out Romo's numbers in big and bold print and pin them up at your desk. Heck, regardless of where you drafted your quarterback, it can be a lesson that everyone needs to be reminded of.
2. Rams Have Found Their Starting Running Back
Stacy can be a woman's name, but the running back-needy St. Louis Rams might have found their man in Zac Stacy. The rookie out of Vanderbilt was named the late starter Sunday and rushed for 78 yards on 14 carries.
He did have to leave with an injury that was loosely called "ribs," but Nick Wagoner of ESPN tweeted out some good news after his postgame interview:
Rams RB Zac Stacy told me after game he feels fine. Said wind got knocked out of him. He says he'll be OK moving forward.

— Nick Wagoner (@nwagoner) October 6, 2013
Stacy was owned in a mere seven percent of CBS Sports leagues before news broke from the Daryl Richardson tweet last week that the Rams would have a new starter at running back.
Richardson did pick up 13 carries for 48 yards, but Stacy will be the pounder the Rams go with in the rugged, defense-heavy NFC West right now.
Austin Pettis explains to ESPN's Wagoner what Stacy meant to the Rams offense:
He was just running very physical. I think that was the biggest thing that we needed. We were kind of secondary running in the first couple games and it wasn't working out for us.

Whether it was a 10-yard run or a 2-yard run, he was sticking his nose in there and making sure he was going to get some yards for us positively. I think that opened up so much for us offensively.
Stacy will be the No. 1 most added player in all fantasy leagues this week, even if he won't be a great start against the Texans run defense in Week 6.
You can cut Isaiah Pead and Benny Cunningham and consider Richardson merely a handcuff going forward. Pead didn't record a stat, as he was the fourth back behind Stacy, Richardson and even Cunningham (four carries for 13 yards).
3. Michael Vick Runs Himself out of the Game
Vick wasn't having a great day throwing the ball against the New York Giants on Sunday, but he was having a day running seven times for 79 yards before he had to give way to a hamstring injury. Now, it looks as if Nick Foles (16-of-25 passing for 197 yards and two touchdowns) will be the starting quarterback against the Tampa Bay Buccaneers in Week 6.
#eagles QB @MikeVick likely to get MRI on Monday but I'm also told Vick likely out at least next wk against Tampa and Maybe 2 weeks.

— Howard Eskin (@howardeskin) October 7, 2013
Vick injured himself on a run, and an injury shouldn't surprise you with him. He is at the age of breakdown, especially among mobile quarterbacks. Even if his legs are a weapon and a potential boon to fantasy owners, running puts him at risk.
You should not consider Foles a viable play against the Bucs defense that went into the bye as the second-best team in fantasy against quarterbacks, according to FFtoday.com, thanks mostly to Darrelle Revis.
4. Ray of Hope: Loyal Rice Owners Rewarded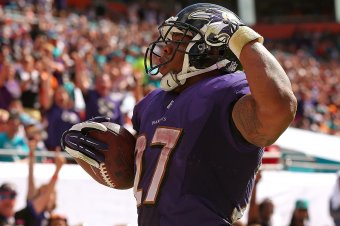 Mike Ehrmann/Getty Images
Rice, Rice, baby! Two touchdowns put Ray Rice back in the minds as an elite fantasy running back—where he belonged all along.
You didn't really think the Baltimore Ravens would go back to Joe Flacco—coming off five interceptions at Buffalo—in lieu of Ray Rice this week did you?
Rice restored his fantasy luster with a busy day against the Miami Dolphins, rushing 27 times for 74 yards and two touchdowns. He added six catches for 28 yards, too. Bernard Pierce, 11 carries for 46 yards, was left to pick up the scraps.
Rice remains a must-start running back in all leagues through thick and thin. In a season of struggling first-round backs, Rice still rates as a top-eight, if not a top-five, option.
5. Alshon Jeffery is the Real Deal
Count us as the boneheads who had Jeffery as a marginal play against the New Orleans Saints' defense this week. Jeffery wound up being the No. 1 wide receiver in fantasy—10 catches for 218 yards and a touchdown.
No one could have seen that day coming. Only 45 percent of CBS Sports league had him active for that performance.
Jeffery has given Jay Cutler a legit second option to play off the oft-double-teamed Brandon Marshall in Marc Trestman's pass-friendly offense. Cutler and Marshall will make Jeffery a solid start, if not a star, through fantasy's bye season. Add him in the near one-fifth of CBS Sports leagues he is still available.
6. Don't Kick the Dirt over Jason Witten Just Yet
I have been getting some questions about the Dallas Cowboys' Witten, and I couldn't figure out fantasy owner's impatience with him. Sure, he's 31 years old now, but he still rates as a top-five fantasy tight end.
Before another disappointing Witten performance and another grand effort by burgeoning star Jordan Cameron in Week 4, yours truly suggested dealing Cameron and relying on Witten for the rest of the season.
@Patricia_Traina Wow, you could trade Cameron with his value at his zenith and ride Witten out for top-five fantasy TE numbers the R.O.S.

— Eric Mack (@EricMackFantasy) September 28, 2013
It proved prophetic at the roller-coaster tight end position in Week 5. Witten went for seven catches for 121 yards and a touchdown, while Cameron stumbled against the Buffalo Bills on Thursday night (three catches for 36 yards).
Stick with the guys you drafted for the most part. As long as they are not injured or there isn't a true course correction on them news-wise, you should expect the numbers to come back to you in the coming weeks.
7. Even Gabbert Cannot Ruin the Jags' Wideouts
Blaine Gabbert is going to remain the Jacksonville Jaguars' starting quarterback, according to ESPN's Michael DiRocco. That is the bad news. The good news is even Gabbert's awful quarterback play—9-of-19 passing and two interceptions—couldn't ruin the return of Justin Blackmon.
Blackmon was a monster, going for five catches for 136 yards and a touchdown, while Cecil Shorts tailed five catches for 74 yards and a score. Shorts' touchdown came when Chad Henne was in the game, but a blowout at Denver in Week 6 should leave both receivers plenty of garbage time to pick up numbers.
Blackmon is an elite talent in a dicey situation, but he should rank among the top 25 wide receivers to start in fantasy every week, regardless of the matchup. Shorts is a solid reserve, particularly through the bye season.
There is still a shred of hope Gabbert's play and injury-prone nature will lead to Henne getting starts this season, too. Henne made both Shorts and Blackmon fantasy-starter-quality receivers down the stretch last year.
8. Rivers Flowing Some Points Downfield Now
Who will end up leading the Chargers in receiving?
Who will end up leading the Chargers in receiving?
Antonio Gates

Danny Woodhead

Eddie Royal

Vincent Brown

Ryan Mathews

Keenan Allen
The first few weeks of Rivers' rebound season featured a short, rhythm passing game that made Eddie Royal a fantasy gem. In Week 5, Rivers started to press the ball downfield. It made for some shaky moments for the error-prone quarterback, but it also made Keenan Allen and Vincent Brown fantasy stars this week.
The rookie Allen went for six catches for 115 yards and a touchdown, while Brown was good for eight catches for 117 yards. Both outside receivers are viable starters through the bye season, particularly with Malcom Floyd (neck) ruled out for the season this week.
The schedule looks very favorable ahead for them, too: Indianapolis, Jacksonville, Washington and Denver in their next four games. Consider Brown first, then Allen off waivers if you need receivers during the bye weeks.
9. Giants Still Dolts When It Comes to RB Wilson
David Wilson finally got in the end zone, but the Giants still gave him just six carries and played Brandon Jacobs way too much en route to going 0-5. We will repeat, stupid Giants decision-makers: Wilson is your only hope.
Wilson left with a neck injury, which is only partially to blame for his lack of use in the first half.
Wish we can win for all our supporters other than that I feel good passed all test. The Dr. Just taking extra precaution be back next week

— David E. Wilson (@4stillRunning) October 6, 2013
The problem with next week is it comes Thursday night in Chicago against a rugged Bears defense. Sure, the Bears have given up points to backs, but Wilson will be a tough play with his lack of involvement in the Giants' offense, the sore neck and the short week.
10. Pats Lost the Game, but Should Get Healthier
It was a tough day for Tom Brady and the New England Patriots in Cincinnati, but Danny Amendola made a healthy return (we hope) and Stevan Ridley (knee) and Rob Gronkowski (back/arm) shouldn't be far behind. There is hope for all three being active and ready for Sunday's game against the New Orleans Saints.
If Amendola, Ridley and Gronk are active for the Pats—it will be a later afternoon game-time decision in the latter two cases, most likely—they should be active for fantasy owners. That game should get really loose. Drew Brees brings a potent offense to New England, and the Pats will right their mistakes in the driving rain Sunday in Cincy.
Eric Mack, one of the giants among fantasy writers and is the Fantasy Football Lead Writer for Bleacher Report this season. Follow him on Twitter, where you can ask him endless questions about your team, rip him for his content and even challenge him to a head-to-head fantasy game. You can also listen to him on his podcast that he deprecatingly dubbed the Fantasy FatCast.