When it comes to players who are banged up, there are some heading into Week 5 who have already drawn a number of red flags—which means you must avoid putting them in your fantasy football starting lineup.
Perhaps Roddy White put it best after disappointing plenty of fantasy owners after playing hurt in the Atlanta Falcons' first game of the season. He's been a big disappointment from a fantasy perspective, grabbing just 10 receptions for 84 yards.
As far as fantasy if I don't participate in practice than don't start me it's a red flag

— Roddy White (@roddywhiteTV) September 9, 2013
We have a few players who will likely do much of the same this week, and you need to avoid the players below in your lineup.
Note: Any mention of points scored based off ESPN's standard scoring leagues.
Kenbrell Thompkins, WR, New England Patriots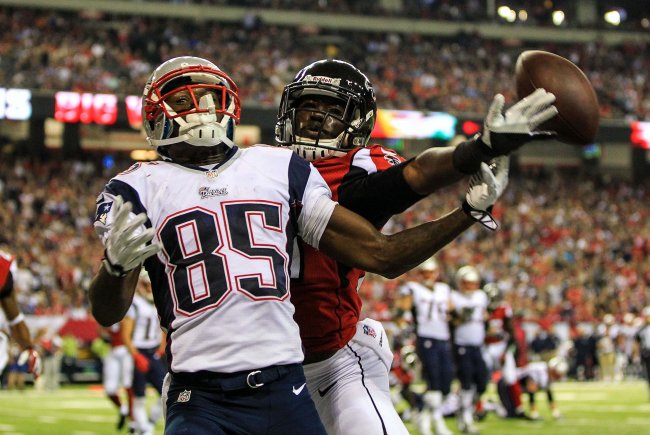 Daniel Shirey-USA TODAY Sports
No one can deny that Thompkins is beginning to feel comfortable in the offense. He's had 34 points in the past two games, including a big one last week against the Atlanta Falcons, going for 127 receiving yards and a touchdown.
However, Thompkins has been nursing a shoulder injury this week and is listed as questionable on the team's official injury report. Danny Amendola, who hasn't played since Week 1, is listed as questionable as well.
There's a pretty good possibility that both of these guys play this week. According to Mike Reiss of ESPN.com, Thompkins says he feels fine.
Rookie WR Kenbrell Thompkins on how much his shoulder injury is affecting him: "I'm fine."

— Mike Reiss (@MikeReiss) October 4, 2013
What will hurt Thompkins this week is the possible return of Amendola. Tom Brady threw early and often to him in his only game, with Amendola grabbing 10 receptions for 104 yards. If he's back in the lineup, Thompkins will see fewer targets.
If the injury hinders Thompkins in any way this week, it's going to hurt him big time. The Cincinnati Bengals have an aggressive secondary that likes to play physical against receivers.
The risk is high with Thompkins this week. He may have had two straight big games, but expect a pretty significant regression, at least for just this one game.
Bernard Pierce, RB, Baltimore Ravens
After injuring his calf in the loss to the Buffalo Bills, it's probably not the best idea to start Pierce this week.
Pierce is not on the Baltimore Ravens' official injury report, but he was listed as day-to-day after the Week 4 game, according to Rotoworld.com. This means that it's a rather minor injury, but any injury to this running back should really hurt his fantasy stock this week.
It's been a really disappointing season for the Ravens' ground game. Pierce did have 11- and 12-point outings in Week 2 and Week 3, but he also put up just seven rushing yards in the loss to the Bills.
As the backup to Ray Rice, Pierce isn't going to get a ton of opportunities. He's not going to be helped much this week, as the Miami Dolphins rank 10th in the NFL, allowing just 98.5 rushing yards per game.
Lower body injuries, however small, can hurt a running back's production. With how bad the run game has been for the Ravens so far, it's best to avoid Pierce this week.
Cecil Shorts, WR, Jacksonville Jaguars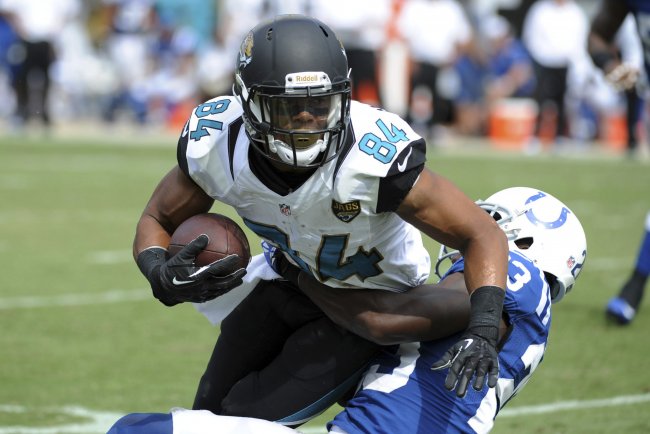 Melina Vastola-USA TODAY Sports
He's been the only productive fantasy player for the Jacksonville Jaguars this season, but don't expect that to be the case with Cecil Shorts this week.
ESPN's Adam Schefter tweeted that Shorts missed practice again on Friday and was officially listed as questionable. Meanwhile, ESPN's Stephania Bell reported that Shorts will play.
Jacksonville WR Cecil Shorts (groin): did not practice Friday and Is questionable.

— Adam Schefter (@AdamSchefter) October 4, 2013
Marcedes Lewis out; Cecil Shorts will play http://t.co/o26l4ecOi8

— Stephania Bell (@Stephania_ESPN) October 4, 2013
If you've ever had a groin injury, you know it's not fun to run around on. Granted, we're not professional football players, but that kind of injury, especially one that causes Shorts to miss practice, is likely going to slow him down.
That's really not a good sign for Shorts or the Jaguars. That offense is by far the worst in the NFL right now, and it's putting up just 175 yards per game through the air and scoring just 31 points in four games.
Previously a WR2 or flex option, avoid starting Shorts at all costs this week due to him missing practice on Friday. As we've seen before, that usually doesn't work out, and fantasy owners are left disappointed.