Winning a fantasy football league is all about managing byes. In Week 5, fantasy studs like Adrian Peterson, Robert Griffin III, Doug Martin and Antonio Brown are all off.
Who are some of the best subs you can find for Week 5?
Read on to find out.
Terrelle Pryor, Oakland Raiders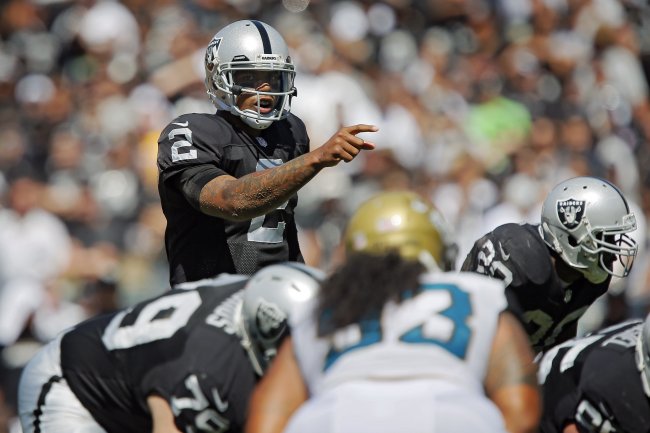 Brian Bahr/Getty Images
Terrelle Pryor is back from his concussion, and he could have a big game against the San Diego Chargers.
The Chargers are not that great on defense. They give up 312.3 yards per game in the air and 120.5 rushing yards per game. They also, according to ESPN, give up the most fantasy points to quarterbacks.
Pryor, in my opinion, is a rising star at quarterback and a true building block for the Raiders. Pryor has thrown for 624 yards and only two picks, with an impressive 65.4 completion percentage.
He's also a threat to run, as he averages a healthy 7.6 yards per carry.
That all bodes well for fantasy owners who need to replace RG3. Pryor will get big points and could easily eclipse 20. He's worth grabbing for your bench anyway, especially in keeper leagues, because of his big point potential.
The Raiders may not win, but that doesn't mean Pryor won't have a big game. The Chargers have a shoddy defense, and Pryor should be able to take advantage of it.
Danny Woodhead, San Diego Chargers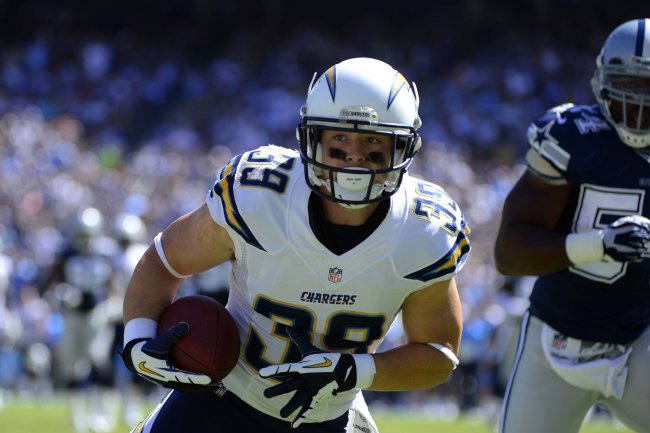 Donald Miralle/Getty Images
Staying with the Chargers and Raiders, another player that could have a big game is Danny Woodhead.
Woodhead went off last week, rushing for 32 yards, catching five passes for 54 yards and scoring two touchdowns. He's averaging 4.7 yards per carry, and he's starting to take carries away from the struggling Ryan Matthews. In fact, Woodhead received both red-zone carries for the Chargers last week.
With some good backs like Adrian Peterson off, a guy like Woodhead could fill a big void. At either running back or at the flex position, Woodhead provides big potential. He's getting more carries, plus he can catch the ball out of the backfield, so he's ideal in a points-per-reception league.
The Raiders also do not have a great defense. It gives up 111.8 yards per game on the ground, which is 21st in the league.
Woodhead gives you versatility, and his potential for a big game makes him a solid bye-week pickup.
Alshon Jeffery, Chicago Bears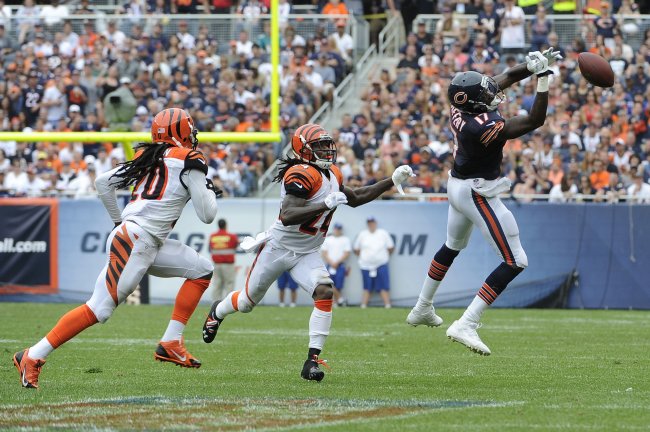 David Banks/Getty Images
Alshon Jeffery is starting to heat up. He's had eight or more targets in the last two weeks, and he had a career-best 107 yards against the Detroit Lions, as well as a score.
Jeffery also is a bit of a threat to run, as he has 57 yards on only three carries.
The Bears are facing a suddenly tough Saints defense. It gives up just 192.3 yards in the air per game, which is fifth-best in the league.
However, the Bears are probably the most well-rounded offense the Saints have faced. Jay Cutler, despite last week's dud, is always a threat for a huge game. In addition, the Bears have a varied offense with a lot of different targets. Among Jeffery, Matt Forte, Brandon Marshall, Martellus Bennett and Earl Bennett, the Saints will struggle covering everybody.
The Saints will try to take away Marshall and Martellus Bennett, the two biggest receiving threats on the Bears. That should leave room underneath for Jeffery, who has a fine combination of size and speed.
Between his potential on reverses and Jay Cutler's increasing trust in him, Jeffery is becoming an intriguing fantasy option. He has great potential in bye weeks and could have a big game this week.