As most people enter the final week of the fantasy football season, risk is not a word they want to hear. However, there are a number of players who can help win you a championship if you are willing to put them in your lineup.
If you were fortunate enough to draft a perfect lineup full of players who have stayed healthy all year and performed consistently, feel free to keep your squad intact. On the other hand, those that need a last-minute replacement for whatever reason might be smart to check out a few different options.
There is a chance that each player listed provides you with minimum production when you need it the most. However, they could also be among the leading scorers at their position.
You have to be willing to take a risk, but the payoff should be huge in every case.
Kirk Cousins, QB, Washington Redskins
After Robert Griffin III was benched for the season, Kirk Cousins gained the opportunity to showcase his ability to the entire league. This led to mixed results in his first game, as he had three touchdowns but also three turnovers.
Of course, fantasy owners are more concerned with the positives as his 382-yard performance against the Atlanta Falcons netted him 21 fantasy points in standard leagues. This earned him praise from one of his biggest supporters, ESPN's Skip Bayless:
Kirk Cousins plays very well, nearly pulls it out at Atlanta. Good! Maybe some team will offer a 2nd rounder for him.

— Skip Bayless (@RealSkipBayless) December 15, 2013
With another opportunity to shine on Sunday, Cousins can post big numbers against a weak Dallas Cowboys defense. The unit has allowed the most passing yards in the NFL, as well as the most fantasy points per game to quarterbacks.
On the other hand, there is plenty of risk involved in this start, beginning with the fact that Cousins has only made two starts in his career. He has appeared in a grand total of six games, totaling seven touchdowns and seven interceptions in this stretch.
There is certainly a chance this inexperienced player is limited in an important game for the Cowboys. Still, fantasy owners should back on his ability to torch a terrible defense.
Bobby Rainey, RB, Tampa Bay Buccaneers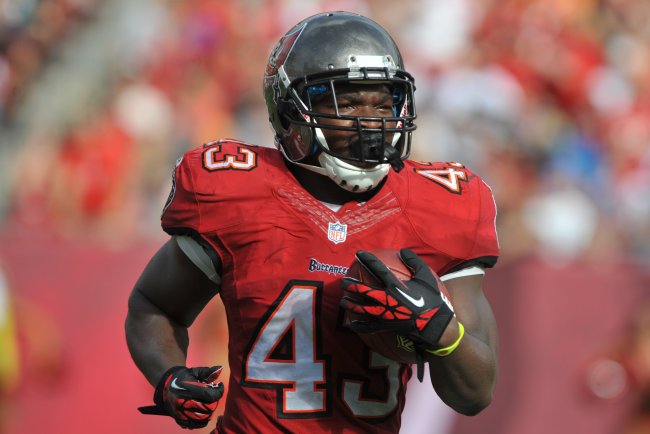 Al Messerschmidt/Getty Images
The Tampa Bay Buccaneers have had a hard time keeping running backs healthy this season, but Bobby Rainey has been the go-to player since Week 11.
In that time, he has provided fantasy point totals of 34, three, six, 18 and two. Obviously, this makes the running back difficult to trust when it comes to a fantasy championship.
However, the single-digit showings were against three of the top six run defenses in the NFL. It is hard for anyone to run against the Carolina Panthers, San Francisco 49ers or Detroit Lions.
Things get easier in Week 16 against the St. Louis Rams, who have allowed the fifth-most fantasy points to opposing running backs this season.
Rainey has gotten 82.4 percent of running back carries for the Buccaneers since Week 11, and he should continue to get the bulk of touches going forward. With a more favorable matchup this time around, he should have a big day.
Michael Crabtree, WR, San Francisco 49ers
Josh Zerkle and Will Carroll provide a few waiver options for your fantasy team.
When healthy, Michael Crabtree is one of the better receivers in the NFL. The problem is that he is still recovering from an Achilles injury that kept him out for the first 12 weeks of the season.
He did catch his first touchdown pass in Week 15 against the Tampa Bay Buccaneers, but he still only has 11 total receptions in three games. This could make him difficult to start in a fantasy championship.
The good news is that the receiver thinks he is ready. According to Cam Inman of the San Jose Mercury News, Crabtree said after the game:
I just feel a certain way right now. I wanna play. I feel I've got to catch up. Everybody keeps trying to slow me down, and telling me to chill. I don't feel like chillin', I feel like playing. I feel like catching touchdowns, catching balls, and making plays.
This week he will get that chance against the Atlanta Falcons, a squad that allows the fourth-most yards per pass attempt in the NFL. Crabtree should be able to find openings in the defense and make big plays to help the 49ers on Monday night.
Follow Rob Goldberg on Twitter for the latest breaking news and analysis.