Year after year, fantasy football championships are won and lost based on a single player breaking through at the right time.
This can happen with players many have given up on after disappointing seasons delivering at the biggest moments, good players putting up great performances or even relatively unknown guys making a name for themselves.
The trick is knowing which players are going to break out and riding those guys to a fantasy football title. Did C.J. Spiller give a glimpse last week of what is to come? Will a favorable end-of-season schedule vault Robert Griffin III back into fantasy superstardom?
Here are four players that I expect to break out not just in Week 14, but for the rest of the fantasy playoffs as well.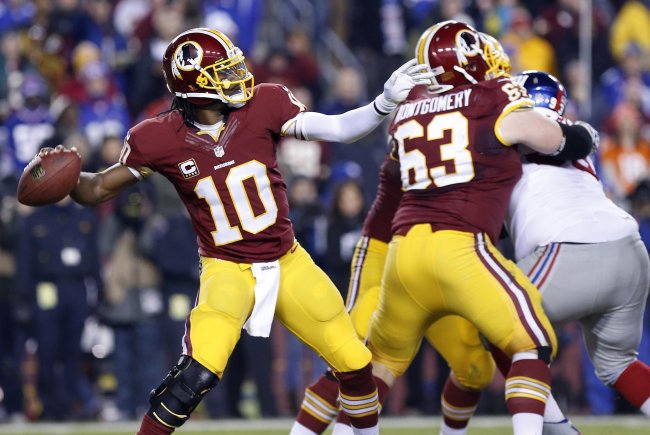 Geoff Burke-USA TODAY Sports
Quarterback: Robert Griffin III (Washington Redskins)
While RG3 hasn't necessarily been a bad fantasy quarterback throughout the season, he has put up his share of dud performances. His last terrible game was just two weeks ago when he threw for just 118 yards and an interception against the San Francisco 49ers.
However, last week against the New York Giants he put up a solid game through the air (207 yards, one touchdown, no interceptions) but had his best rushing game of the season with 88 yards on 12 carries. If last week is any indication, Griffin is finally healthy and could be running a lot more over the next few weeks.
Kyle Shanahan: Robert Griffin III is 'definitely healthy' http://t.co/KehjA82Qqp

— NFL: AroundTheLeague (@NFL_ATL) November 29, 2013
This week, Griffin faces a Kansas City Chiefs defense that has lost a lot of its luster after allowing a combined 795 yards and eight touchdowns to Phillip Rivers and Peyton Manning over the last two weeks. Even better news for fantasy owners is that this week's matchup with the Chiefs is Griffin's toughest for the rest of the season.
Following Kansas City, RG3 plays the Atlanta Falcons, Dallas Cowboys and the Giants again, who all have bottom 10-ranked passing defenses this year. Atlanta and Dallas are especially bad, with the Falcons giving up the fifth-most points to fantasy quarterbacks, and the Cowboys giving up the second-most, according to ESPN standard leagues.
Griffin won't be winning his Redskins any playoff games this year, but he certainly will be winning a lot of playoff games for fantasy owners over the next month.
[embedded content]
Running Back: C.J. Spiller (Buffalo Bills)
Prior to last week C.J. Spiller had been one of the biggest busts of the entire fantasy season. Plagued by an ankle injury, Spiller hasn't been nearly as explosive as he was last year and was losing a lot of carries to teammate Fred Jackson.
However, if you drafted or traded for Spiller and were lucky enough to make the fantasy playoffs despite him, consider the rest of the season his way of making it up to you.
He already began last week, ripping off 149 yards on 15 carries against the Atlanta Falcons, with a 77-yard run and a 36-yard touchdown. It was also the first time since Week 4 he had at least 15 carries in a game.
.@CJSPILLER 15 ATT 149 yds (season high) TD in Wk 13. Ready to make up for lost time last weeks of season. Bye week helped ankle #Healthier

— NFLN_Playbook (@NFLN_Playbook) December 3, 2013
Spiller still may not be 100 percent, but he is good enough to be a major factor for fantasy teams the rest of the way. This week, he faces a Tampa Bay defense that has allowed 343 rushing yards on 5.0 yards per carry to opposing running backs over the past three weeks. That is followed by matchups with the Jacksonville Jaguars (24th ranked vs. RBs), Miami Dolphins (25th) and New England Patriots (21st).
While the touchdowns will be inconsistent, as Jackson is still the goal-line back, Spiller is capable of breaking off a big run or two every game and will finally start living up to that first round hype he was getting before the season.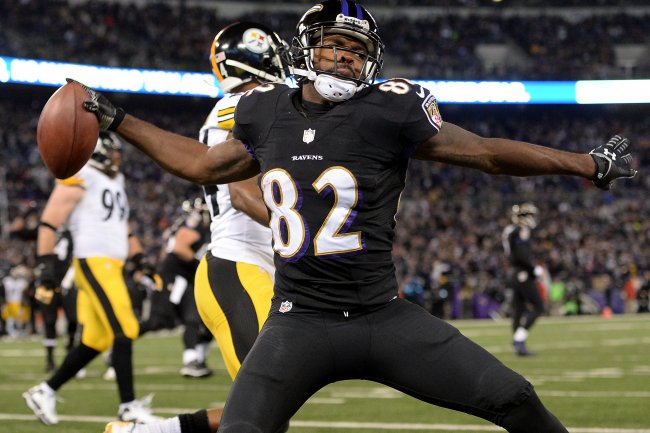 Patrick Smith/Getty Images
Wide-Receiver: Torrey Smith (Baltimore Ravens)
Torrey Smith has been a very solid, yet unspectacular player for fantasy owners this season, ranking as the 16th-best receiver in ESPN standard leagues.
However, you can't begin to expect much more from Smith over the final four weeks of the year. Last week against the Steelers, Smith caught six passes for 93 yards and a touchdown and provided a preview of what fantasy owners can look forward to for the playoffs.
This week, Smith and the Ravens are going up against a putrid Minnesota Vikings defense that ranks 30th in passing yards per game and just gave up 249 yards and two touchdowns to Alshon Jeffery last week. While those numbers may be a bit optimistic for Smith, 100 receiving yards and a touchdown could be the floor for Smith's projections against the Vikings.
Torrey Smith against Minnesota, Detroit, or New England "pass defense" is not someone that I want to see going against me in the FF playoffs

— Sigmund Bloom (@SigmundBloom) December 2, 2013
Following the Vikings, Smith faces a Detroit Lions team that is giving up the third-most points to opposing wide receivers, before going up against a hobbled Aqib Talib and the Patriots and then the Cincinnati Bengals in Week 17.
Smith's talent, combined with a high number of targets from quarterback Joe Flacco and a favorable schedule equals a lot of big numbers for the fantasy playoffs.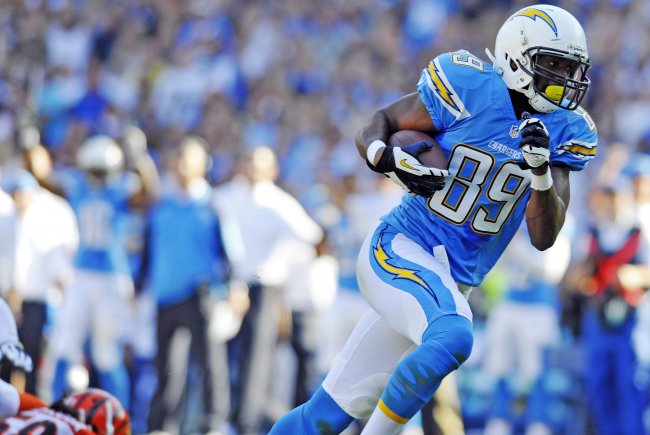 Christopher Hanewinckel-USA TODA
Tight End: Ladarius Green (San Diego Chargers)
A month ago, you would be hard-pressed to find anyone outside of San Diego that even knew who Ladarius Green was. But sixteen targets, 206 yards and two touchdowns over the last three weeks should put Green on everyone's fantasy radar.
He has also been getting more playing time over the last few weeks and is now right in line with Antonio Gates in snaps, according to Josh Moore.
Ladarius Green in on a season high 60/65 snaps, same as Gates. Increasing snaps each of last 4 weeks. Personification of upside.

— Josh Moore (@4for4_Josh) December 3, 2013
At 6'6″ and 240 pounds, the 23-year old Green is breaking onto the scene and should provide big production for the rest of the season.
Who is going to be the fantasy football breakout star in the playoffs?
Who is going to be the fantasy football breakout star in the playoffs?
Robert Griffin III

C.J. Spiller

Torrey Smith

Ladarius Green

Other
Over the next two weeks, he faces a Giants defense that ranks 25th against opposing tight ends and a Denver Broncos defense that ranks 30th against tight ends, according to ESPN standard leagues.
With the uncertainty at tight end surrounding everyone not named Jimmy Graham or Rob Gronkowski, Green is someone that can give owners a big boost as a player with a ton of upside the rest of the way.
If you are in need of a tight end or are even playing someone that needs one, now is the time to pick up Green. The future is now for Green with the Chargers, and he is ready to become a fantasy star as well.
Andrew Tornetta is a contributor for Bleacher Report. You can find his B/R archive and follow him on Twitter @AndrewTornetta.