Every fantasy football owner wants to be able to brag about starting a sleeper who ends up among the scoring leaders, but most of us end up frustrated in hindsight instead. For those who make smart but unconventional moves, however, the huge points totals are almost guaranteed to spark a win.
Looking at the NFL's schedule in Week 13, a few unheralded players stand out as potential breakout stars for the Thanksgiving weekend.
These sleepers have excellent matchups, and they should score big for your fantasy team this weekend.
Matt McGloin, QB, Oakland Raiders
Since taking over for Terrelle Pryor in the starting lineup for the Oakland Raiders, undrafted rookie Matt McGloin out of Penn State has played better than anyone could have imagined.
In two starts, he's thrown four touchdowns and one interception, totaling 457 yards of passing offense.
Therefore, it wasn't a surprise when head coach Dennis Allen named McGloin his starter for the team's Thanksgiving Day battle, as noted by ProFootballTalk:
Matt McGloin will start on Thanksgiving http://t.co/YGq7HKsHFC

— ProFootballTalk (@ProFootballTalk) November 25, 2013
Oakland heads to Dallas this weekend, and while the Cowboy should be able to pull out a victory at home against the Raiders, McGloin could have his best game yet.
The Dallas secondary has been simply atrocious this season, allowing more fantasy points to opposing quarterbacks than any other team in the NFL and featuring the league's second-worst pass defense, allowing 298.5 yards per game.
Projected Stats: 275 total yards with three touchdowns
Rueben Randle, WR, New York Giants
The New York Giants head to Washington on Sunday, and in the battle of dysfunctional teams, Washington is clearly in the lead.
There isn't much Mike Shanahan's team does well these days, and defending receivers is near the bottom of that list. Entering this upcoming game, Washington ranks No. 26 in the NFL in fantasy defense against receivers, allowing 24.5 points per game on average.
Hakeem Nicks has been incredibly disappointing for fantasy owners this year when he has made it onto the field, failing to catch a single touchdown this season. Making matters worse, he's currently dealing with an abdomen injury that kept him out of the lineup in Week 12.
But one man's misfortune is another's gain.
In this case, that other man is Rueben Randle. He's caught three passes in each of his last three games, hauling in touchdowns in two of those games. For the season, Randle is averaging only 7.5 points per game, but he leads the Giants with six touchdowns.
He'll find himself with plenty of one-on-one opportunities Sunday, as Washington will be focused on shutting down Victor Cruz.
Projected Stats: five catches for 100 yards and two touchdowns
Coby Fleener, TE, Indianapolis Colts
It's bounce-back week for Coby Fleener and the Indianapolis Colts.
After getting absolutely hammered by the Arizona Cardinals in Week 12, the Colts will host the Tennessee Titans this Sunday in a game both teams need to win for playoff position.
Tennessee features a defense that is prone to allowing big games from opposing tight ends, ranking No. 20 in the NFL and allowing 8.1 points per game.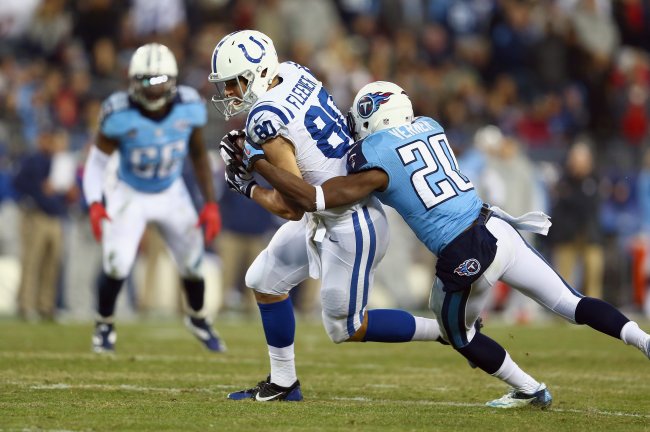 Andy Lyons/Getty Images
Three times this year, tight ends have eclipsed 100 receiving yards against the Titans—one of which can be attributed to Fleener, who caught eight passes for 107 yards two games ago.
Andrew Luck has had a difficult time adjusting to life without his security blanket, Reggie Wayne. It's time for him to rely on his old college partner the rest of the way, and Tennessee provides the perfect opponent to sharpen up for the playoff push.
Projected Stats: six catches for 100 yards and a touchdown
Follow me on Twitter @JesseReed78