Any Joe Schmo with a keyboard can make predictions like "Calvin Johnson will be hard to stop this week" or "Hey now, keep an eye on that Adrian Peterson fellow, he's gonna be tough to stop." You aren't going out on a limb predicting huge things for those guys this week.
But if you have a taste for the bold, the bizarre, the downright hard to believe, you've come to the right place. Here, I've made five bold predictions for some shocking performances or truly deep sleepers you should keep an eye on.
Am I guaranteeing I'll be correct? Oh, please. However, will I toot my own horn if these crazy predictions actually come true? Like any other writer who is absolutely skewered by scorned Internet commenters when I'm wrong, you better believe it.
C.J. Spiller Will Blow Up This Week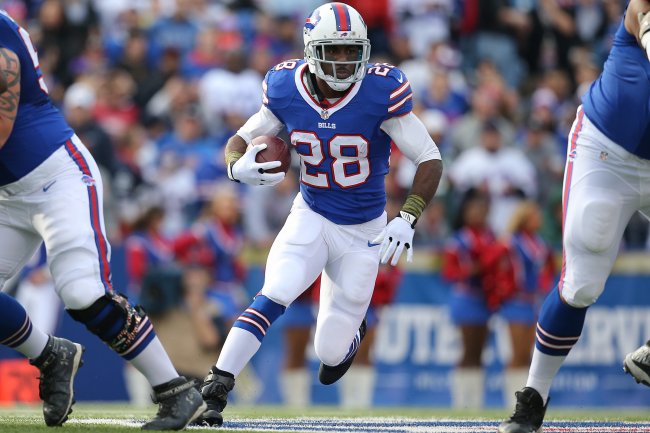 Tom Szczerbowski/Getty Images
This is such a bold prediction, I might actually sit Spiller in the one league I own him in because I'm so terrified of him after an incredibly disappointing season.
But if there was ever a week for Spiller to blow up, this would be it.
The Falcons allow 17.9 fantasy points to opposing running backs per week, 24th in the NFL, and have given up 15 or more fantasy points to opposing backs eight times. They also allow a whopping 130 rushing yards per game, 30th in the NFL, so everything points to plenty of opportunities for Spiller to exploit.
Plus, Buffalo is coming off a bye and the ankle that has plagued Spiller all season long should be close to 100 percent—or at least as close to 100 percent as it's been this year.
You know what? I think I just talked myself into taking a chance on Spiller after all.
Wish me luck.
The Philadelphia Eagles Will Torch the Arizona Cardinals…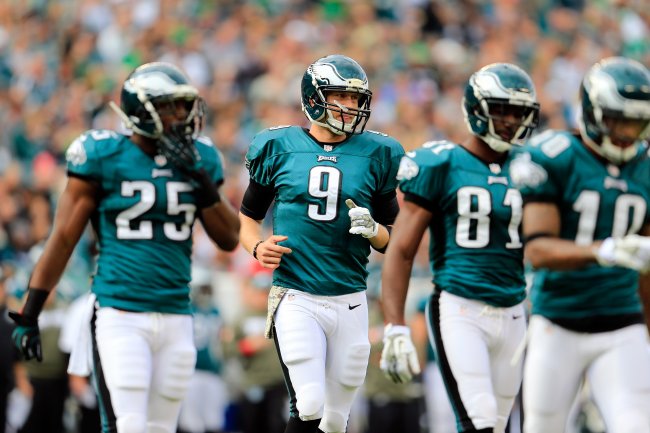 Rob Carr/Getty Images
…and in the process, fantasy options like Nick Foles, DeSean Jackson, LeSean McCoy and even Riley Cooper will all have big weeks.
Sure, McCoy's upside on paper is limited this week, as the Cardinals allow just 9.9 fantasy points to opposing running backs per week, which is the best mark in the NFL. Sure, Jackson's upside is limited, as he'll surely draw a matchup against Patrick Peterson for much of the game. And, yes, both of those factors should limit Foles' upside as well.
It all seems like madness, I know. The Cardinals have won four straight and held all but one opponent in that time to 14 or fewer points.
But the Eagles are coming off a bye—thus having had two weeks to find the holes in this defense—have actually been better on the road this year (5-1) and are hot themselves, having won three straight.
In a matchup of the unstoppable force meeting the immovable object, I'm giving the edge to the former and in the process telling you that the fantasy options on the unstoppable force will all have big weeks.
Brandon Weeden Will Be a QB1 This Week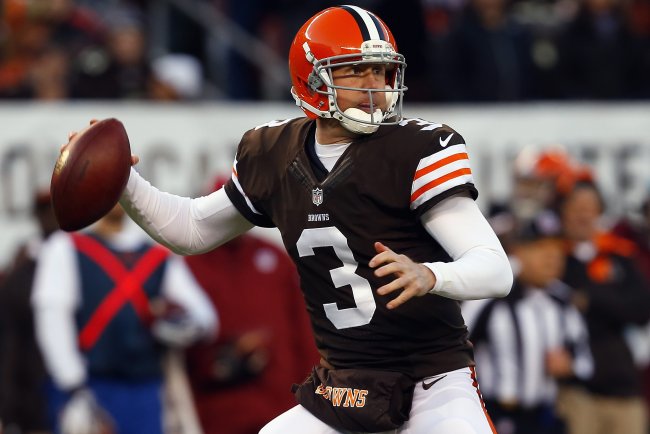 Matt Sullivan/Getty Images
Okay, we may be veering from "bold" to "dumb" with this prediction, but what's life without a few darts blindly thrown at the wall here and again?
Look, there are actually compelling reasons to think Weeden could surprise everyone—including himself, given the way he's played this year—and put up QB1 numbers this week. The team has an atrocious running game, he has viable weapons in Josh Gordon and Jordan Cameron, and the Jacksonville Jaguars allow 18.5 fantasy points to opposing quarterbacks per week, which is 28th in the NFL.
Am I telling you to start him? No, I wouldn't do that to you. However, do I think there's a very good chance he sneaks into the QB1 realm this week? I can't believe I'm saying this, but, yes, I do.
Roddy White Will Reach Double-Digit Fantasy Points…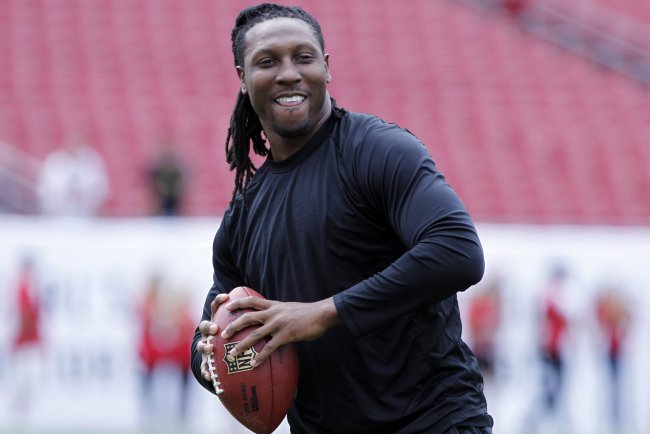 Kim Klement-USA TODAY Sports
…for the first time this season.
It's pretty simple—the Buffalo Bills allow 27.5 fantasy points to opposing wide receivers per week, which is 30th in the NFL. If White can't produce against this defense, well, it just won't happen at all this season.
He's probably too terrifying to start, but don't be surprised if he taunts you from your bench with 10 or more points.
Andre Johnson Will Be the Bust of the Week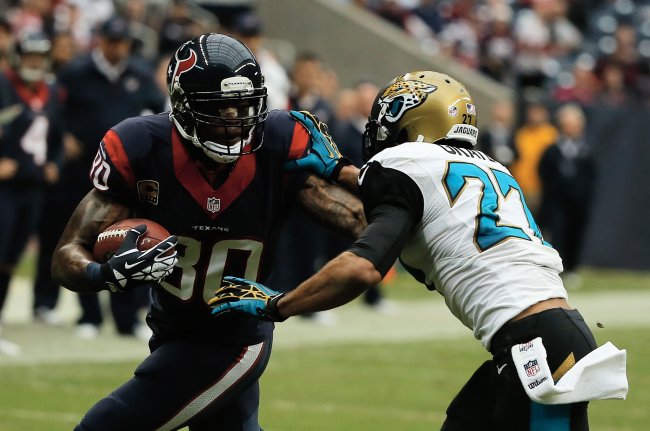 Scott Halleran/Getty Images
There are two main reasons why Andre Johnson will be an absolute bust this week.
The first is Case Keenum, who went from everyone's darling—and a viable fantasy option—to that backup quarterback who has absolutely no idea how to handle pressure. And if there is one thing you can bet Bill Belichick will do this week, it's put his defense in position to pressure Keenum.
I mean, if Johnson could only manage two receptions for 36 receptions against the Jaguars, well, things aren't looking up for a matchup with New England.
The second is Aqib Talib, a physical corner who could give Johnson some real issues this week. If Talib can frustrate Johnson off the line and the Patriots can keep a steady rush on Keenum all game long, Johnson owners will be singing a sad tune indeed this Sunday.
All point totals for standard-scoring leagues. Points against stats via ESPN.
Hit me up on Twitter—I'll answer your fantasy lineup questions, tweet random fantasy musings and propose theories for how Antonio Brown overcame Joe Haden's fantasy kryptonite.