Fantasy football is a funny thing in that, as much as you love it and look forward to it, by this time in the season it can make you hate yourself and everyone around you.
Especially yourself.
This is about the time of the season where wistful owners start looking back on their draft-day mistakes, wondering how they could be so blind drafting Tom Brady in the third round or entrusting your first-round pick to a member of the Buffalo Bills. I mean, C.J. Spiller? What were we thinking?
But things are arguably just as frustrating for those still hanging in contention. Because football is the equivalent of a human car crash every week, players get injured and a "next man up" mentality sets in for both their teams and your fantasy squad. Aaron Rodgers may have driven you to a boisterous start, but his injury has also led to just as many drinking problems.
And even if your players aren't injured, sometimes they just, like, are bad at football suddenly. I'm in a long-term dynasty league—a league where the length of keepers are unlimited—where I own both Ray Rice and Maurice Jones-Drew. Sure, those championships in 2010 and 2012 were nice, but what am I to do now that both are running in quicksand?
Next man up.
Every week matchups play a role in dictating who the top scorers are at each position, and if you look close enough, you might be able to salvage your season. With that in mind, here are a few guys who should have solid outings in Week 12.
Case Keenum (QB, Houston Texans)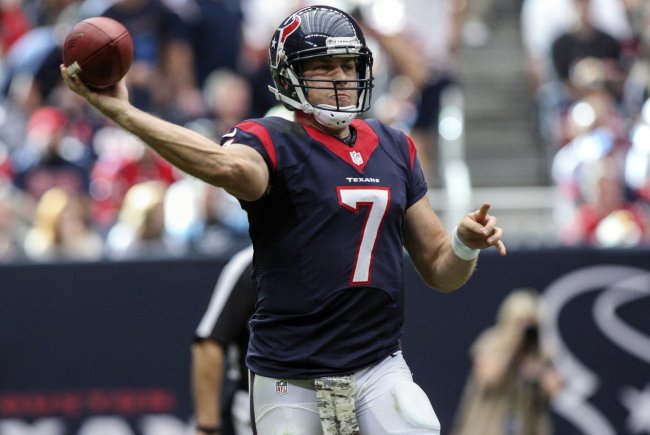 Troy Taormina-USA TODAY Sports
If you're looking for insight into whatever is going on in Houston right now, umm, don't ask. Because it's really baffling. Keenum, neither great nor horrible, was pulled late in the third quarter of Sunday's 28-23 loss to the Oakland Raiders in favor of Matt Schaub.
The move was met with the type of antipathy one would expect. Schaub was mercilessly booed by the home crowd, continued his slow disintegration before our eyes and did nothing that Keenum hadn't already. It didn't help that Kubiak's explanation was less than stellar, either.
Per Daniel Gotera of KHOU, Kubiak said:

We had to make a lot of changes from a protection standpoint to handle some of the things they were doing. Trying to create some tempo and do that. And it made it very tough on Case, in my opinion, being a young player. I knew that Matt could get done some of the things that I wanted to get done, real fast, and to give us a chance to win the football game. So that's why I did it.
Quick translation: I'm trying to save my job, and I'm really out of answers this point.
Luckily, Kubiak made what should have been an obvious call and named Keenum his starter this week. Which, again, comes at a super swell time because the Texans are playing the Jaguars. If there were ever a time for Houston to end its eight-game losing skid, this is it. We've all had much fun at Jacksonville's expense from both a fantasy and real-life sense, and there's little reason to expect the gravy train to stop now.
I mean, Carson freaking Palmer had 419 yards and two touchdowns against them last week.
So here's what you need to know: Keenum is a top-10 play this week. Only the Cowboys, who have given up four 400-yard passing games thus far, give up more fantasy points to opposing quarterbacks than Jacksonville. Keenum had thrown for three touchdowns in two straight games heading into the contest where Kubiak was dropped on his head.
Plus, Andre Johnson doesn't want to pulverize Keenum yet. So there's that.
Rashad Jennings (RB, Oakland Raiders)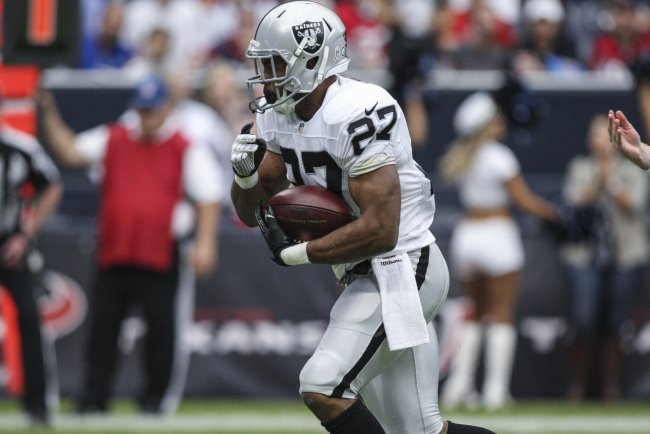 Troy Taormina-USA TODAY Sports
The running back position is what fantasy-related coronaries are made of. It's an unpredictable position bereft of reliable talent that every year crowns a new late breakout player to come around and screw you over. Or win your season.
Jennings is looking increasingly like that player. Long stashed in the Jaguars' overhead compartment behind Maurice Jones-Drew, Jennings is finally healthy himself and getting a chance while the never-healthy Darren McFadden chills on the sideline with his latest ailment.
It's pretty easy to see why the Jags held onto Jennings so long. In three games as Oakland's primary ball-carrier, he's rushed for 340 yards and two touchdowns while adding 11 receptions for 91 yards, though most of those came in Week 9. Jennings hasn't had fewer than 100 total yards in any contest, looked great and aggressive running the ball and may have played McFadden out of a job for good.
I've seen Jennings play plenty of times, and never have I expected him to break an 80-yard touchdown like he did last week against Houston.
Owners may not see that again, but the steady effectiveness shouldn't stop. The Raiders host Tennessee this week, which is quietly in the "worst team of the second half" discussion. The Titans have lost five of their last six games after a 3-1 start, and despite most of those contests being competitive, it's been the opponent's running game that has helped spell their demise each time.
Opposing running backs are scoring 19.8 points per game against Tennessee, the fifth-worst rate in football. That comes despite the Titans being one of just seven teams to not allow a receiving touchdown to a running back yet.
Translation: The Titans can't stop the run. With Jennings already having had decent outings against better units, there's no real reason to expect the gravy train to stop. Unless, like, McFadden makes a surprise appearance or something.
Harry Douglas (WR, Atlanta Falcons)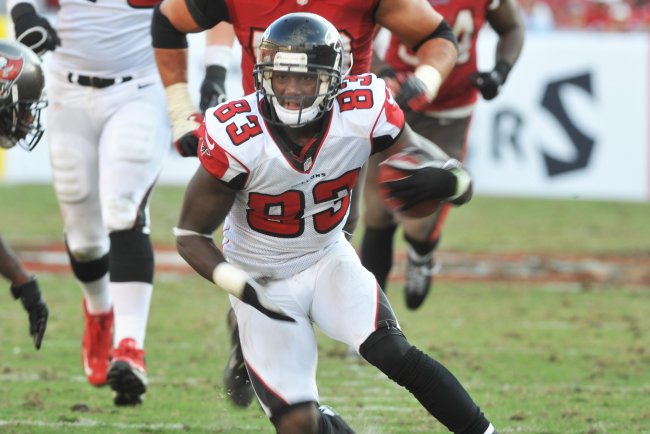 Al Messerschmidt/Getty Images
We're getting to the point where it may be prudent for the Falcons to look long and hard at shutting Roddy White down. It won't happen this week or probably even next, but White has been bombarded with injuries this season and has looked like a shell of himself. He has only 18 receptions heading into Week 12, none longer than 20 yards, and there isn't many positive signs on film that things are getting better anytime soon.
With Julio Jones already on the Island of Misfit Injuries and the Falcons' season dead, it might be best long-term for White to shut it down.
All of this is to say that Harry Douglas is Matt Ryan's top target. Right now and for the rest of 2013, barring injury. Douglas has perhaps been the only person to benefit from this nadir, already compiling career highs in receptions (51), yards (754) and touchdowns (two) in 10 games. (As an aside, it's kind of weird Douglas never had more than one touchdown, no?).
Ryan's struggles have been a bit underrated this season, at least from a fantasy perspective. Despite the injuries to his top two receivers, Ryan sits No. 11 in total fantasy points for quarterbacks this season, ahead of Tom Brady, Colin Kaepernick and plenty of other recognizable names. If you drafted him expecting similar numbers to 2012, the only thing worthy of complaint is the interception total. Ryan is on pace to nearly match his yardage and touchdown totals from last year.
And, based on their dreadful defense and running game, there's no sign that anything should change going forward.
That only means big things for Douglas, especially this week against New Orleans. The Saints and Falcons know each other so well that Atlanta should be able to find some success, even if it isn't enough to win. Rob Ryan has been brilliant drawing up schemes all year, but 10 fantasy points seems like a bare minimum level of performance here for Douglas.
Quick Hits at Other Positions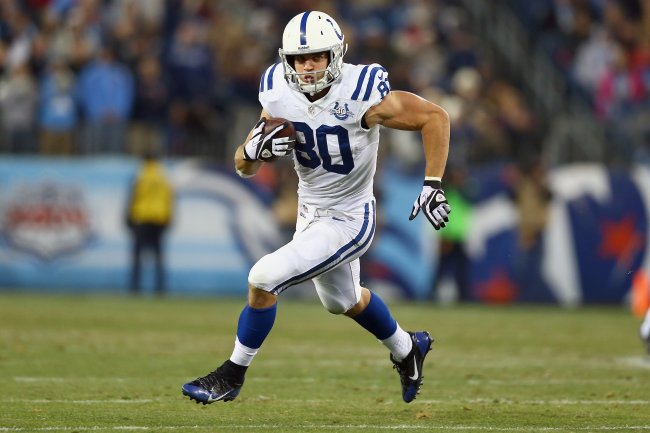 Andy Lyons/Getty Images
Coby Fleener (TE, Indianapolis Colts): Fleener set career-highs last week with eight receptions and 108 yards against the Titans, but those peaks may only last for a week.
For all the rightful talk about the Cardinals' brilliant secondary, they've been by far the league's worst team against tight ends this season. Arizona is last in the NFL in tight end receptions, yards and touchdowns. All that adds up to an average of 14 fantasy points per game for opposing tight ends, nearly four per contest worse than any other team.
Ryan Succup (K, Kansas City Chiefs): Dude, I don't know. It's a kicker. The Chargers defense is horrible, and Kansas City employs the embodiment of a 20-to-20 quarterback. Seems like ample opportunities should be coming, no?
Texans D/ST: You employ J.J. Watt? You're playing the Jaguars? At football? Good enough for me, bucko.
Follow Tyler Conway on Twitter: