Desperate times call for desperate measures, and that is quite apparent as Week 11 of the fantasy football season is officially upon us. Most leagues only have about a month remaining, so it's now or never for teams outside the playoffs that are looking to make a move up the standings.
It's entirely possible that some teams are already at a disadvantage after players like Chris Johnson and Donald Brown went off on Thursday Night Football. If that is the case, then there is even more pressure to make the right lineup decisions in order to counteract such big scores on the other side.
Owners certainly need their superstars to come through with big efforts this week and every week, but there are three unheralded players who are poised for huge performances that will help you immensely in Week 11.
Mike Glennon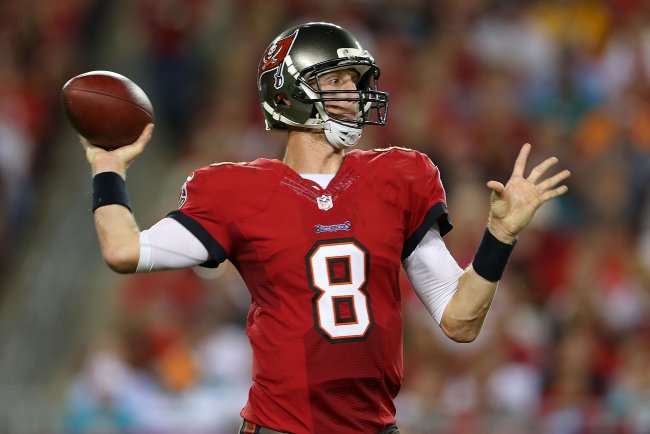 Mike Ehrmann/Getty Images
Although the Tampa Bay Buccaneers' record suggests that rookie quarterback Mike Glennon hasn't done a great job since replacing Josh Freeman earlier in the season, the NC State product's fantasy production says otherwise.
The Bucs picked up their first win of the season this past week against the Miami Dolphins, but it was actually Glennon's worst fantasy performance of the year. He threw for just 139 yards and one touchdown, and he threw his first interception in four games, according to NFL on ESPN.
Believe it or not, that was Mike Glennon's first INT in his last four games.

— NFL on ESPN (@ESPNNFL) November 12, 2013
It's easy to lose sight of how solid Glennon has been from a fantasy perspective, but he had four consecutive games in which he looked like a suitable fantasy starter prior to Monday's contest. Glennon has eight touchdown passes and just two interceptions in his past five games. In three of those games he threw for two scores, and he threw for 256 yards or more thrice during that stretch as well. Also, with the Bucs battling injuries at the running back position, they figure to lean on Glennon even more heavily moving forward.
Tampa will host the struggling Atlanta Falcons this week, and Glennon just so happened to have his best fantasy showing of the year against Atlanta several weeks ago. Glennon threw for 256 yards and two touchdowns in that game, and there is no reason why he can't do even better than that on Sunday.
The Falcons are allowing 252 passing yards per game and have surrendered 19 passing touchdowns to boot, so their secondary is vulnerable to say the least. With Dallas Cowboys quarterback Tony Romo on bye this week, Glennon would be an ideal replacement.
Week 11 Fantasy Projection: 283 passing yards, three touchdowns, one interception
Chris Ivory
After stumbling through injuries and ineffective play early in the season, it seemed as though Chris Ivory was destined to be the New York Jets' backup running back. Bilal Powell wasn't exactly setting the world on fire, but he was playing pretty well, and Ivory couldn't seem to get back in Rex Ryan's good graces.
That changed a few weeks ago when Ivory was given 34 carries out of nowhere in a win over the New England Patriots. Ivory followed that up with a weak showing against the Cincinnati Bengals, but then he gashed his former team in the New Orleans Saints.
Which player will have the best fantasy performance in Week 11?
Which player will have the best fantasy performance in Week 11?
Mike Glennon

Chris Ivory

Rishard Matthews
Ivory was especially impressive in New York's shocking win over the Saints as he rushed for 139 yards and a score. With rookie quarterback Geno Smith experiencing the ups and downs of the NFL season, the Jets figure to put an even greater emphasis on the running game moving forward, especially with the defense playing well. Running the ball well is particularly important on the road, so look for Ivory to be a huge part of the game plan against the Buffalo Bills on Sunday.
When the Jets beat the Bills earlier in the season, Powell turned in a career day by rushing for 149 yards. Powell has clearly been usurped by Ivory, so that type of day is well within reach for him. The Bills are allowing 117 rushing yards per game and have actually only given up three rushing scores, but teams average four yards per carry against them, so they can be run on.
Ivory is a tough workhorse who gets better as the game wears on, and if the Jets are able to get a lead in this game, the Bills will see a heavy dose of Ivory.
Week 11 Fantasy Projection: 131 rushing yards and two touchdowns
Rishard Matthews
Al Messerschmidt/Getty Images
The Miami Dolphins pay Mike Wallace and Brian Hartline a lot of money to be their top receivers, but a new target emerged in Week 10. Second-year man Rishard Matthews came from out of nowhere to post 11 catches for 120 yards and two touchdowns against the Bucs on Monday night. Matthews had barely put up those kinds of numbers over the course of his entire career before Monday's game, so it's only natural that fantasy owners are skeptical.
After all, there are a lot of mouths to feed in a Miami offense that isn't considered to be great to begin with. Also, quarterback Ryan Tannehill isn't exactly an elite passer either. Even so, there is reason to believe that Matthews can continue to be a productive fantasy player moving forward.
With opposing defenses focusing on Wallace and Hartline, Matthews is always going to have single coverage. Also, according to ESPN's Matthew Berry, the slot receiver role is hugely important in Miami's offense.
Kinda think Rishard Matthews is legit in a WR3 sorta way. They love the slot in this O – Brandon Gibson was productive pre-injury.

— Matthew Berry (@MatthewBerryTMR) November 12, 2013
In addition to all of that, the Dolphins have an ideal matchup against the San Diego Chargers in Week 11. The Chargers have one of the worst pass defenses in football as they are allowing nearly 280 passing yards per game, and they have given up 14 passing touchdowns.
Miami simply isn't committed to running the ball consistently, which means there should be plenty of passing on Sunday. Don't be surprised if Matthews is the main beneficiary.
Week 11 Fantasy Projection: Six receptions for 105 yards and one touchdown
Follow @MikeChiari on Twitter