The NFL schedule may be rapidly heading toward the postseason, but it is far more important that there is only a handful of weeks remaining until your fantasy football playoffs begin.
Week 11's fantasy outcomes, as is so often the case, will depend largely on which stars live up to their billing as the league's top players and which ones disappoint. Let's dig into some big names that are set to dominate Sunday.
Reggie Bush
As a team, the Pittsburgh Steelers have been incredibly disappointing this year. However, if there is one thing Pittsburgh has done well, it is stopping the pass. In fact, the Steelers rank fourth in the NFL in opposing passing yards allowed.
Who gets more points Sunday?
Who gets more points Sunday?
Calvin Johnson

Reggie Bush
On the flip side of the coin, though, is the Steelers' 29th-ranked rush defense. The Detroit Lions' coaching staff will undoubtedly be aware of the discrepancy between Pittsburgh's secondary and its front seven. Expect plenty of carries for Reggie Bush (and even Joique Bell) on Sunday in place of typical passing calls.
Assuming Calvin Johnson doesn't completely go off against the Steelers' strong secondary (which is still a major assumption considering we are talking about Megatron), Bush will see the ball early and often. If the passing game is struggling, Bush may even get some screen passes in space to get Matthew Stafford going.
More touches against a vulnerable defense will mean tons of fantasy points for Bush.
DeSean Jackson
It may have taken two Green Bay defenders basically crashing into each other in the air Sunday, but DeSean Jackson has put up elite numbers the past two weeks behind Nick Foles' resurgent arm.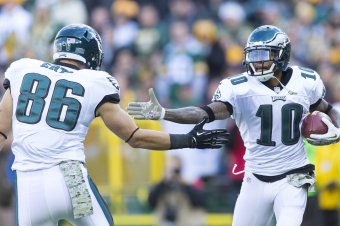 Jeff Hanisch-USA TODAY Sports
Jackson totaled 150 receiving yards and a touchdown against Oakland and followed that up with 80 yards and a touchdown against the Packers. If there was ever a safe bet in fantasy circles, it is presuming that Jackson's recent hot streak will continue against a terrible Washington defense.
The Redskins are 26th in the league in opposing passing yards allowed and 20th in sacks. That means Foles will have plenty of time in the pocket to wait for Jackson to get open.
And everyone gets open against Washington.
Russell Wilson hasn't exactly been dynamite on the fantasy front despite his team's impressive 9-1 record, but that will change Sunday against the Vikings.
In fact, every single one of ESPN's fantasy experts has Wilson ranked fourth or better among quarterbacks in Week 11. Considering Wilson is only 17th in the NFL in passing yards, that should say something about the matchup he will be facing.
Minnesota is a measly 29th in the league in passing yards allowed and has also been beaten by mobile quarterbacks multiple times this year. Cam Newton tacked on 30 rushing yards and a touchdown on the ground to his impressive passing totals, while Robert Griffin added 44 yards rushing to his nearly 300 passing yards.
Wilson will have room to run and pass Sunday. Look for newly activated and motivated Percy Harvin to help out in the passing game as well against his former team by giving Wilson another weapon.