Even Shivakamini Somakandarkram would be pleased to see some of the fine fantasy football trophies filling the Internet at the moment.
Awards, accolades and trophies all fill the figurative glass case for the winners and losers of another fantastic fantasy season.
The constant browser refreshing will come to an end and the smack talk from one fantasy owner will begin anew. For those of us who came up empty-handed once again, let's live vicariously through others by taking a gander at some mighty sweet trophies that will assuredly squire their owners to every single league congregation throughout the year.
In other words: Some owners are about to get mighty annoying with their gloating. Here is our quick look at some fantasy leagues doing the hardware game correctly.
(See something we missed? Help us out with your own league prize in the comments section below.)
Entourage Football League
Photo Credit: Josh Tremont Twitter
This should hit the palate like a well-aged bourbon poured neat into a refined glass.
Really, the only way to hold up this trophy tweeted out by Josh Tremont is with one of your pinkies out, because it's that highfalutin of an award.
This should also be a reminder that the only way to watch a football game is in full pads and gear. Hey, if kickers are mandated to do so, you shouldn't feel the least bit silly for doing the same.
The League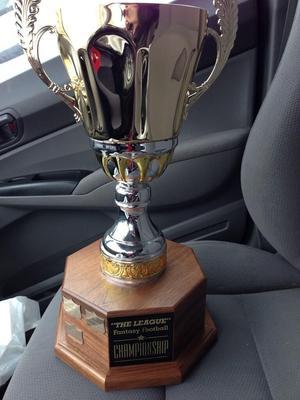 Photo Credit: Taylor Allen Twitter
No points for originality as far as the name is concerned, but it's tough not to absolutely adore the clean finish on this trophy. This tweet from Taylor Allen shows off this prize headed into the championship match for his league's season.
Presumably, there's an opening at the top of this thing, giving the recipient the perfect vehicle for drinking around league members throughout the year.
As of this writing, there is no closure as to whether Allen took home the top prize. We leave you to constantly refresh his feed to satisfy your curiosity.
Class
When all else fails, grab the top half of that award you won back when you were a kid and stick it on top of an empty Jack Daniel's bottle.
It takes hard work, research, luck and a great deal of liquor to come out on top in this world, so we salute this award posted on cwo0p's Instagram feed.
Last Place Lulz
While the "winner winners" enjoy their chicken dinners, some of you out there will be mocked mercilessly for being the worst in your respective leagues.
When simple chiding won't do, you fashion the perfect trophy for that specific lot who last checked their team some time in October.
Sure, this is largely a slideshow featuring the victors, but we simply couldn't pass up this tweet from Phil Vogel, showing Fox News corespondent Griff Jenkins accepting his award for "bringing up the rear."
The Chubbs
"It's all in the hips."
Fantasy football owner Peter Gumas tossed a Hail Mary for a retweet from Carl Weathers for this snapshot. The man who plays one half of the greatest handshake in cinematic history in film's most precious gem, 1996's Happy Gilmore.
We have no clue why the trophy is named after the fictional golfer, nor do we care. The fact remains that Weathers is a legend and we are only sad there aren't more awards named after him.
Baller
Nick Lennon posted to his Instagram, "It's official—I have won both of my #FantasyFootballleagues this year!"
Granted, neither trophy is the best we've seen through the years, but the ability to raise up some hardware while you wear some more around your midsection is the smack talk to end all smack talk.
Frat Game
Fraternities do a few very specific things well. One of them is foam parties, and another, apparently, is fantasy football trophies.
Back in July, Kenny Jackson tweeted, "Just take a moment out of your day and check out our fantasy football trophy."
Months later, one frat bro is taking home the apex of college life. Forget grades, degrees and educational acumen; this is the only thing with which these Mizzou Zeta Phi members should concern themselves for four years.
Bling
It's not exactly a diamond-encrusted Super Bowl ring, but it's as precious as anything found in Middle Earth. To the victor go the spoils, including this fantasy football ring posted to rangers3651's Instagram feed back in July.
So wait, do you have to re-size that thing every single year, or do you just call Jostens the moment December rolls around?
Inquiring leagues want to know.
Heisman Hat Tip
Photo Credit: Dave Mitri Twitter
Dave Mitri shows off one of his creations that he believes would be perfect for the firefighters in the audience. We say this is the perfect trophy to adorn a great many displays.
It's also the only way we know how to effectively change the channel when Red Zone isn't on.
Tebowl
For every Shiva Bowl, there is an equally important last-place game. We simply have to know who the absolute worst owner of the bunch is.
To that end, Shace Holdu tweeted, "Building a trophy for FF league and I found the perfect topper. The last place game shall now be called the Tebowl."
Little did we know, there is a very real market for Tim Tebow action figures.
Begin Slideshow
This article is
What is the duplicate article?
Why is this article offensive?
Where is this article plagiarized from?
Why is this article poorly edited?
Flag This Article