The end of a fantasy draft is often a time for shenanigans. Sure, you may have an eye on that sleeper that only you know about (in which case, you're probably digging too deep), but how do you select your kicker or sixth running back? In times like this, someone with a catchy nickname like "The Blair Walsh Project" might make it onto your roster instead of Jay Feely.
But, as seems the case every season, a couple players have emerged from those obscure depths to decide myriad fantasy seasons. Knowshown Moreno and Jordan Cameron were merely late-round fliers in most leagues, but their owners have reaped an enormous return on their investment.
Extracting value out of late-round picks is nearly as important as having your foundational studs meet expectations (sorry, Ray Rice owners). With the fantasy regular-season nearly complete, you are probably either gearing up for the playoffs or ruing your missteps.
But before the fantasy season winds down, it's helpful to look back and see who bucked expectations the most. By examining the top-five scorers at each position, we can see that for every Adrian Peterson who fulfilled preseason prognostications, a Josh Gordon emerged from the late rounds to tip the scales.
*All point and draft position info based on ESPN standard fantasy leagues, and all stats courtesy of Pro-Football-Reference.com.

Quarterback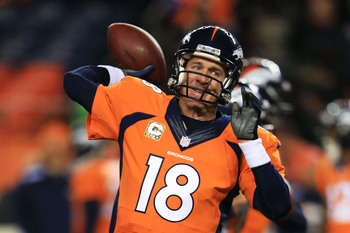 Doug Pensinger/Getty Images
1. Peyton Manning – 300 points

2. Drew Brees – 253 points

3. Matthew Stafford – 236 points

4. Cam Newton – 226 points

5. Philip Rivers – 216 points

Peyton Manning is the leading scorer in all of fantasy, as he is the only player to crack the 300-point barrier. The 47-point gap between Peyton and second-leading scorer Drew Brees is enormous, even by the high-point-total standards of quarterbacks.
But while Manning and Brees have provided the expected elite returns on their high investments, the next three quarterbacks have exceed preseason prognostications. Matthew Stafford and Cam Newton were both drafted among the top-10 at their position, meaning that they were projected starters in most leagues. However, Newton's six rushing touchdowns and Stafford's impeccable connection with Calvin Johnson have vaulted them into elite status.
The real surprise here is Philip Rivers, who went undrafted in many leagues and finished as the 24th quarterback off the board on average. That means that he was not even on a roster in most 10-team leagues to begin the year, and Rivers' rejuvenation has been one of the year's more underrated stories. The Chargers themselves are suffering due to an exceedingly poor defense, but their embattled quarterback has delivered a big return for both San Diego and his fantasy owners.
Running Back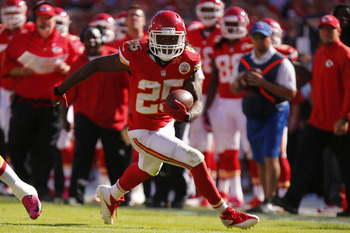 Kyle Rivas/Getty Images
1. Jamaal Charles – 198 points

2. Adrian Peterson – 189 points

T-3. Matt Forte – 179 points

T-3. Knowshon Moreno – 179 points

5. LeSean McCoy – 174 points

Jamaal Charles has bounced back nicely from a torn ACL that wiped out nearly his entire 2011 season. Over the past two seasons, only Adrian Peterson and Marshawn Lynch have provided more fantasy points among running backs. A.D. himself hasn't even been the best player in the league, as he was in his historic 2012 campaign, but he remains firmly in the discussion for best running back in the game.
With Ray Rice's sharp decline, Matt Forte and LeSean McCoy are the pre-eminent dual-threat backs in the league. That holds plenty of real football value as the NFL evolves into an increasingly pass-heavy league, and they're especially sweet commodities in PPR leagues. Both were fringe first-rounders or early second-rounders at the beginning of the season, but they have been two of the safer options at the position while producing elite results.
Knowshon Moreno is the total outlier here, as the Broncos' back wasn't even a lock to make Denver's roster at the beginning of the year, let alone any fantasy roster. His season has been phenomenal for someone who was only a 13th-round pick, the 41st back off the board on average. Since Week 4, Moreno leads all running backs in fantasy points. Indeed, the Broncos' record-setting offense has placed a top-five player at every skill position, with none of them being as unlikely as the former first-round pick out of Georgia.
Wide Receiver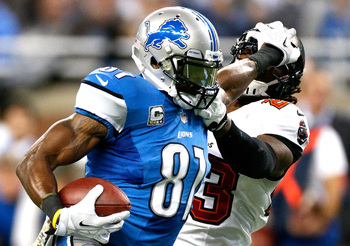 Gregory Shamus/Getty Images
1. Calvin Johnson – 194 points

2. Josh Gordon – 166 points

3. Demaryius Thomas – 161 points

4. Brandon Marshall – 149 points

5. A.J. Green – 148 points

Calvin Johnson has earned well-deserved buzz as potentially the greatest receiver since Jerry Rice. That's not hyperbole, as Megatron truly is a transcendent talent who is a joy to watch, so long as you're not rooting for the team facing him. Johnson's 28-point lead over Josh Gordon is equivalent to the gap between Gordon and the ninth-ranked Dez Bryant.
Speaking of Gordon, he's ridden an unfathomable 67-point! fortnight to shoot up into second place. The other receivers were among the first five off the board in preseason drafts, but Gordon's average draft position was 121.5. Considering these numbers are coming with the likes of Brandon Weeden, Jason Campbell and Brian Hoyer at quarterback, it's scary to think what may happen if the Browns ever find that elusive franchise quarterback to pair with their stud receiver.
Apart from Gordon, chalk has largely ruled at the position. Of the top-15 preseason wide receivers, only six have dropped from that ledger. Four of them (Julio Jones, Roddy White, Reggie Wayne and Randall Cobb) have missed extensive time with injuries, while Victor Cruz is ranked 17th. Only Marques Colston has truly disappointed, turning in the 48th-ranked receiver season after being picked 14th at the position.
Tight End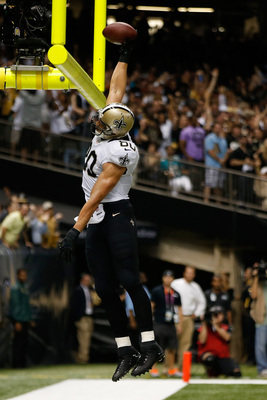 Chris Graythen/Getty Images
1. Jimmy Graham – 189 points

2. Vernon Davis – 125 points

3. Julius Thomas – 115 points

4. Jordan Cameron – 101 points

5. Jason Witten – 93 points

Jimmy Graham towers above his peers, with the Saints tight end holding the largest gap over the second-place player at his position. That's even more astounding when you consider the scarce point totals that usually come from the position, making Graham one of the most valuable players in fantasy this season.
The rest of the list is littered with inconsistency. Vernon Davis has had six single-digit point games and has fallen victim to a couple of injuries. Speaking of which, Broncos matchup nightmare Julius Thomas has been a touchdown machine when healthy, but his absence the past two weeks as the fantasy regular season winds down has been untimely, to say the least. Cameron was one of the biggest breakouts in the first quarter of the season, ranking 20th overall and second at the position, but he has produced an average of just over 4.5 points per game since then.
This list comes with an asterisk, however, as Patriots tight end Rob Gronkowski would likely challenge Graham for the top slot if he had been healthy all season. Since returning in Week 7, Gronk has led all tight ends in fantasy points, with a narrow edge over Graham. Just 16 points behind Jason Witten, expect New England's All-Pro tight end to break onto this list by season's end.
Defense/Special Teams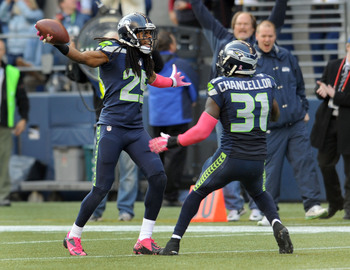 Steve Dykes/Getty Images
T-1. Seattle Seahawks – 140 points
T-1. Carolina Panthers – 140 points

T-3. Cincinnati Bengals – 136 points

T-3. Kansas City Chiefs – 136 points

T-5. Arizona Cardinals – 119 points

T-5. San Francisco 49ers – 119 points
So, um, I hope you like ties. Fantasy doesn't always tie perfectly into real-world football, but this illustrates the notion that the NFC West is the league's toughest division. In case you're wondering, the Rams are right behind the Cardinals and Niners with 111 points.
The Panthers and Chiefs are the biggest surprises, as both have emerged as nearly universally owned defenses, despite lukewarm preseason expectations. The common denominator? Getting to the quarterback, as both defenses rank among the top-four teams in terms of sacks on the season.
Defense is a position where weekly streaming is a perfectly acceptable strategy, but these units are the rare ones that should be rostered and started every week.
Kicker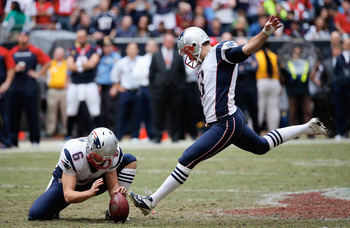 Scott Halleran/Getty Images
1. Stephen Gostkowski – 132 points

2. Steven Hauschka – 128 points

3. Justin Tucker – 124 points

T-4. Matt Prater – 117 points

T-4. Mason Crosby – 117 points

T-4. Adam Vinatieri – 117 points
Kickers are the most fickle position in fantasy, but this list actually reflects a surprising amount of preseason stability. Five of the six names on this list were among the top 10 who were drafted at the position, with Hauschka being the only one who was ranked outside of this range, coming in at a respectable 14th.
Kicking is all about opportunity, so drafting one on a team with a reliable offense (especially at quarterback) usually does the trick. Justin Tucker is really the only exception to that rule—if we exclude Mason Crosby because of the Rodgers injury—and he's on the list due to remarkable accuracy (29-of-31) and opportunity, with the most attempted field goals in the league.
And that's about as much analysis as one should ever squeeze out about kickers.
Begin Slideshow
This article is
What is the duplicate article?
Why is this article offensive?
Where is this article plagiarized from?
Why is this article poorly edited?
Flag This Article