There are some ideal matchups for a number of quarterbacks in Week 5, making this week's fantasy QB rankings a bit more interesting.
We saw some big games from a number of quarterbacks last week, including a few surprises. Philip Rivers and Alex Smith both had huge games and surprised a number of fantasy owners, and they very well could do that once again this week.
Below are this week's quarterback rankings, followed by a breakdown of some of the more interesting players to keep an eye out for. Rankings are based off of how each QB has performed up to this point along with who they are matched up against.
Note: All information regarding points scored is based off of ESPN's standard scoring leagues.
NFL Week 5 Fantasy QB Rankings

| | | | |
| --- | --- | --- | --- |
| Rank | Player | Team | Opponent |
| 1. | Peyton Manning | DEN | @DAL |
| 2. | Drew Brees | NO | @CHI |
| 3. | Aaron Rodgers | GB | DET |
| 4. | Michael Vick | PHI | @NYG |
| 5. | Cam Newton | CAR | @ARI |
| 6. | Matthew Stafford | DET | @GB |
| 7. | Philip Rivers | SD | @OAK |
| 8. | Tom Brady | NE | @CIN |
| 9. | Tony Romo | DAL | DEN |
| 10. | Matt Ryan | ATL | NYJ |
| 11. | Terrelle Pryor | OAK | SD |
| 12. | Russell Wilson | SEA | @IND |
| 13. | Colin Kaepernick | SF | HOU |
| 14. | Andrew Luck | IND | SEA |
| 15. | Eli Manning | NYG | PHI |
| 16. | Sam Bradford | STL | JAC |
| 17. | Jay Cutler | CHI | NO |
| 18. | Alex Smith | KC | @TEN |
| 19. | Andy Dalton | CIN | NE |
| 20. | Joe Flacco | BAL | @MIA |
| 21. | Matt Schaub | HOU | @SF |
| 22. | Ryan Tannehill | MIA | BAL |
| 23. | Geno Smith | NYJ | @ATL |
| 24. | Carson Palmer | ARI | CAR |
| 25. | Ryan Fitzpatrick | TEN | KC |
Rankings by Tyler Brooke
Michael Vick, Philadelphia Eagles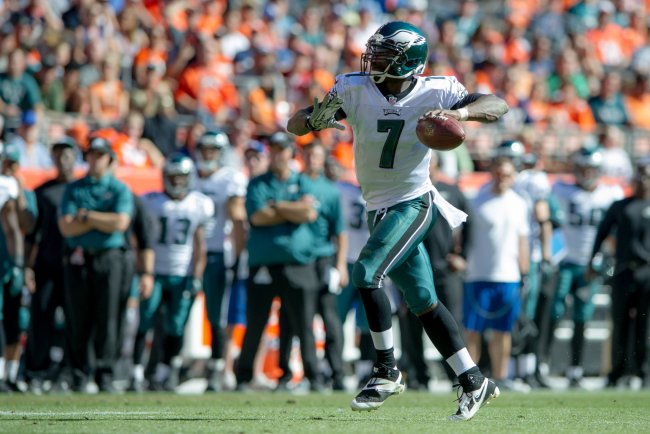 Dustin Bradford/Getty Images
Oh, how Michael Vick loves to tease us. After putting up 25 and 34 points in the first two weeks of the season, he has come back down to Earth the past two weeks, scoring 15 and 13 points, respectively.
How many TDs will Vick score this week?
How many TDs will Vick score this week?
What makes Vick a must-start in fantasy is always that boom-or-bust playing style, especially in this new offense for the Philadelphia Eagles. With seven total touchdowns and over 1,300 total yards, we know that Vick is a productive fantasy QB.
This week gives Vick another opportunity to put up huge numbers. The Eagles will be taking on the 0-4 New York Giants, who have struggled mightily this season. They've given up at least 30 points in every single game and are allowing nearly 400 yards of total offense per game.
A game like this is the perfect opportunity for Vick to put up a 30-plus point performance. With a new offense and weapons like DeSean Jackson, expect Vick to have a very big day for fantasy owners.
Terrelle Pryor, Oakland Raiders.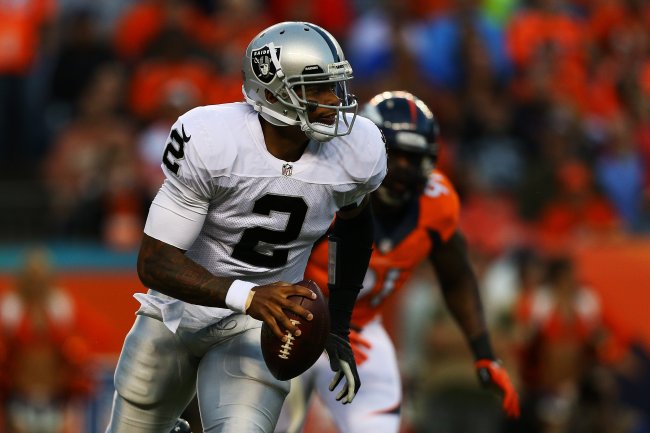 Justin Edmonds/Getty Images
There hasn't been another legitimate sleeper QB to emerge quite like Terrelle Pryor has this season. After missing last week's game against the Washington Redskins, Pryor is ready to come back and put up some points.
Before the concussion, Pryor had put up 19, 10 and 18 points through the first three games. According to Sports Illustrated, Pryor is good to go for Week 5 against the San Diego Chargers.

Terrelle Pryor to start Sunday for Raiders, Matt Flynn demoted to 3rd string http://t.co/Uq3yeEZyuj

— Sports Illustrated (@SInow) October 2, 2013
Playing the Chargers this week should help Pryor have another big outing this week. San Diego has one of the worst defenses in the NFL, allowing 312.3 passing yards and 120.5 rushing yards per game. With a dual-threat QB like Pryor, that means big holes to pick up yards through the air and with his legs.
With injuries and bye weeks, players like Pryor are essential in weeks like these. He has a lot of upside from a fantasy perspective, and he should have no problem racking up yardage and putting up a couple of touchdowns this week.
Colin Kaepernick, San Francisco 49ers
We have not seen the same Colin Kaepernick that was saw in 2012 so far this year, concerning a lot of fantasy owners that drafted him early.
Things were looking very promising for Kaepernick after Week 1, when he put up 30 points off of 412 yards passing and three touchdowns. After that, he had two terrible outings, with his team getting blown up while putting up just nine combined fantasy points. He came back and had a decent outing last week against the St. Louis Rams, scoring 13 points.
Now, the younger quarterback has a tough task ahead of him once again, facing the Houston Texans. Despite their struggles, the Texans defense has been very tough against the pass, leading the NFL allowing just 141 passing yards per game.
The lack of legitimate options to throw to has hurt Kaepernick's fantasy value up to this point this season. Anquan Boldin and Vernon Davis have played well when on the field, but the inconsistency of other options has made the 49ers quarterback a risky option this season.
The upside on Kaepernick still likely makes him a legitimate option to start this week, but if he doesn't produce this week, it may be time to start looking elsewhere.