Every week, there are a few players who have breakout games, and we will certainly see more of the same in Week 6.
There have actually already been a couple of breakout stars in Week 6, as the Chicago Bears beat the New York Giants on Thursday Night Football. Brandon Jacobs, who had hardly done anything all season, came out of nowhere, running for 106 yards and two touchdowns. Rueben Randle had a nice game as well, going for 75 yards and a touchdown on just three receptions.
Even with those two breakout players on Thursday, we are still going to see a number of other guys step up this week. Let's go ahead and take a look at who those playmakers will be in Week 6.
Note: Any information regarding points scored is based off of ESPN's standard scoring leagues.
Mike Glennon, QB, Tampa Bay Buccaneers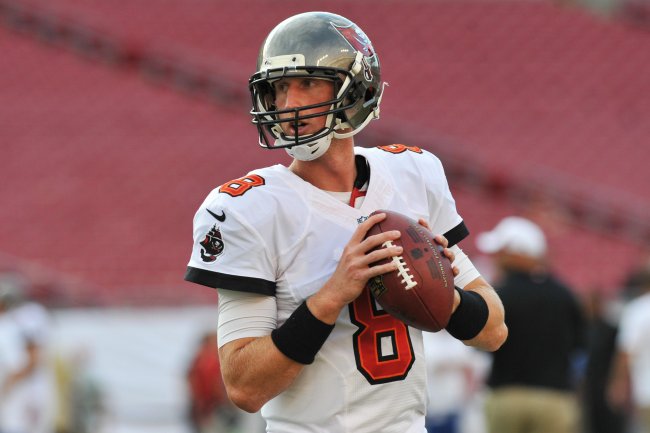 Al Messerschmidt/Getty Images
The Tampa Bay Buccaneers have not had a good start to their season, but their offense has a chance to get going in Week 6 against the Philadelphia Eagles.
[embedded content]
It wasn't a pretty start to Glennon's NFL career, but he was able to put some points on the board. He threw for 193 yards and a touchdown, but also had two interceptions and a fumble.
The good news for the Bucs is that they are now coming off of a bye week. This means that Glennon has likely had plenty of time to break down film and figure out what he did right and where he could have improved.
This is an ideal matchup for Glennon coming off of the bye. The Eagles have struggled defensively, allowing 326 passing yards per game. According to Pro Football Focus (subscription required), the Eagles are last in the league with a -27.5 pass coverage grade.
With playmakers like Vincent Jackson and Mike Williams, Glennon should be able to put up some nice numbers against this defense. He may not put up 30-plus points like Peyton Manning or Drew Brees, but you can bet that he will have a very nice day.
Donald Brown, RB, Indianapolis Colts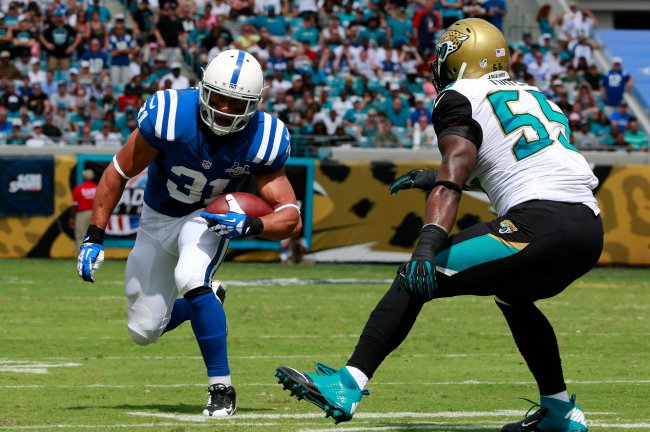 Sam Greenwood/Getty Images
With Ahmad Bradshaw and Vick Ballard out for the season, the Indianapolis Colts are now down to Trent Richardson and Donald Brown in the backfield.
He may not be the starter, but Brown should have a big game on Monday Night Football against the San Diego Chargers.
As much as Colts fans don't seem to like Brown, he keeps finding ways to make himself useful. He's been an incredibly productive back so far, running for 157 yards on just 19 carries. Football Outsiders has Brown as the best running back with fewer than 40 carries with a DVOA of 65.2 percent.
The Chargers aren't going to have much fun trying to stop the run against the Colts. They rank 24th in the NFL in rushing yards allowed, giving up 117.2 per game. Meanwhile, the Colts rank fourth in rushing offense, putting up 142 yards per game on the ground.
As the backup, Brown has played in 31 snaps over the past two games. You can expect that number to increase as the season goes on, as he's continuing to impress the coaching staff.
This is the week to put in Brown as a flex player. He's continuing to break off big runs, and his decisiveness with the ball in his hands will pay off against this weak run defense.
Steve Smith, WR, Carolina Panthers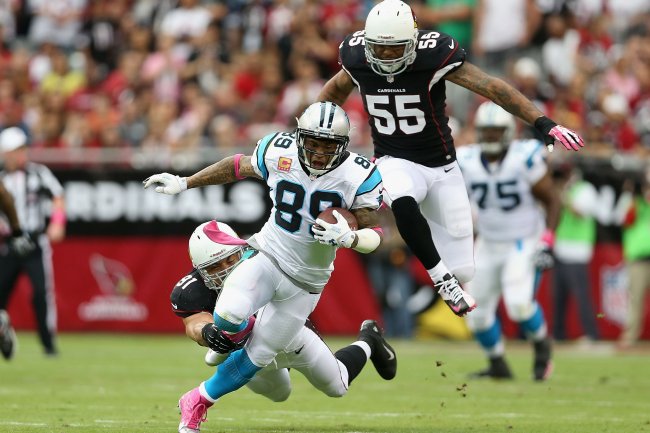 Christian Petersen/Getty Images
Gone are the days of Steve Smith being an elite receiver for the Carolina Panthers. He hasn't been a productive fantasy player either, but this week is the perfect time for him to break out and remind everyone that he's still got something left in the tank.
[embedded content]
Smith has put up just 26 points through four games this season. He's had just 18 receptions for 203 yards and one touchdown, making fantasy owners a bit impatient.
This week, the Panthers will be playing the Minnesota Vikings, and that means a chance for Smith to turn things around against a struggling secondary. The Vikings are giving up 326 passing yards and 30.8 points per game. Opposing quarterbacks have thrown seven touchdowns in their first four games with an 89.1 passer rating.
Cam Newton should be able to turn things around this week. More importantly, he should be able to find Smith for some big plays and a lot of points.
With his big upside, Smith is certainly worth playing this week, along with most weeks. Definitely keep him in your starting lineup against the Vikings' secondary, and expect some big things from the 34-year-old veteran.