Week 5 of the NFL season provides some ideal matchups for some truly great players, and they're going to have no problem racking up fantasy points and leading their respective positions for this week.
We had the usual suspects like Adrian Peterson and Drew Brees lead their positions in fantasy points, but we also saw Nate Washington go off for the wide receivers, grabbing two touchdowns and 105 yards.
If you have any of the players named below, be happy, because they're going to put up some huge points in Week 5.
Note: All information regarding points scored is based off of ESPN's standard scoring leagues.
Peyton Manning, QB, Denver Broncos
How many TDs will Peyton throw this week?
How many TDs will Peyton throw this week?
When it comes to quarterbacks, how can you not pick Peyton Manning right now? He's had at least 20 fantasy points in every game, including a 29-point effort last week against the Philadelphia Eagles, passing for 327 yards and four touchdowns. He leads all fantasy players with 119 points, with Drew Brees in second with just 95 points.
With 16 touchdowns and zero interceptions through four games, Manning is on pace to shatter a number of records this season. The pace will likely slow down, but not this week.
The Denver Broncos will be heading to Dallas to take on the Cowboys this Sunday. They've had a rocky start to the season, especially when defending the pass. Ranking 27th in the NFL, the Cowboys allow 304.5 passing yards per game, with opposing quarterbacks posting a 99.6 passer rating against them.
No one can compete with Manning right now, with the possible exception of Brees. However, Peyton has the easier matchup this week, and he should have no problem leading all QBs in scoring.
Reggie Bush, RB, Detroit Lions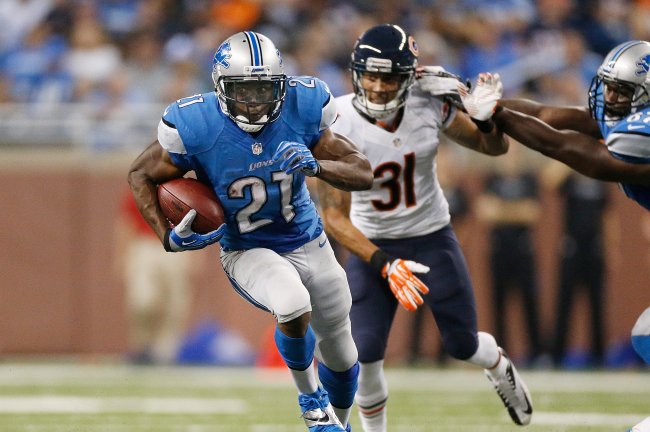 Gregory Shamus/Getty Images
In the games that we've seen a healthy Reggie Bush, he's been fantastic for the Detroit Lions. He had 25 points in Week 1 against the Minnesota Vikings and 22 points against the Chicago Bears last week.
What makes Bush such a deadly fantasy option, especially in PPR leagues, isn't just his ability to run the ball. It's also his ability to make plays out of the backfield. We saw him put up 101 yards and a touchdown through the air in his first game with the Lions, and Matthew Stafford will likely give him plenty of looks through the air this week.
As much talent as the Green Bay Packers have, they will struggle to contain a player like Bush, especially in the passing game. The Packers' pass defense has struggled this season, allowing 311 passing yards per game through three games.
With his ability to put up points on the ground and through the air, Bush should have a big game against the Packers, big enough to lead all running backs.
Victor Cruz, WR, New York Giants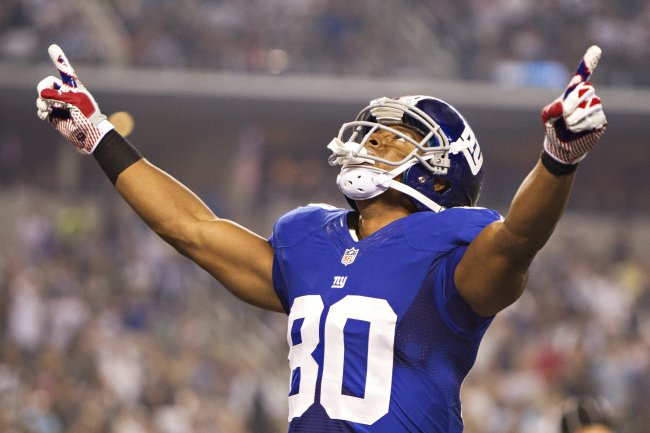 Wesley Hitt/Getty Images
I know, I know. The New York Giants are 0-4, and the offensive line is struggling to keep Eli Manning upright. Still, haven't we still seen some great outings from Victor Cruz to start the season?
Of course we have.
Cruz has already had two games with over 20 fantasy points, grabbing five catches for 118 yards and three touchdowns in Week 1 as well as putting up 164 yards and a touchdown last week against the Kansas City Chiefs.
If Eli and Cruz can connect like that against a strong defense like the Chiefs, then they shouldn't have much of a problem going against the Eagles. Philadelphia has struggled mightily against the pass, allowing 36.3 fantasy points per game to opposing receivers and allowing 325 passing yards per game.
We should see the salsa dance a couple of times this week, as Eli and the Giants get back on track offensively.
Jimmy Graham, TE, New Orleans Saints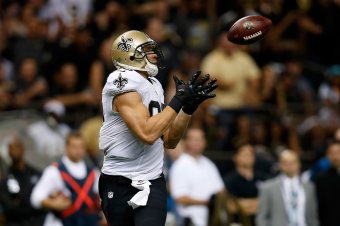 Chris Graythen/Getty Images
As long as Rob Gronkowski is out, I'm not going to have much problem deciding on who is going to be the highest scoring tight end week in and week out.
It's been a heck of a three-game stretch for Graham, putting up 70 fantasy points, five touchdowns and over 400 receiving yards during that span. He's also had at least one touchdown in every game this season.
I was tempted to put Tony Gonzalez on here, but since he's going against the New York Jets and Graham is going against a weaker defense with the Bears, this seems like the logical choice.
Stephen Gostkowski, K, New England Patriots
Predicting the highest-scoring kicker in fantasy football is one of the harder things to do, but I'm going to go with Stephen Gostkowski on this one.
Not only is Gostkowski a consistent and reliable kicker, the Patriots offense is also starting to get more in sync, with Tom Brady connecting more easily with these younger receivers. That means more scoring chances for this offense and more opportunities for Gostkowski to make field goals and extra points.
Kansas City Chiefs D/ST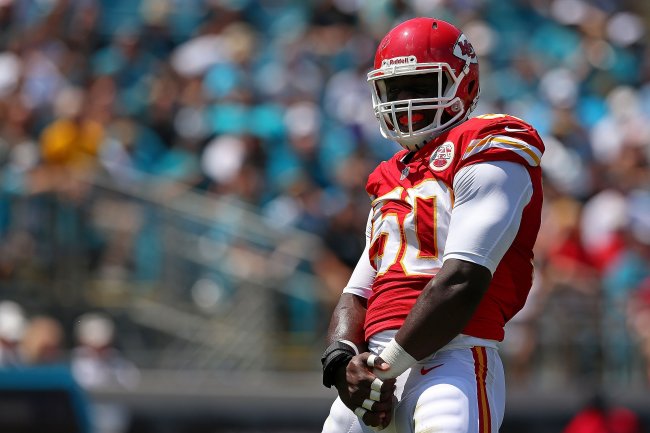 Mike Ehrmann/Getty Images
I'll usually just go with whoever is playing the Jacksonville Jaguars and call it a night, but since they're playing the St. Louis Rams, I'll go with the Kansas City Chiefs on this one.
The Chiefs have been playing great defense all season and have produced three 20-point performances so far. This week, they'll be playing the Tennessee Titans, who will be without their starting quarterback Jake Locker.
Instead, the Titans will be relying upon Ryan Fitzpatrick to carry them on offense, and that's not going to do them any favors. Expect plenty of turnovers and big plays from the Chiefs to give them another big win.