For the truly hardcore, it's never too early for fantasy-football research. Let's take a look at fantasy's top 20 wide receivers for 2014-15.
Let the debate begin. Players such as Julian Edelman, Anquan Boldin, Wes Welker, Michael Floyd, Mike Wallace, Victor Cruz, Danny Amendola and Marques Colston are on the outside looking in.
Keep in mind, Texas A&M's Mike Evans and Clemson's Sammy Watkins can sneak into the bottom of the list if drafted into a favorable situation.
20. Torrey Smith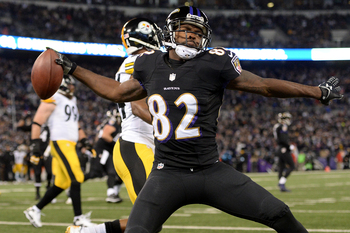 Patrick Smith/Getty Images
As John Harbaugh claimed, the Baltimore Ravens could not replace Anquan Boldin. In 2013, Baltimore's offense sputtered in every facet but one, Torrey Smith.
Smith caught 65 passes and accumulated a career-high 1,128 yards, averaging a whopping 17.4 yards per reception for the second consecutive year. The Maryland standout is a big-play receiver who will score more than four times in 2014.
19. T.Y. Hilton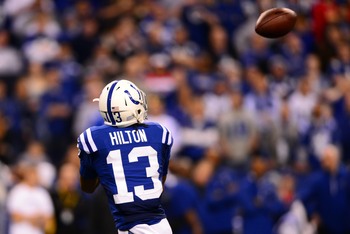 Andrew Weber-USA TODAY Sports
18. Pierre Garcon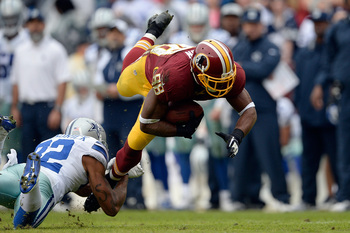 Patrick McDermott/Getty Images
In 2013, Pierre Garcon caught 113 passes for 1,346 yards and one wonders why he isn't ranked higher. Garcon can be bumped up in point-per-reception leagues, but there are reasons to temper expectations.
Robert Griffin III is Garcon's double-edged sword. Garcon is Griffin's favorite target, but in 2013, Washington's quarterback was questionable as a pocket passer.
Once again, Garcon may be anchored to a weak offense in 2014.
17. Andre Johnson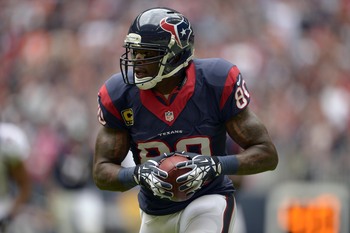 Thomas Campbell-USA TODAY Sports
Andre Johnson has been one of the NFL's best receivers for 11 years. While he still has all the talents that make him a prototype, he will turn 33 before the start of the 2014 season. Johnson's age and the quarterback situation in Houston drag down his value.
The good news is Johnson has been healthy for the last two seasons and has surpassed 100 receptions and 1,400 yards in each.
16. Eric Decker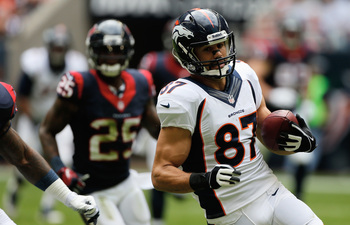 Scott Halleran/Getty Images
Eric Decker is a big (6'3″) receiver in his prime (26), catching passes thrown by MVP quarterback Peyton Manning. In 2013, Decker caught 87 passes for 1,288 yards and 11 touchdowns.
Decker is slated to be a free agent in 2014, per Over the Cap, and if he does not re-sign with the Broncos, his fantasy value will likely plummet. An expected return to Denver will make Decker a fantasy stalwart.
15. Keenan Allen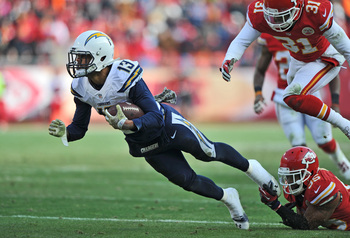 Peter Aiken/Getty Images
Keenan Allen was once regarded as the best receiver in the 2013 draft class, but injury questions allowed the San Diego Chargers to draft him in the third round. After his 2013 performance, one can argue that he is indeed the best pass-catcher in his class.
In 2013, Allen made 71 receptions for 1,046 yards and eight touchdowns. Entering the 2014 season, the California Golden Bear is the No. 1 receiver in a strong offense led by the rejuvenated Philip Rivers.
14. Jordy Nelson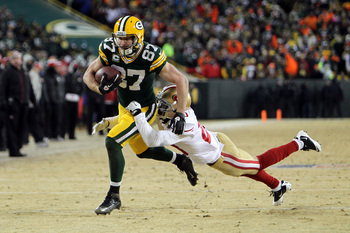 Mike McGinnis/Getty Images
13. Randall Cobb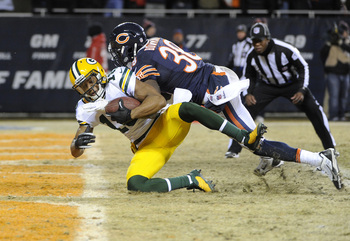 David Banks/Getty Images
Randall Cobb was a huge fantasy disappointment in 2013, only playing in six games. The elusive receiver was expected to be Aaron Rodgers' favorite target by many, and his fantasy value rose accordingly.
Cobb has a good possibility to meet his lofty expectations in 2014. There will be plenty of balls for Cobb and Nelson, but the Kentucky product has a slight fantasy edge because he has more big-play ability.
12. Alshon Jeffery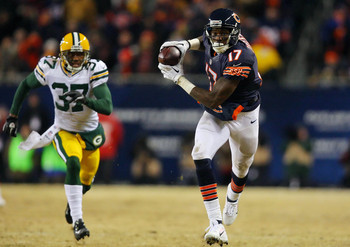 Dennis Wierzbicki-USA TODAY Spor
Alshon Jeffery was a fantasy breakout star in 2013, making 89 receptions for 1,421 yards and seven touchdowns. Ironically, his partner in crime, Brandon Marshall, is a very similar receiver. Jeffery is not a burner but instead relies on his size and strength to dominate games.
Expect the South Carolina star to be a red-zone monster in 2014.
11. DeSean Jackson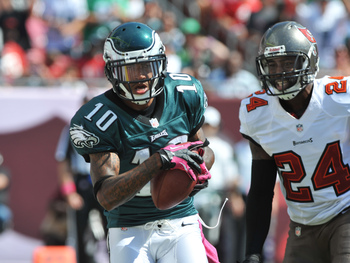 Al Messerschmidt/Getty Images
DeSean Jackson was vastly underrated, after playing only 11 games in 2013 and being a perennial whiner. Jackson responded with the best season of his career, tallying 82 receptions for 1,332 yards and nine touchdowns.
If Nick Foles continues to blossom in the Chip Kelly offense, Jackson will come close to his 2013 numbers. Speed kills.
10. Vincent Jackson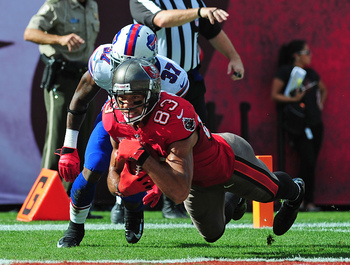 Scott Cunningham/Getty Images
For years, Vincent Jackson has been one of fantasy's most underrated players. Since 2008, Jackson has surpassed 1,000 yards and scored, at least, seven touchdowns in every season except his holdout campaign in 2010.
With Josh Freeman and Mike Glennon at the helm in Tampa Bay, Jackson made 78 receptions for 1,224 yards and seven touchdowns.
Jackson has size and speed, and one can only hope that his value is not dragged down by Glennon. If Glennon grows, expect Jackson to be a steal—again.
9. Antonio Brown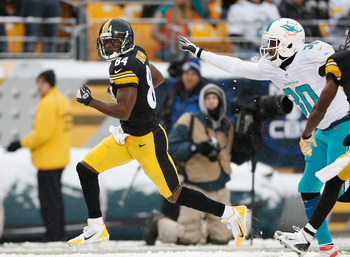 Gregory Shamus/Getty Images
Antonio Brown was second in the NFL with 1,499 receiving yards in 2013. Brown blossomed with Ben Roethlisberger leading the no-huddle offense.
While the Steelers will likely employ more of the no-huddle offense, expect Le'Veon Bell's role with the offense to expand. Brown will struggle to duplicate 2013's success in 2014.
8. Larry Fitzgerald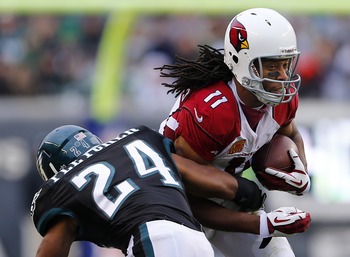 Rich Schultz/Getty Images
One of the best receivers in the NFL is wasting away in Arizona.
Carson Palmer and the Arizona Cardinals shocked the league by finishing 10-6. Arizona's offense took a step up and finished 13th in the league in passing yards. All this and Larry Fitzgerald managed one of his worst seasons, making 82 receptions for 954 yards and 10 touchdowns.
Double-digit touchdowns salvaged Fitzgerald's fantasy season, but one has to wonder what is wrong with the Pittsburgh Panther after two subpar seasons.
The talent for a monster season should still be there.
7. Brandon Marshall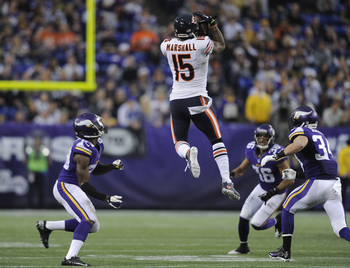 Hannah Foslien/Getty Images
Brandon Marshall is one of fantasy's most consistent performers. The only quality he lacks is high-end speed. Since 2007, Marshall has never failed to reach 1,000 receiving yards and has only missed four games. Marshall has scored 23 touchdowns in two seasons with the Chicago Bears.
The only drawback: The emergence of Alshon Jeffery will likely cut into Marshall's production.
6. Dez Bryant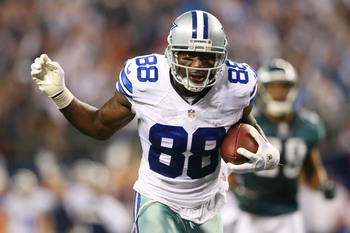 Ronald Martinez/Getty Images
5. Julio Jones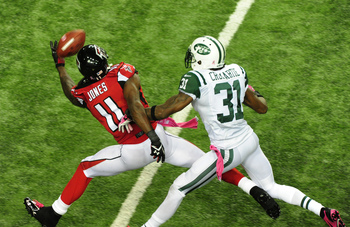 Scott Cunningham/Getty Images
Julio Jones may have been fantasy's top receiver if not for a foot injury in Week 5. After five weeks, Jones had accumulated 41 receptions for 580 yards and two touchdowns.
If he remains on track to be 100 percent by training camp, the Alabama standout could be a steal in 2014. Of course, Jones could also revisit his role as an injury bust.
4. Josh Gordon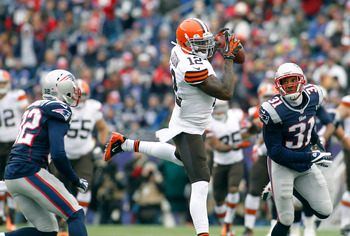 Stew Milne-USA TODAY Sports
Josh Gordon came out of nowhere to lead the league in receiving yards (1646), while averaging an amazing 18.9 yards per reception. There is no doubt the Baylor product is a gamebreaker.
Gordon had his breakout season, catching passes from multiple quarterbacks who are, arguably, not very good. Jason Campbell, Brandon Weeden and Brian Hoyer were Cleveland's quarterbacks in 2013, enough to get Rob Chudzinski fired.
With an improvement of the Browns' quarterback position, the sky is the limit for Gordon.
3. A.J. Green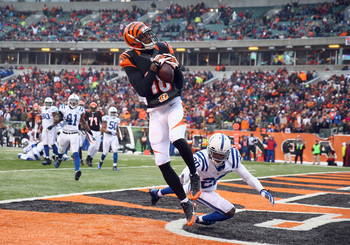 Andy Lyons/Getty Images
2. Demaryius Thomas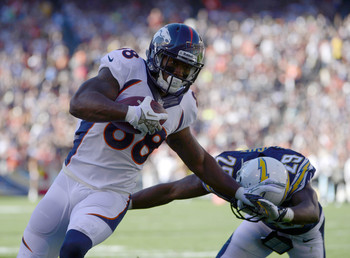 Donald Miralle/Getty Images
Demaryius Thomas is a fine receiver, possessing both size and speed, but he is this close to the top only because Peyton Manning is his quarterback.
In 2013, Thomas made 92 receptions for 1,462 yards. The Georgia Tech star led all wide receivers with 14 touchdowns.
Expect another glorious season from Manning's most talented receiver.
1. Calvin Johnson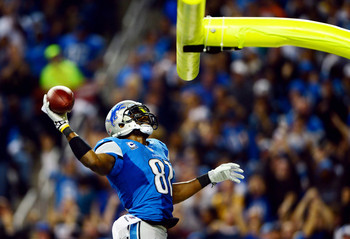 Andrew Weber-USA TODAY Sports
MEGATRON!
An injury and some snow games slowed down Calvin Johnson in 2013. Johnson only made 84 receptions for 1,492 yards and 12 touchdowns.
All jokes aside, Johnson ruined many fantasy seasons with his performance during Weeks 14-16. One can only hope he turns his late-season fortune around in 2014.
Regardless, Johnson is the NFL's top receiver, and he should be considered as soon as the middle of Round 1 in fantasy drafts.
Begin Slideshow
This article is
What is the duplicate article?
Why is this article offensive?
Where is this article plagiarized from?
Why is this article poorly edited?
Flag This Article