Despite Ryan Mathews' solid Week 6 performance for the San Diego Chargers in their win over the Indianapolis Colts, fantasy owners should remain hesitant to depend on the running back as a top option moving forward.
Mathews compiled 102 yards on 22 carries against the Colts on Monday Night Football but failed to get into the end zone or even catch a pass in the game. Making those rushing stats less impressive is the fact that Indy has the No. 30-ranked run defense in the NFL, so no big accomplishment there.
The Chargers back remains his team's No. 1 option with 67 carries to lead the team, but fellow backs Danny Woodhead and Ronnie Brown have gotten 28 and 21 carries, respectively, thus spreading the wealth in San Diego's running game a bit.
In fact, Monday's game was the first time this season that Mathews has had over 20 carries in a single contest, as well as the first time he broke the 100-yard mark. As a team, the Chargers are ranked No. 25 in total rushing attempts and rushing yards.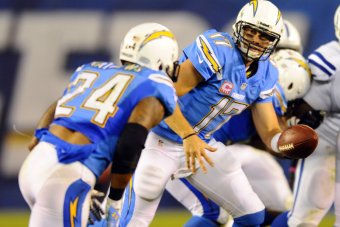 Christopher Hanewinckel-USA TODA
Make no mistake about it: San Diego is a pass-first team, with quarterback Philip Rivers and a No. 3 ranking to show for it, and that will always limit Mathews' attempts during any given game. The Chargers own the No. 21 ground game in the NFL.
Speaking of the passing game: Mathews' lone touchdown came through the air, but he's only caught seven passes for 66 yards in 2012-13, so he isn't exactly an attractive option in points-per-reception leagues.
Where does Ryan Mathews stand among running backs after Week 6?
Where does Ryan Mathews stand among running backs after Week 6?
Top 5

Top 6-10

11-15

16-20

20-25

26 or worse
In the short term, Mathews is a viable option as he looks to abuse weak run defenses in Week 7 and Week 9. First up will be the Jacksonville Jaguars (No. 32 run defense), then, after the Chargers' bye week, the Washington Redskins (No. 27).
But beyond that, two games with the Denver Broncos (No. 1) as well as one with the Miami Dolphins (No. 15) and Cincinnati Bengals (No. 10) don't present favorable matchups for Mathews.
Even two games against the Kansas City Chiefs (No. 25) will be tough, as they are allowing the fewest points per game in football (10.8), which doesn't bode well for Mathews' prospects of crossing the goal line.
At best, Mathews is an RB2 on most rosters and a flex option to consider moving forward. Mathews' weak workload and lack of 100-yard games and touchdowns will continue to stop him from being a top fantasy running back.