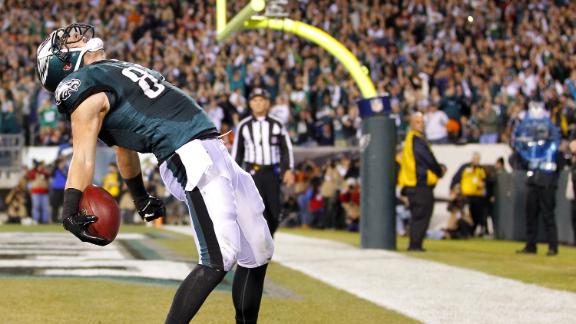 VIDEO PLAYLIST
PHILADELPHIA — Knowing they have everything to play for next week, the Philadelphia Eagles never let up against a team with plenty on the line.
Nick Foles threw two touchdown passes, LeSean McCoy ran for two scores and the Eagles routed the Chicago Bears 54-11 on Sunday night in a matchup of first-place teams with opposite stakes.
More Bears-Eagles coverage

A brash approach to this playoff race has Eagles coach Chip Kelly building a deep connection with Philly and its fans, writes Phil Sheridan. Story
---

The Eagles' destruction of the Bears sends a message that must worry the Cowboys heading into Week 17's showdown, writes Ashley Fox. Story
---


The Bears still can win the NFC North, but they looked nothing like a playoff team in an embarrassing loss to the Eagles, writes Melissa Isaacson. Story
---

Considering the Bears' tendency to allow 100-yard rushing performances, it's not likely the defense will improve by the finale, writes Michael Wright. Blog
Instead of resting his starters for a winner-take-all game at Dallas next Sunday night, Chip Kelly didn't pull them until they finished whipping the Bears.
"We're from Philadelphia and we fight," Kelly said. "If there's a game on, we're playing."
Chicago's loss sets up two win-or-go-home games for NFC division crowns next week.
The Bears (8-7) came in needing a win to clinch the NFC North and secure the No. 3 seed while Philadelphia was just trying to stay healthy. But the Eagles (9-6) played like the team trying to lock up a playoff berth.
Now, the Bears must tie or beat the Packers (7-7-1) at home next week to win the North.
"We knew what was at stake and the opportunity we had and we didn't get it done," Bears coach Marc Trestman said.
The Eagles (9-6) have to tie or beat the Cowboys (8-7) at Dallas next Sunday night to win the NFC East and complete a worst-to-first season under their rookie coach. Once Dallas rallied to beat Washington earlier in the day, the Eagles knew they were only playing for a No. 3 seed, that is, if they win the division.
Still, Kelly played all his guys.
"This is our job. They pay us to play ball," McCoy said. "The fans pay their hard-earned money to watch. As a player, we never think a game is meaningless."
Foles was 21 of 25 for 230 yards, and set a franchise record with a completion percentage of 84.0. In only nine starts, Foles has 25 TD passes and two interceptions. He was replaced by Michael Vick midway through the fourth quarter.
By that time, fans were chanting: "We want Dallas!"
"The playoffs start one week early," Kelly said. "That's how we approach it."
McCoy, trying to become the first Eagles player to lead the NFL in rushing since Hall of Famer Steve Van Buren in 1949, ran for 133 yards and leads Kansas City's Jamaal Charles by 189 going into the last game.
Bryce Brown had 115 yards rushing, including a 65-yard TD run.
This Is 40

The Bears allowed at least 40 points for a league-high fourth time this season. The Bears had allowed four total 40-point games in the previous nine seasons combined.
| | 40-point Games in '13 |
| --- | --- |
| Bears | 4 |
| Cowboys | 3 |
| Redskins | 3 |
— ESPN Stats & Information
The Eagles dominated from the start.
Trent Cole sacked Jay Cutler to force a three-and-out on Chicago's first possession, and the Eagles went right down the field and scored when Foles hit Riley Cooper going across the back of the end zone on a 5-yard pass.
Bradley Fletcher then forced Devin Hester to fumble after a 36-yard kickoff return and Cary Williams recovered at the Bears 39. Foles connected with Zach Ertz for 27 yards and McCoy ran in from the 1 to make it 14-0.
Foles tossed a 10-yard TD pass to Brent Celek to make it 21-0 in the first.
"It was fun to play," Foles said. "That's what I cherish. I don't care about records."
Cedric Thornton tackled Matt Forte in the end zone for a safety and a 26-3 lead in the third quarter. McCoy ran in from the 1 to make it 33-3.
Chris Polk had a 10-yard TD run in the fourth quarter and Brandon Boykin returned an interception 54 yards for a score to make it 47-11.
Chicago's only TD came when Cutler threw a 6-yard pass to Brandon Marshall on the final play of the third quarter.
"I thought we had a good game plan," Cutler said. "We had good practices this week. Obviously we didn't play like it."
SportsNation: NFC East, North champs?

Both NFC East contenders won. All three NFC North contenders lost. It's all down to next Sunday. Who wins? Vote!
Bears seven-time Pro Bowl linebacker Lance Briggs returned to the lineup after missing seven games because of a fractured shoulder. He wasn't much help.
The Eagles racked up 514 yards.
The Bears had a chance to secure a division title because Green Bay lost to Pittsburgh and the New York Giants eliminated Detroit from playoff contention.
Game notes
The Eagles had their 12th game of at least 400 yards of total offense. … Cole had three of Philadelphia's five sacks on Cutler, who hadn't gone down more than three times in a game previously this season. … Eagles S Earl Wolff returned after missing four games with a knee injury, but left in the second quarter. … Bears FS Chris Conte left in the first quarter after sustaining a concussion. … The Cowboys beat the Eagles 17-3 in October.
Copyright by STATS LLC and The Associated Press