In the fantasy football playoffs, you have to make sure you have the best available players in your lineup. In most cases, that should include Indianapolis Colts running back Donald Brown.
The former first-round pick has been inconsistent from week to week, but he has outperformed Trent Richardson almost every time out. For the season, Brown has averaged 5.3 yards per carry, while Richardson only managed 2.8.
As a result, the Colts made the decision to name Brown the starting running back going forward, a move that even the replaced player agreed with, according to Brett Logiurato of Sports Illustrated:
I think it's only fair that Donald is the starter, especially the production he's been putting up and the numbers," Richardson said. "He's been playing good ball. I tell people all the time that when I first got here, they thought it was a two-headed monster with me and Ahmad [Bradshaw]. I always said it was a three-headed monster.
The new depth chart was seen in Week 13 against the Tennessee Titans, with Brown getting 14 of the 19 carries between the two. He also added two catches on three targets.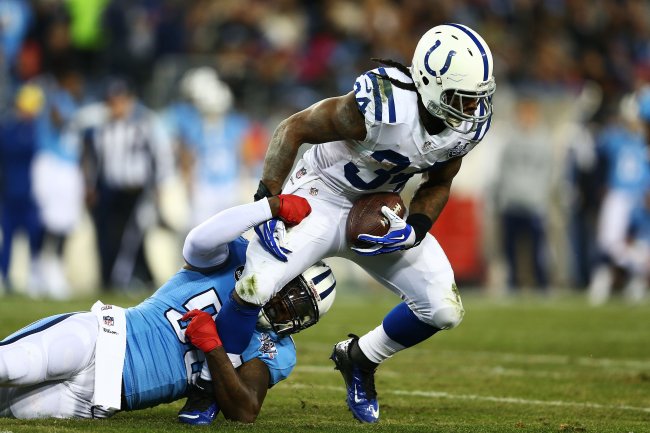 Andy Lyons/Getty Images
Trent Richardson has struggled to get free for the Colts.
Although the former Connecticut star only managed 64 total yards from scrimmage, he still scored his fourth touchdown in four games to continue his solid fantasy season.
Now that the coaching staff has proven to have faith in him, it is perfectly fine for you to have confidence in him as well as a legitimate fantasy starter and a top-20 option for the rest of the year.
Where does Donald Brown rank among fantasy running backs for the remainder of the season?
Where does Donald Brown rank among fantasy running backs for the remainder of the season?
Top 10

11-20

21-30

Outside top 30
The only issue holding him back is the upcoming matchups, featuring the Cincinnati Bengals, Houston Texans and Kansas City Chiefs. The good news is that all three of these teams have struggled to defend the run in recent weeks.
The Bengals remain the toughest matchup, considering they have not allowed a running back to score a touchdown since Week 3. However, the unit has not been as imposing since defensive tackle Geno Atkins went down with an injury.
Fantasy owners should temper expectations for Week 14 as it is unlikely he gets much more than about 10-12 points, but he is still a worthy start if you do not have better options.
After this game, though, things get much easier as the Chiefs and Texans have each given up over 20 points to opposing running backs in three straight weeks. This makes Brown a great fantasy option that should be owned in all leagues and started throughout your playoff run.
Follow Rob Goldberg on Twitter for the latest breaking news and analysis.