Immediately following Week 8, it appeared as though St. Louis Rams running back Daryl Richardson was about to fly back onto the fantasy radar. Starter Zac Stacy suffered a late injury, and the team's former No. 1 running back was solid in relief, raising his fantasy hopes for Week 9.
Unfortunately for those who made a speculative waiver claim on him this week, Richardson's potential value took a serious hit when Jim Thomas of The St. Louis Post-Dispatch reported that Stacy was a full participant in Thursday's practice session.
LT Jake Long, C Scott Wells, WR Austin Petttis, RB Zac Stacy all are full participation Thurs for Rams after sitting out Weds practice.

— Jim Thomas (@jthom1) October 31, 2013
Furthermore, Richardson is dealing with an injury of his own. Nick Wagoner of ESPN NFL Nation passed along word that the backup was limited in practice due to a nagging foot injury. However, it isn't clear if his playing status is actually in question or if the team is just allowing him to rest.
QB Kellen Clemens (shoulder) upgraded from limited to full participation. RB Daryl Richardson (foot) from DNP to limited.

— Nick Wagoner (@nwagoner) October 31, 2013
Either way, Stacy's quick recovery paired with his heavy workload in recent weeks doesn't bode well for Richardson's chance to help fantasy teams this week.
Since the rookie Stacy started getting the majority of the snaps three weeks ago, Richardson hasn't received more than nine touches in a game. And since Stacy also handles most of the goal-line duties as well, there aren't many scoring opportunities for Richardson either.
As last week showed, even without Sam Bradford in the lineup, the Rams are going to have a pretty balanced offensive attack. Stacy hasn't done anything to warrant losing touches, so they keep feeding him the ball.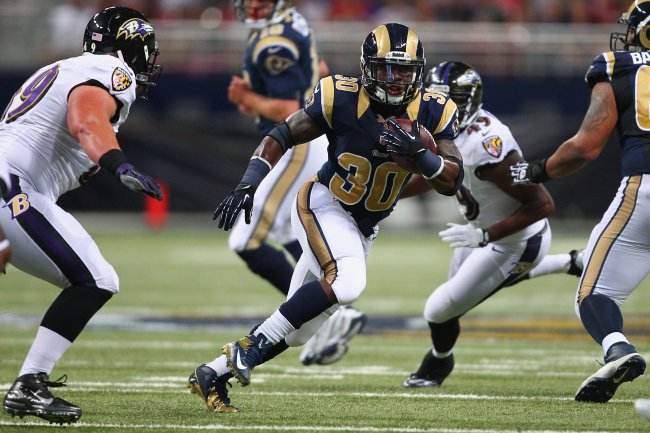 Dilip Vishwanat/Getty Images
The only way Richardson will warrant starting consideration is if Stacy suffers a setback. The fact that St. Louis allowed him to get a full practice session in so early in the week doesn't bode well for that outcome, but it's certainly worth monitoring.
Does Richardson deserve a roster spot?
Does Richardson deserve a roster spot?
Yes, as a handcuff for Stacy.

Yes, until Stacy proves his health.

No, he can be safely dropped.
If for whatever reason Stacy can't play and Richardson slides into the starting lineup, he would have appeal as a No. 2 running back or flex option.
The Rams are set to face the Tennessee Titans, who rank 24th in the league at defending the run. They have allowed six rushing touchdowns over the past three weeks, which is a promising sign for St. Louis, who have yet to score on the ground this season.
As a starter, Richardson would have a good chance to post a double-digit scoring total. That said, with the way things have been trending so far this week, it doesn't sound like that will be the case.
In a reserve role, he should remain on the fantasy bench.
Week 9 Projection: Seven carries for 25 yards; one catch for 10 yards