The Dallas Cowboys and Washington Redskins have one of the best rivalries in all of sports, but only one team will truly have something riding on their Week 16 matchup. The Cowboys are in must-win mode as they attempt to win the NFC East title, while the Redskins are already looking ahead to next year.
In addition to that, this game will feel like paradise for fantasy owners. The Cowboys and Redskins are arguably the two worst defensive teams in the league, so those who are vying for their fantasy football title this week will feel quite confident if they have some Cowboys and Redskins players on their roster.
Here is a closer look at how the top fantasy stars in this game will fare, as well as how the result could impact the NFC playoff picture.
Cowboys Fantasy Predictions
Tony Romo
Most observers argue that Romo isn't the type of quarterback who can take a team to the Promised Land due to his inability to come through in the clutch. While that may be true, that isn't a factor from a fantasy perspective. Romo has been one of the best fantasy quarterbacks in the league this season, and he is an obvious start against Washington's suspect secondary.
Romo received much of the blame for Dallas' loss to the Green Bay Packers in Week 15 due to the late interception he threw, but Cowboys owner Jerry Jones came to his defense, according to Calvin Watkins of ESPN.com:
I was for the aggressiveness we showed … and it can apply to many parts of the game. But in this particular case, aggressiveness was throwing the ball on our end of the field — throwing the ball in there close. Aggressiveness with Romo can mean not throw the ball but buy more time, which increases the chances of having a bad play.
Throwing the ball is in the Cowboys' nature, so Romo is going to continue slinging it even after what happened against the Packers. Because of that, expect a strong performance in Week 16.
Fantasy Projection: 287 passing yards, three touchdowns and two interceptions
Murray has all the skill necessary to be an elite running back in the NFL, but he often isn't given enough opportunities to showcase his abilities. That was the case in Week 15, when Murray was given just 18 carries, despite averaging better than seven yards per tote. According to Tim MacMahon of ESPNDallas.com (h/t ESPN Stats & Info), he's averaging almost four yards per carry before he even gets touched:
Per @ESPNStatsInfo, DeMarco Murray leads NFL in yards/rush before contact (3.87). Dallas OL, led by pups at C and LT, is major strength now.

— Tim MacMahon (@espn_macmahon) December 19, 2013
That is impressive, and it's a testament to Dallas' offensive line as well. The Redskins are in the middle of the pack against the run, but they have a allowed a league-high 21 touchdowns on the ground. Murray had only 29 yards against Washington in the previous meeting, but he should fare better than that this time.
Fantasy Projection: 81 rushing yards, three receptions for 26 yards and one touchdown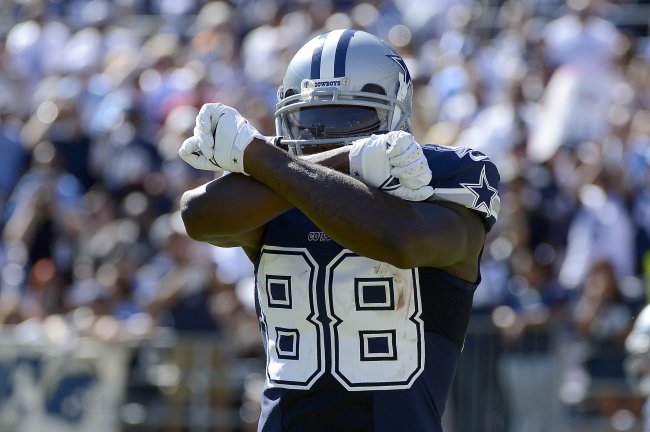 Donald Miralle/Getty Images
Bryant is unquestionably one of the most talented players in the entire league, but he often allows his emotions to get the best of him. He dominated to the tune of 11 receptions for 153 yards and a touchdown in Week 15 against the Packers, but all anyone could talk about were his sideline antics. According to ESPN's Adam Schefter, Bryant walked to the locker room while the Packers were kneeling on the ball:
Cowboys WR Dez Bryant told reporters he left field early Sunday so no one would see him cry.

— Adam Schefter (@AdamSchefter) December 16, 2013
In many ways, Bryant's actions are understandable since he is passionate, but he needs to channel his emotions better. As long as he is producing on the field, though, his fantasy owners certainly don't mind. Bryant has caught a touchdown in three straight games, and there is no reason why that streak shouldn't continue in Week 16.
Fantasy Projection: Seven receptions for 117 yards and one touchdown
Redskins Fantasy Predictions
Kirk Cousins
Cousins is the subject of plenty of controversy in the wake of the Redskins deciding to shut Robert Griffin III down for the remainder of the season, but he proved to be a capable signal-caller in Week 15. Washington fell just short in its bid to upset the Atlanta Falcons; however, the second-year quarterback finished the game with some gaudy passing statistics, per SportsCenter:
Falcons hold on to beat Redskins, 27-26, Washington fails on 2-pt conversion attempt w/ :18 left.
Kirk Cousins: 381 Pass yds, 3 TD, 2 Int

— SportsCenter (@SportsCenter) December 15, 2013
Although Cousins made some mistakes, fantasy owners can live with that if he passes for well over 300 yards. The Cowboys allow nearly 300 passing yards per game, and they have given up 30 passing touchdowns, so Cousins has a dream matchup in front of him.
Fantasy Projection: 325 passing yards, three touchdowns and one interception
There is no question that Morris' production has been down this season, due largely to the lack of a dynamic read-option game, but the second-year man has actually been much better than most probably realize. He won't break 1,600 yards again like he did as a rookie, but he is No. 5 in the league in rushing yardage, according to NFL on ESPN:
NFL RB Leaders: (Yds)
1 LeSean McCoy 1,343
2 Adrian Peterson 1,221
3 Matt Forte 1,200
4 Jamaal Charles 1,181
5 Alfred Morris 1,125

— NFL on ESPN (@ESPNNFL) December 18, 2013
Morris is averaging 4.8 yards per carry as well, but he isn't as productive as he could be since Washington is often playing from behind. Dallas' run defense is almost as poor as its pass defense, so Washington would be wise to establish Morris early. He ran for 200 yards against the Cowboys in Week 17 last year, and he should have another big showing this week.
Fantasy Projection: 133 rushing yards and two touchdowns
Al Messerschmidt/Getty Images
Garcon is yet another productive offensive player who has been somewhat overshadowed by the RG3 saga this season. He has struggled to find pay dirt, with just four touchdowns on the year, but Garcon is four catches away from the magic 100 mark and is approaching 1,200 yards as well. He was easily Griffin's favorite target, and his production actually increased with Cousins under center in Week 15.
Garcon has at least five catches in every game this season and double-digit targets in every game but two. Since the Redskins are clearly trying to showcase Cousins, they will allow him to throw plenty against Dallas. Garcon will inevitably be the main beneficiary.
Fantasy Projection: Eight receptions for 120 yards and one touchdown
Playoff Implications
How will the Cowboys finish the regular season?
How will the Cowboys finish the regular season?
Win both games

Lose both games

Beat Redskins and lose to Eagles

Lose to Redskins and beat Eagles
As far as the Redskins are concerned, this game is about nothing more than pride. In fact, they would probably better off losing this game in order to solidify their draft position so they can take someone like South Carolina defensive end Jadeveon Clowney.
For the Cowboys, though, it doesn't get much bigger. Dallas either needs a win or a Philadelphia Eagles loss in Week 16 in order to play for the NFC East title in Week 17. Since Dallas certainly doesn't want to count on Philly losing, beating the Redskins is the best possible route.
Even with how poorly the Cowboys have played as of late, they are far from out of it. As amazing as it is to think that they control their own destiny, it is 100 percent true. It won't be easy to overcome the 23-point blown lead against the Packers last week, though, especially with how much they have been beaten up in the media, as evidenced by this tweet, courtesy of Jason Kellison of 1310 The Ticket in Dallas:
This Cowboys team doesn't deserve a win or a chance at the playoffs, & fans should expect disappointment for as long as Jerry is in control

— Jason Kellison (@killer1310) December 16, 2013
The Cowboys simply have to ignore the outside noise and focus on the task at hand. Dallas is 4-0 against the NFC East this season, and it has already defeated both the Redskins and Eagles. If nothing else, the Cowboys can definitely hang their hats on that.
Overcoming their awful defense will be difficult, but the Cowboys have a fighting chance provided Romo, Murray, Bryant, Jason Witten and the rest of the offense plays up to their potential.
Follow @MikeChiari on Twitter