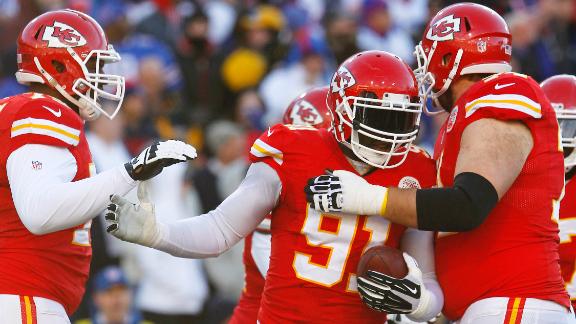 Defense Helps Chiefs Stay Unbeaten
The Chiefs' defense scored two touchdowns to help Kansas City beat Buffalo 23-13 and move to 9-0.
VIDEO PLAYLIST
ORCHARD PARK, N.Y. — The Kansas City Chiefs can thank their opportunistic defense for keeping their perfect start intact.
Sean Smith returned an interception 100 yards for a touchdown and Tamba Hali scored on an 11-yard fumble return in a 23-13 win over the Buffalo Bills on Sunday. The defense made up for a sputtering offense that managed just 210 yards, and for its own deficiencies.
SportsNation: Chiefs looking Super?

The Chiefs stayed undefeated by winning at Buffalo. Just how good is Kansas City? Super Bowl-good? Vote! »
The Chiefs gave up a season-worst 470 yards to a Bills offense that was led by undrafted rookie Jeff Tuel, making his first career start.
Kansas City (9-0) remained the NFL's only undefeated team and matched the best start in franchise history set in 2003. The Chiefs now enter their bye week before a key AFC West showdown against Peyton Manning and the Denver Broncos (7-1) on Nov. 17.
The Chiefs held an opponent to 17 points or fewer for the ninth straight time — matching the NFL record set by the Atlanta Falcons in 1977. And they extended their impressive worst-to-first turnaround under first-year coach Andy Reid, who has transformed a franchise that finished with a league-worst 2-14 record last season.
The Bills (3-6) were unable to overcome their own errors despite dominating nearly every offensive category. Buffalo had the edge in yards and first downs (25-15), and its 77 plays were 23 more than Kansas City ran.
The difference proved to be the Bills' inability to compensate for being down to their fourth-string quarterback. Tuel started in place of interim starter Thad Lewis, sidelined with bruised ribs. Buffalo's rookie starter, EJ Manuel, missed his fourth game with a sprained right knee.
Tuel finished 18 of 39 for 229 yards passing, including a 59-yard touchdown to Marquise Goodwin. Tuel, however, threw two interceptions that led to 10 points for the Chiefs.
Another turnover, receiver T.J. Graham's fumble, allowed the Chiefs to go ahead for good. With Buffalo facing third-and-10 at its own 13, Tuel hit Graham on a crossing route over the middle. Cornerback Marcus Cooper punched the ball out and it was scooped up by Hali and returned into the end zone to put Kansas City ahead 20-13 with 12:47 left.
Chiefs safety Kendrick Lewis also had an interception, picking off Tuel's pass that sailed over the head of tight end Scott Chandler in the second quarter. That led to Ryan Succop's 27-yard field goal. Succop also hit from 41 and 39 yards.
Smith's interception return changed the game's complexion to start the third quarter.
With the Bills ahead 10-3, Tuel marched Buffalo 79 yards to the Chiefs 1. After Fred Jackson was stopped twice for no gain, Tuel took a shotgun snap, and looked immediately to his right, where Graham was running a slant pattern. Tuel, however, failed to account for Smith, who easily picked off the pass at the goal line and then took off up the left sideline.
The Bills' offense then went nowhere. Buffalo's next possession ended in downs on the Kansas City 36 when Tuel overthrew Graham on fourth-and-2.
Buffalo then had to settle for Dan Carpenter's 30-yard field goal on its next drive, which stalled at the Chiefs 12.
The Chiefs' offense, meanwhile, wasn't going anywhere. Alex Smith finished 19 of 29 for 124 yards passing. Running back Jamaal Charles had 90 yards rushing but only 6 receiving in being held under 100 yards from scrimmage for the first time this season.
The Bills ran all over the Chiefs' defense in finishing with a season-best 241 yards rushing. Buffalo was led by C.J. Spiller, who had 116 yards rushing.
Copyright by STATS LLC and The Associated Press