It seems we get a fantasy explosion or two every week at wide receiver. Last week, the Chicago Bears' Alshon Jeffery and Cleveland Browns' Josh Gordon put on shows. But Erick Decker's surprise supernova in Kansas City eclipsed them all.
The fourth-year receiver had a career day, snagging four touchdown catches to go with 174 receiving yards. Achievement unlocked: smoked Kansas City secondary.
If someone told you the Bengals, Broncos would have WRs with 4-TD games before the year, you'd OBVIOUSLY guess Marvin Jones and Eric Decker.

— Tom Mantzouranis (@themantz) December 1, 2013
Chiefs will cover Eric Decker at some point probably

— Lana Berry (@Lana) December 1, 2013
4 TD catches for Eric Decker. Chiefs are in a freefall

— Jason La Canfora (@JasonLaCanfora) December 1, 2013
His performance covered up for still-missing Julius Thomas and ailing Demaryius Thomas. What was behind it all? Was it merely an aberration? Since in all likelihood he will never score four touchdowns in one game again, of course.
The Knowshon Moreno Effect
We observed the LeSean McCoy effect when breaking down the Philadelphia Eagles' Nick Foles and Riley Cooper a few weeks ago. But who knew Knowshon Moreno could have a similar impact?
This play was Decker's first of four touchdowns on the day.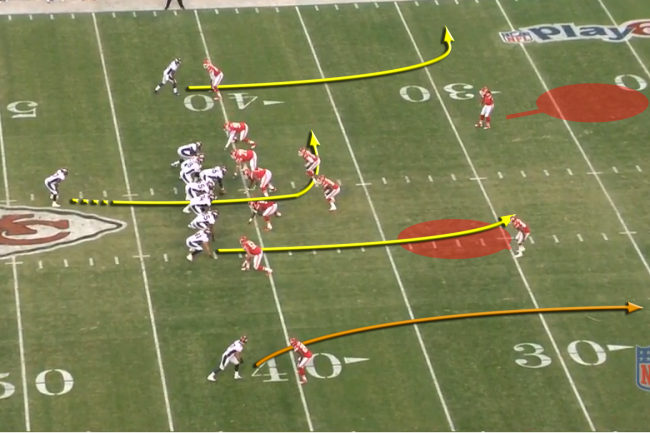 NFL Game Rewind
On the play Decker ran a 9-route, tight end Jacob Tamme ran a dig, and running back Knowshon Moreno and receiver Demaryius Thomas ran out patterns.
It began with a play action to Moreno, which froze all three linebackers on the play. Safety Eric Berry moved up in coverage to account for Tamme over the top, leaving cornerback Brandon Flowers shadowing Decker downfield.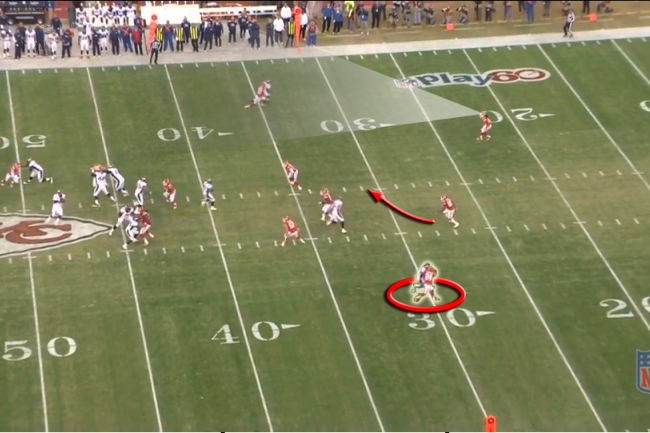 NFL Game Rewind
It looks like Flowers had good coverage midway through the play, but Decker had inside position on Flowers and wound up with some separation downfield. A perfect throw got him into the end zone.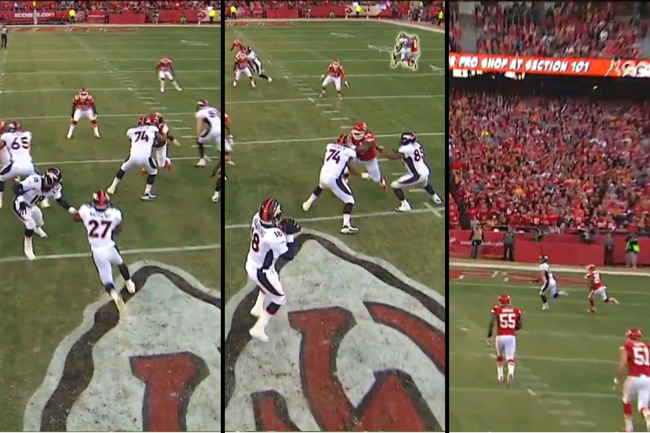 NFL Game Rewind
As it turns out, Peyton Manning's arm isn't dead yet.
Maximizing Matchups
That first touchdown was on Flowers, a savvy veteran even if he is not having a particularly good season. Per Pro Football Focus (subscription required), Flowers is ranked in the bottom 10 among all cornerbacks.
Kansas City had rookie Marcus Cooper—rated better than Flowers at PFF, still not great—covering Decker for much of the rest of the game, and the results were not pretty.
Decker was left out on an island with the rookie—sometimes by design, others because of Manning's machinations and clever safety manipulation—and Decker was the better player for much of the night.
Take this play, a 42-yard gain that should have been another touchdown for Decker.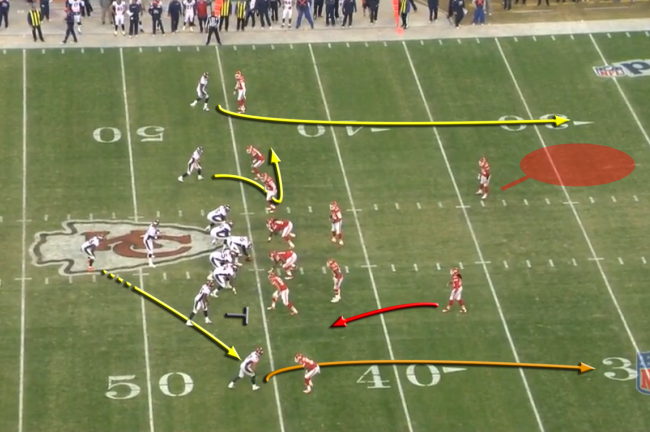 NFL Game Rewind
Once again, the Broncos ran play action, causing safety Kendrick Lewis to crash the box. This left Cooper alone with Decker, and the receiver took the rookie to the woodshed.
NFL Game Rewind
The ever-dangerous Thomas occupied Berry's attention on the other side of the field. As good as the fourth-year safety is, nobody is fast enough to recover from the kind of distance he had to cover to get to Decker in time.
Was this not a slightly under-thrown pass on Manning's part, Decker would have walked into the end zone.
On Decker's final touchdown of the night, Cooper was simply left to fend for himself at the goal line, and it was an easy pitch-and-catch to the back corner from Manning to Decker. No play fake necessary.
Peyton Manning, G.O.A.T.
Of course, the biggest reason Decker had such a big night was the big man himself.
Despite some errant or downright awful throws on the night, Manning was money most of the way. That was certainly the case on Decker's 37-yard score.
This was—what else—a play-action pass.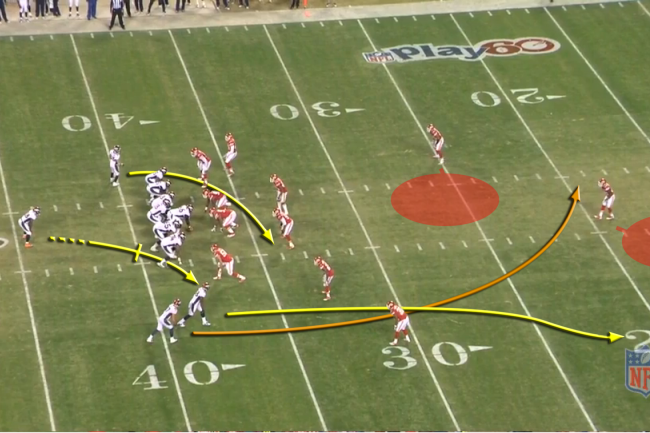 NFL Game Rewind
Decker and Thomas lined up outside and ran crossing patterns—Thomas a corner, and Decker a post that took him across the field.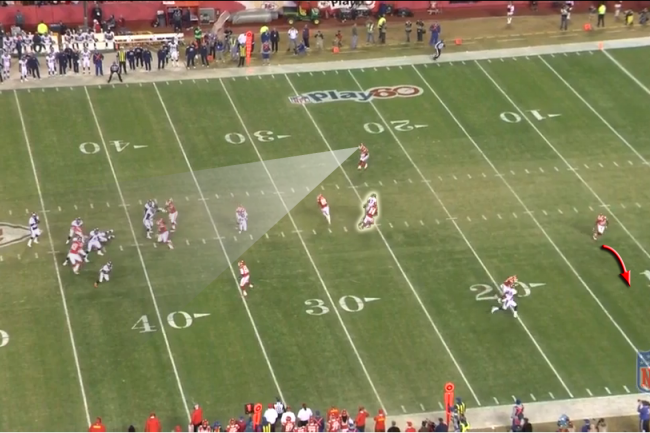 NFL Game Rewind
The play action did not bamboozle the defense as much as previous plays. But that was no matter to Manning.
The future Hall of Famer saw Flowers in close coverage with safety Quentin Demps potentially bracketing Decker over the top. Berry was, again, preoccupied with Thomas on the other side of the field.
For all intents and purposes, the Chiefs appeared to cover this play well. But Manning saw Demps looking into the backfield for some reason, and that was all she wrote.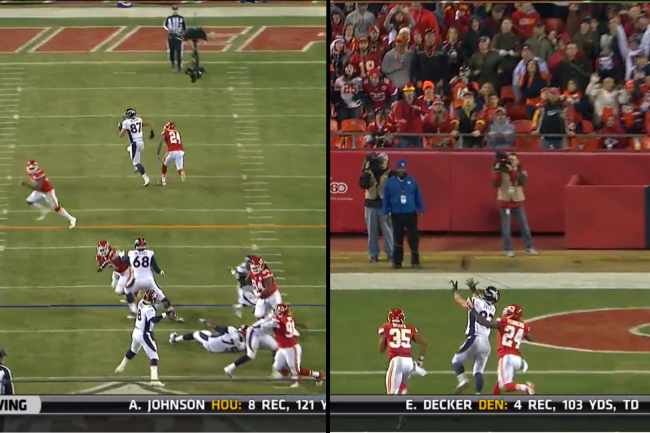 NFL Game Rewind
Manning threw an impeccable pass that only Decker could catch for a touchdown. Game, set, match, division—Denver.
An Inconvenient Truth?
Of course, four-touchdown games don't grow on trees—there have been 32 games with four-plus touchdown receptions since 1960—so figure that Decker won't be having this kind of game again anytime soon. But what does it say about the rest of the season for him and his fantasy owners?
Decker hasn't been the most consistent producer at his position this season. He has had four games of eight-plus catches, but he has also had four games with four or fewer.
So where was this Eric Decker last Sunday? This is the guy they need to overpower press coverage like what New England, Indy did earlier.

— Jason Cole (@JasonPhilCole) December 1, 2013
Indeed, Decker's previous game saw him catch one pass for five measly yards. Prior to last week, he hadn't caught a touchdown pass since Week 7. He averaged five catches for 73 yards before Week 13.
But his overall production is surprisingly good. In fact, can you tell the Denver receivers apart?
Denver Receivers

| | | | | | | | |
| --- | --- | --- | --- | --- | --- | --- | --- |
| Player A | 97 | 63 | 971 | 15.4 | 7 | 61 | 109.1 |
| Player B | 99 | 68 | 717 | 10.5 | 9 | 33 | 107.2 |
| Player C | 103 | 67 | 1061 | 15.8 | 10 | 78 | 119.4 |
Pro Football Reference and Pro Football Focus (WR Rating)
True, Decker is still technically the third option in that corps, but he is quickly gaining on Wes Welker.
Unfortunately, Decker's first test of the fantasy playoffs comes against a Tennessee Titans defense that has quietly been the stingiest against wide receivers this season. If you were expecting him to give you another good game, you might want to think twice.
After that, Decker's schedule softens up considerably against the San Diego Chargers and Houston Texans, who appear to be tanking for Teddy Bridgewater at this point.
Banner days are few and far between, but Decker could be in for some more fireworks if last week was any indication.