It was a rough week for fantasy football owners who rely on Chicago Bears wideout Brandon Marshall to put up WR1 numbers on a weekly basis.
Jay Cutler targeted Marshall only five times in Chicago's 28-16 loss to the New Orleans Saints on Sunday, but the receiver managed to avoid a disastrous week by catching a two-yard fourth-quarter touchdown pass.
He has now failed to score in double-digits in standard format fantasy leagues in each of the last three weeks.
To make matters worse, teammate Alshon Jeffery was targeted 13 times and had 10 receptions for 218 yards and a touchdown against the Saints. As noted by the Chicago Tribune's Sports Twitter account, the second-year pro set a Bears record in the process:
Jeffery sets Bears record with 218 receiving yards http://t.co/sI5rClKF0Q

— ChiTribSports (@ChiTribSports) October 7, 2013
Over the last two weeks, Jeffery now has 325 receiving yards and has been targeted by Cutler a team-high 24 times. FantasyGuru.com saw Jeffery's breakout week coming, and figures that he will continue to trend in the right direction:
TD for Alshon Jeffery, I guaranteed at least a TD chance today for him, easy call, he's coming on well.

— FantasyGuru.com (@Fantasy_Guru) October 6, 2013
Jeffery's latest performances have clouded Marshall's future as a clear-cut WR1.
It's hardly panic time for Marshall owners.
But now might be the time to consider a trade if you handcuffed Jeffery to his future. Conversely, now isn't the time to make a trade for the 29-year-old star if the asking price is through the roof.
Chicago has a slew of favorable matchups on the schedule over the next few weeks, so keeping Marshall as a mainstay on your roster is hardly a questionable decision.
The New York Giants, Washington Redskins, Green Bay Packers and Detroit Lions are all among the bottom feeders in the NFL when it comes to defending against the pass through Week 5, and those four teams are next on the schedule for the Bears.
Marshall (378) and Jeffery (429) are currently both in the top 16 in receiving yards in the NFL, and it's clear Cutler is confident that relying on both is a good strategy moving forward. Unfortunately for fantasy owners, that muddies the picture on who is more likely to be the top dog each week.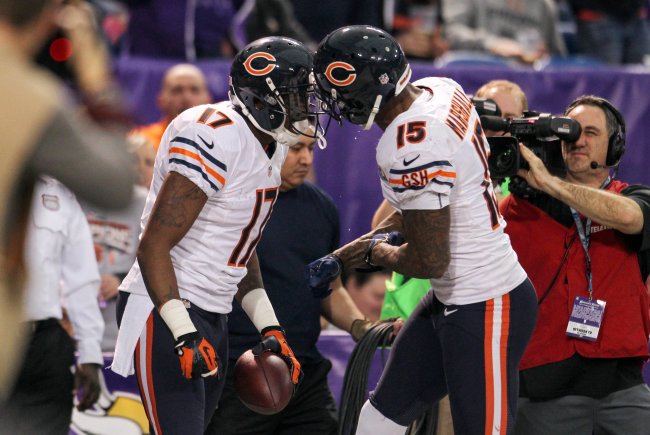 Brace Hemmelgarn-USA TODAY Sports
At worst, Marshall is a high-tier WR2 in all formats.
Depending on the opposing secondary he's set to face, there's potential for owners to start him with confidence in a WR1 spot.
Which wideout will finish the season with a better fantasy resume?
Which wideout will finish the season with a better fantasy resume?
If you are disconcerted by Jeffery's last two performances, no one will blame you for shopping Marshall for a trade. Don't expect to get Calvin Johnson or Dez Bryant in return, but a player like Jordy Nelson, Larry Fitzgerald or Reggie Wayne would provide nice value in a one-for-one deal.
Against the Giants in Week 6, Marshall will look to get back into rhythm against a secondary that allowed backup Philadelphia Eagles QB Nick Foles to throw for two touchdowns. DeSean Jackson had 132 receiving yards and one of those touchdowns in Philly's win.
It's difficult to project Marshall's Week 6 stat line with the emergence of Jeffery on the front burner, but this is still an All-Pro wide receiver we're talking about. Start him with confidence next week, but be hesitant toward relying on his production to carry your WR unit the rest of the way.
Week 6 Projection (vs. NYG): 6 receptions, 81 yards, 1 TD
Follow B/R's Ethan Grant on Twitter.