New England Patriots running back Brandon Bolden has become an intriguing option at the position in deeper leagues, especially with news that fellow back Stevan Ridley is injured.
According to Jeff Howe of the Boston Herald, Ridley will not take the field on Sunday thanks to either a knee or thigh injury. This will make the Pats' backfield less crowded.
The Pats have been using a running-back-by-committee approach over the past few weeks, as Ridley, Bolden and LeGarrette Blount have all received looks. An example of this setup came in Week 4 after Ridley (11 carries), Blount (nine) and Bolden (four) all got a piece of the action in the run game.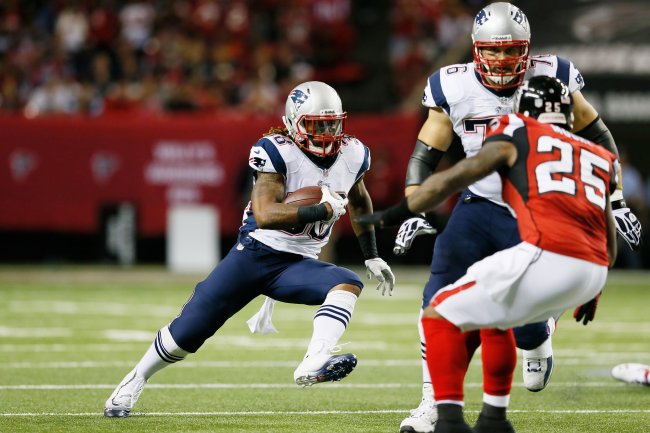 Kevin C. Cox/Getty Images
Taking Ridley out of the equation almost certainly means Bolden will see more action. That also depends upon his health, though, as ESPN.com lists him as questionable with a knee injury. He was questionable last week, but played anyway.
Still, when given the opportunity, Bolden has proven that he can be explosive. In Week 3, he had his coming-out party after carrying the ball three times for 51 yards. A 47-yard highlight made up the majority of his yardage on the ground in that contest, but he did also catch five passes for 49 yards.
That's eight touches for 100 yards. Not too shabby.
However, Bolden remains a viable option only in bigger leagues at this point. If you start him expecting great production equal to that of a normal starter, you're sorely mistaken.
The primary reason for that is Blount's solid numbers in the past few weeks (23 carries, 129 yards and a score) will mean he's likely the No. 1 option of the two. He's gained more trust during the season and has a longer track record.
Brandon Bolden is a ______ for Week 5.
Brandon Bolden is a ______ for Week 5.
RB1

RB2

RB3

FLEX

Bench option
Doug Kyed of NESN.com also points out that Blount is likely to receive the majority of the carries this week against the Cincinnati Bengals. Still, Bolden will be a short-yardage option in the red zone and a threat in the passing attack which makes him serviceable in deeper leagues.
Such a scenario could mean easy touchdowns from close range for Bolden, which is a good sign for owners taking a flier on him. When combined with his potential as a pass-catcher, Bolden stands a solid chance of having a decent Week 5 performance.
Granted, the Bengals are no pushovers defensively with a No. 13 and No. 12 ranking against the pass and run, respectively, but that's a chance you need to take in this instance. Besides, it isn't as though those are elite rankings.
At best, though, Bolden will be sharing the workload with Blount, and that problem could be compounded by veteran back Leon Washington, who should play this week. As of now, ESPN.com lists Washington as questionable (thigh) for Sunday's game.
Adding Washington's name to the mix shows just how deep the Pats are at running back—and that's not even mentioning Shane Vereen, who figures to return at some point this season.
That makes Bolden a temporary solution and someone to watch moving forward with the injury to Ridley.
If and when Ridley and Vereen return, Bolden will be back to even more limited action as a third back or worse, and that will help bring his fantasy value down considerably as the season wears on.