The 8-6 Philadelphia Eagles host the Chicago Bears of a matching record from Lincoln Financial Field on the Week 16 edition of Sunday Night Football, which is littered with playoff implications—both in the fantasy and actual sense.
Chicago is a major player in the NFC North as it attempts to fend off the likes of Green Bay and Detroit. It is must-win mode for the Bears, as the team dropped both contests to the Lions this season.
The same goes for Philadelphia, a team with an advantage in the NFC East, but a loss to Dallas earlier in the season paired with a season-ending bout against the Cowboys next week makes this a must-win game.
So yes, this game is going to get wild between two first-year head coaches with innovative offenses (hence why it was flexed). Cris Collinsworth of the NBC broadcast concurs:
Eagles Bears game has more explosive play potential than any game we have done this year on both offense and defense.

— Cris Collinsworth (@CollinsworthNBC) December 18, 2013
Suffice to say, all fantasy participants will be in top form with real playoffs on the line.
Note: All fantasy scoring info courtesy of ESPN standard leagues. Points-against info courtesy of ESPN.
Fantasy Stars
Eagles: LeSean McCoy
To the naked eye, Philadelphia star running back LeSean McCoy had a down week in Week 15 against the Minnesota Vikings with just eight carries for 38 yards and a grand total of nine points—the first time he failed to reach double-digit points since Week 8.
But McCoy was merely a decoy the entire game during a shocking upset where his team was down early.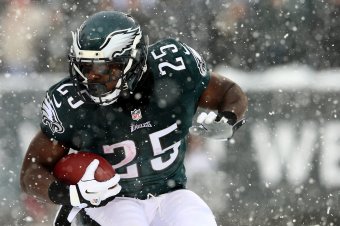 Elsa/Getty Images
That will not be the case against the Bears. In fact, it could turn out to be Shady's best game of the season despite his 33 points two games ago.
Why? Because the Bears cannot defend the run. They rank dead last with an average of 152.4 yards allowed per game. The unit is fourth-worst against running backs with an average of 20.6 points allowed.
McCoy is in for a gargantuan performance, especially if both teams choose to keep it on the ground should the weather be unkind to the aerial game.
Bears: Jay Cutler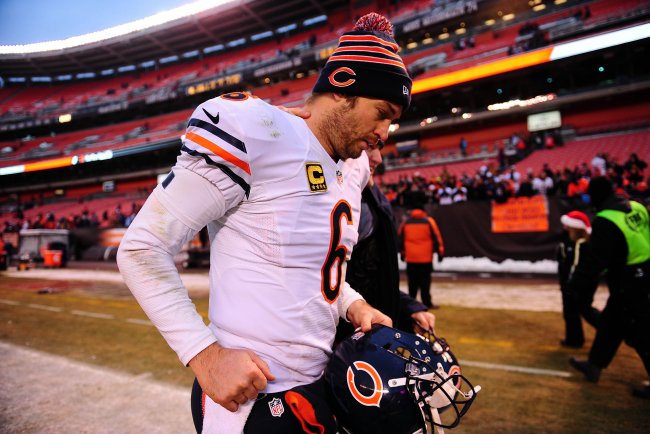 Andrew Weber-USA TODAY Sports
The naked eye can be deceitful when it comes to Jay Cutler, too.
Chicago's quarterback returned in Week 15 against the Cleveland Browns (owner of a top-10 pass defense) and was a borderline top-10 scorer with 19 points thanks to his 265 yards and three touchdowns.
Cutler has to pass the trust test with owners first. He sounds as if he escaped the game relatively healthy, per a quote from Rich Campbell of the Chicago Tribune:
Bears QB Jay Cutler (left ankle) said he emerged from the game in good physical condition. He was cleated once, but that was it.

— Rich Campbell (@Rich_Campbell) December 15, 2013
It helps the matchup is so sexy Sunday night. Philadelphia ranks second to last against the pass this year, and it allows an average of 17.9 points to quarterbacks—five teams allow more.
Eagles defensive coordinator Bill Davis has been vocal in his fear of the damage Cutler can do, per the Eagles' website:
Chicago might be one of the most talented offenses we face…The quarterback (Cutler) can make all the throws and you can tell he understands this offense because his eyes are downfield and he's getting the ball where it needs to be. This is, overall, probably our biggest test."
Quarterback is a tough nut to crack in 2013, but Cutler is a surefire star this week when owners need him most. With a great matchup and stellar weapons such as receivers Alshon Jeffery and Brandon Marshall, a big day is a given.
Playoff Implications
Eagles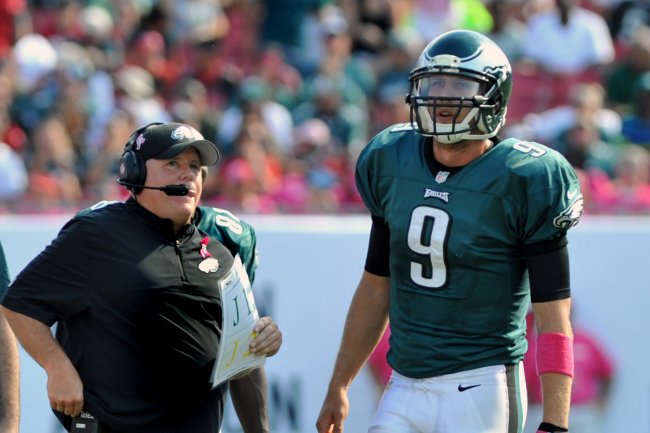 Al Messerschmidt/Getty Images
As expected this time of year, things are wildly entertaining. Philadelphia enters Sunday night armed with the knowledge that the NFC East is up for grabs next week against Dallas.
Why? Because the Cowboys scored a touchdown with 1:08 remaining earlier Sunday to defeat the Washington Redskins by one point.
Regardless, head coach Chip Kelly has never had any intention of resting his starters, per Jeff McLane of The Philadelphia Inquirer:
Chip Kelly said he wouldn't rest starters tonight against the Bears if the Cowboys won when I asked him Monday. Still can play for seeding.

— Jeff McLane (@Jeff_McLane) December 22, 2013
Smart move by Kelly, because the Eagles have but a small grasp on the No. 3 seed, not that it means much in the stacked NFC, where the two wild cards are San Francisco and New Orleans after Week 16's early games.
Alas, the Eagles have plenty to play for, especially against an opponent they could meet in the postseason.
Bears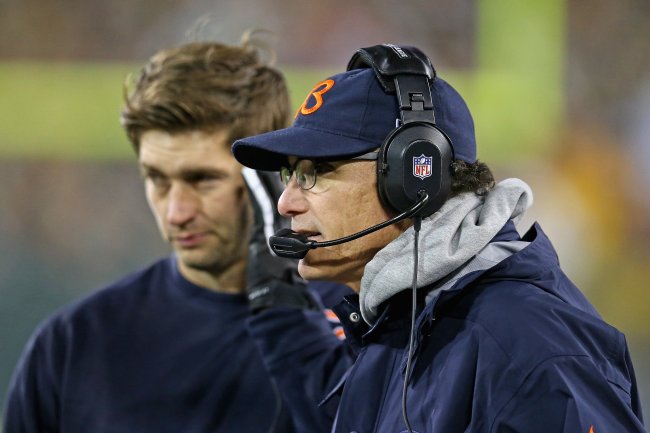 Jonathan Daniel/Getty Images
Despite being under .500 and without its starting quarterback seemingly a few weeks ago, Chicago has done well to scratch back into playoff contention.
The meaning of this game for the Bears is murkier before kickoff. Both the Packers and Lions play in late games before the Bears kickoff, and both have to lose in order for Chicago to win the NFC North.
If Detroit is the only team of the two to lose, Chicago will welcome Green Bay to Soldier Field in Week 17 in a matchup that is suddenly the NFC North title game.
Got all that? Apparently coach Marc Trestman does, because he has hinted he will rest his starters depending on the early results, per Zach Zaidman of CBS 2 Chicago:
Marc Trestman left the door open today to potentially rest some players on Sunday night depending on GB and DET results.

— Zach Zaidman (@ZachZaidman) December 19, 2013
Don't count on it.
These two control their own destinies as it pertains to the No. 3 seed in the conference. Chicago especially understands the importance after the obstacles it has overcome this year.
Expect both to be at their best under the national spotlight.