When it comes to Giovani Bernard, I'm convinced the figurative "bandwagon" should definitely be called the "Gio Metro."
And folks, let me tell ya: It's time to hop aboard the Gio Metro before it's too late.
The electric rookie out of North Carolina is seemingly getting better every week, and that culminated with 21 touches (15 rushes, six receptions) for 100 total yards (28 rushing, 72 receiving) and a jaw-dropping display of elusiveness and strength for a touchdown on Sunday:
Bernard's fantasy value is tied to BenJarvus Green-Ellis' usage, and on one hand, that makes him far less appealing: The "Law Firm" has tallied 37 carries over the last two weeks, which puts the duo almost dead even for touches (36 for Bernard). Moreover, the season has been a similar story, with Green-Ellis tallying 91 and Bernard getting just 80.
But if you look beyond the overall numbers, you'll see that Bernard is getting involved more each week. His carries (with total touches in parenthesis) have progressed week by week as follows: 4(5), 8(9), 10(14), 10(16), 13(15), 15(21).
His carries have increased each week, and in PPR leagues, he has been an absolute gem for the past month, racking up 18 catches over the past four games.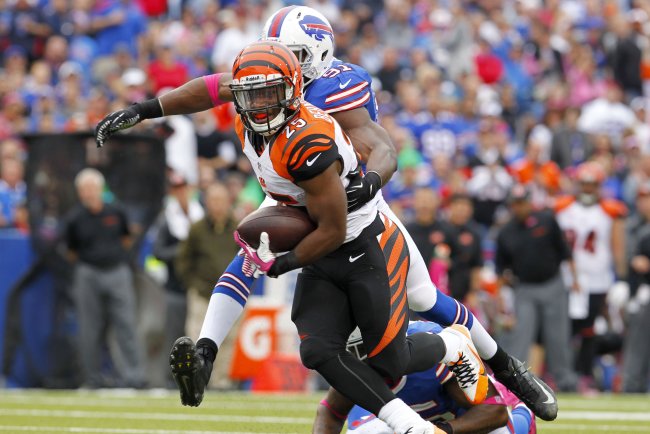 Timothy T. Ludwig-USA TODAY Spor
The trend should only continue.
On the season, Green-Ellis is averaging 3.3 yards per carry; Bernard is averaging 4.0. Green-Ellis has two catches for nine yards; Bernard has 20 for 201. Green-Ellis is better served for short-yardage situations; Bernard is a playmaker with dazzling speed and explosiveness who should be utilized as much as physically possible.
Where will Giovani Bernard rank among RBs by the end of the season?
Where will Giovani Bernard rank among RBs by the end of the season?
Top Five

6-10

11-15

16-20

21-25

Outside the Top 25
Right now, Bernard is locked into at least 15 touches per game, with a boost in PPR leagues. But as the season progresses, he should approach the 20-range with ease.
With his skill set and versatility, that kind of consistent workload gives him the potential to become a high-end RB2, while his current trade value is likely somewhere significantly below that at the moment.
Get your offers in soon, though. This 1991 Gio Metro will soon be untouchable.