Forget about Demaryius Thomas and Eric Decker—the Denver Broncos wide receiver you should have started for your fantasy football playoff matchup in Week 15 was Andre Caldwell.
Bleacher Report's Alessandro Miglio tweeted what we were all thinking after Caldwell caught his second touchdown pass of the night against the San Diego Chargers:
Andre Caldwell was the Denver receiver we should have started tonight. TO THE TIME MACHINE.

— Alessandro Miglio (@AlexMiglio) December 13, 2013
Caldwell finished the game with six catches for 59 yards and two touchdowns, earning 17 fantasy points (ESPN.com standard scoring) during Denver's 27-20 loss.
As NFL Network's Rich Eisen noted, the receiver did a nice job imitating Wes Welker, who was out of the game with a concussion, which he suffered in Week 14 against the Tennessee Titans:
Andre Caldwell doing a quality Wes Welker imitation. We have a ballgame for our TNF finale.

— Rich Eisen (@richeisen) December 13, 2013
With his observation, Eisen may have inadvertently pointed to the exact reason why you shouldn't be so eager to start Caldwell in Week 16, however.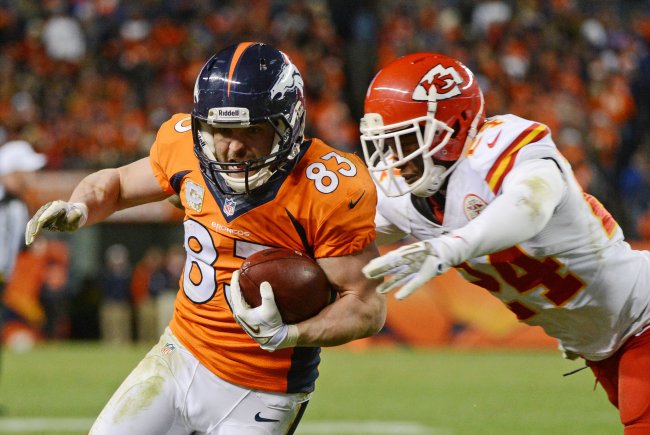 Kyle Terada-USA TODAY Sports
Welker didn't have a real chance to play against the Chargers, having suffered a concussion just four days before the contest. However, as long as he passes his tests before Week 16's contest against the Houston Texans, Welker will be back in the starting lineup.
Will Caldwell catch another touchdown pass in 2013?
Will Caldwell catch another touchdown pass in 2013?
And with Welker back, that means Caldwell will go back to the sideline, where he's spent most of the 2013 season. Before Thursday night's game, he'd caught just five passes all year long.
If Caldwell is available on the waiver wire, then it would be a smart idea to snatch him up in case Welker can't play in Week 16. That said, with Thomas, Decker and tight end Julius Thomas running the field, there's no guarantee he'll see many passes come his way.
Follow me on Twitter @JesseReed78