Chicago Bears quarterback Jay Cutler had another stellar outing on Thursday night, throwing for 262 yards and two touchdowns as the Bears defeated the hapless New York Giants, 27-21, at Soldier Field.
While that's all well and good for Da Fans, it seems Cutler forgot about one sect of the community: Alshon Jeffery fantasy owners.
The second-year receiver made only one catch for 27 yards and had a 15-yard run on an end around. After two straight weeks of being among the highest-scoring players at his position, those who scampered to the waiver wire were left with an ear-wax taste in their mouth. Jeffery scored a meager four points in non-fractional scoring and will only manage a five spot in PPR formats.
For someone who came into Week 6 being started in 69 percent of Yahoo! leagues, well, umm, yikes. That's an awful lot of production that's going to need made up from the rest of your roster. But bad performances—and I mean "bad" from a fantasy perspective, I thought Jeffery played quite well in the stuff that actually matters—happen in fantasy football, even to great players.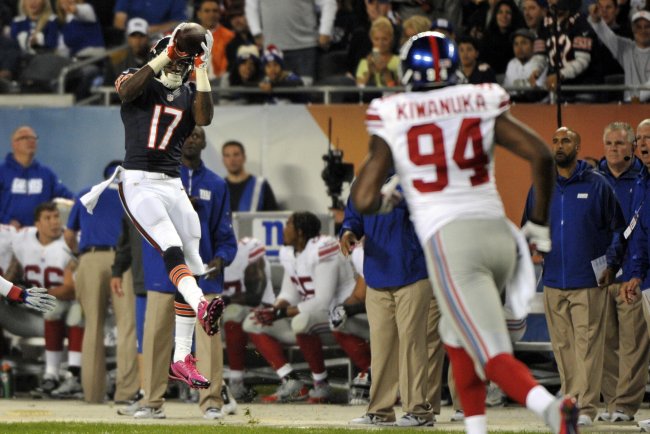 Rob Grabowski-USA TODAY Sports
What we have to ask going forward is which Jeffery is going to show up. He's twice now had games where he finished with one reception, equaling the number of times he's gone into double digits. Twice he's finished in the gooey middle, wherein Week 1 he had five catches for 42 yards and in Week 3 he had seven receptions for 51 yards.
No matter how depleted the Giants secondary has become and how wayward their momentum, expecting Jeffery to push franchise records in back-to-back weeks would be asinine. But did the fantasy community get a little too ahead of itself in anointing Jeffery an every-week start?
Probably.
Cutler is spreading the ball around far more than he did a season ago, but Jeffery is unequivocally the second banana in the passing hierarchy. Brandon Marshall was the recipient of both Cutler touchdowns on Thursday night, finishing with nine receptions for 87 yards.
While there was probably some gentle elbow-nudging of the offense in Marshall's direction after he expressed frustration with his lack of involvement, the reality is that the Cutler-Marshall relationship is impenetrable.
Jonathan Daniel/Getty Images
Cutler and Marshall are the Ross and Rachel of mopey, uber-talented receiver-quarterback combos. The world can try to keep them apart, but somehow they'll always find each other for more than 100 receptions and 1,200 yards every season. Not even Marc Trestman, whose changes to the offense have worked gangbusters, can prevent that.
Which, of course, leaves Jeffery competing for targets in an offense that's suddenly got a decent array of skill-position talent. Matt Forte is one of the league's best pass-catching backs, and Martellus Bennett has gone for at least 49 yards in five of six games this season. Forte and Bennett both had six catches against the Giants and were targeted more often.
There isn't much we have at our disposal pointing to a full-fledged changing of the guard. Marshall (58) and Jeffery (50) are far closer in terms of targets than anyone expected, but Bennett (45) and Forte (38) aren't too terribly far behind.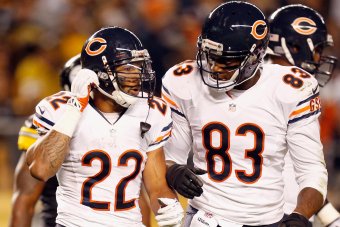 Gregory Shamus/Getty Images
Cutler prefers pushing the ball down the field to Jeffery, which should net him some big plays going forward, but many of his targets are thus going to be low-percentage looks.
Cutler tried a few times down the field to Jeffery, who was open at least twice, only to miss the mark. Now, keep in mind that Cutler has thrown for more than 300 yards just twice thus far—a piddly total in today's NFL—and that Trestman has obviously made a concerted effort to keep mistakes to a minimum.
Heading into Week 6, Jeffery was the eighth-ranked receiver in all of fantasy football. Nearly half of his total fantasy points came from that spectacular Week 5 outing against New Orleans. Take away all the spectacular real-life football things you see Jeffery do every week. Subtract that, and is anyone ready to trust a No. 2 receiver in a (somewhat) conservative offense whose value is based off one outing?
Where do you think Alshon Jeffery ranks among fantasy receivers?
Where do you think Alshon Jeffery ranks among fantasy receivers?
Top 10

Top 20

Top 30

Outside Top 40
Well, you shouldn't be. At least not as a WR1 or even weekly WR2 in 10 or 12-team formats. Nearly all leagues use flex positions nowadays, so distinctions between "flex play" and WR1 or WR2 don't make a damn bit of difference come Sunday, but it does when you're in trade discussions with other owners.
Jeffery's back-to-back massive games made him a classic "sell high" candidate coming into Thursday, but the logistics of pulling off a trade in shortened weeks is always difficult. He's probably more properly valued now in the swivel-headed fantasy world—as a guy who could win your league one week and then help contribute to your fall the next.
But if there's the enterprising sort who would offer someone like Darren Sproles in return for Jeffery, it's something worth jumping on. Sproles gets value in the most unorthodox of ways, but he's a weekly eight or nine points. Jeffery is far more likely to go off for another 25-point game, but we saw Thursday the pitfalls of starting him on a weekly basis.
In other words: If Alshon Jeffery is barely the second target on his team, perhaps he shouldn't be the second receiver on yours.
Follow Tyler Conway on Twitter: