Forget that Minnesota Vikings running back Adrian Peterson was average last week against Carolina. Forget that he's battled injury woes all week. Finally, don't negatively read into the fact the Vikings are starting a new quarterback on Monday who only joined the team two weeks ago.
Peterson is about to go off on Monday Night Football. Owners would be wise to not miss out.
That miserable performance against Carolina last week? It came against the NFL's No. 3 overall defense, and 62 yards on just 10 carries is not something to be concerned about.
As far as the injuries go? As Ralph Vacchiano of the New York Daily News points out, Peterson is good to go after battling a hamstring issue all week:
RB Adrian Peterson (hamstring) is probable for the Vikings. #NYG

— Ralph Vacchiano (@RVacchianoNYDN) October 19, 2013
As if Peterson would miss a game over a minor injury, anyway. While quarterback Josh Freeman has officially been named the starter, per NFL Around the League's Gregg Rosenthal, that does nothing but ensure Peterson will see 20 or more carries on Monday.
Oh, and Peterson is pretty good on Monday Night Football as the Vikings' Twitter account illustrates:
FOR THE RECORD- @AdrianPeterson enters Monday's game with 527 career yards in 7 games on MNF. http://t.co/4WL6RqtT2f pic.twitter.com/0K8jEDl6oE

— Minnesota Vikings (@Vikings) October 19, 2013
All of the above seems great, but let's not forget the New York Giants have yet to win a game in six attempts, in large part thanks to a defense that ranks in the bottom 10 of the league against the run as it gives up 123.3 rushing yards per game.
So yes, erase any doubts about Peterson and the taxing two weeks he has had—Peterson is a must-start.
Perhaps the biggest point is the presence of Freeman under center. While Freeman is by no means a superstar, considering he completed less than 46 percent of his passes in three games this year (which shouldn't even count in the circus known as Tampa Bay), he's still a massive upgrade over the pathetic duo of Christian Ponder and Matt Cassel.
Where defenses could go all out in stopping Peterson with the other quarterbacks under center, Freeman actually has a shot of hitting Greg Jennings, Jerome Simpson and Kyle Rudolph consistently enough downfield that Peterson will see perhaps his biggest running lanes since the Brett Favre days.
Despite the presence of the aforementioned duo holding him back, Peterson has managed to remain a top fantasy scorer at the position thanks to his 483 yards and five touchdowns.
Not only is the New York defense realistically horrific against the rush, the unit surrenders an average of 18.40 points to fantasy backs per game. As we are all fully aware, Peterson is what can be classified as an outlier—he'll reach that number with ease.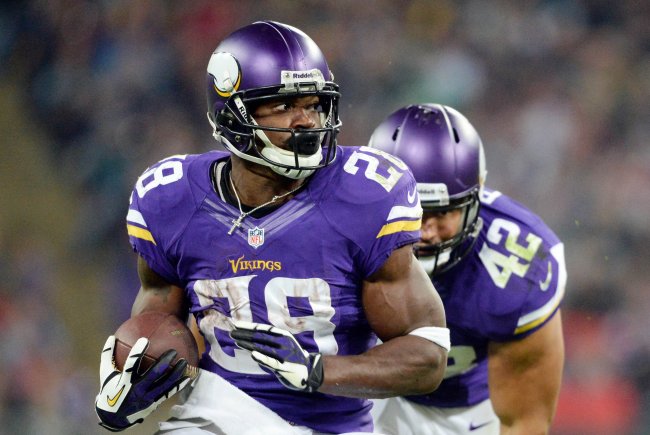 Bob Martin-USA TODAY Sports
New York has allowed every starting back it has faced to go for a minimum of 65 yards. The lone exception is LeSean McCoy of Philadelphia, but the Giants decided to let quarterback Michael Vick torch them for over 65 instead.
With an extra day of rest to nurse any issues, a new and somewhat respectable quarterback under center and a defense that may as well have a sign stapled to its forehead that reads "run it down our throats," it's safe to say Peterson is a lock in all starting lineups this week.
Any owner who finds an excuse to sit Peterson simple does not have his or her team's best interests at heart.
Follow B/R's Chris Roling on Twitter for more news and analysis @Chris_Roling