Monday night's showdown between the San Francisco 49ers and Washington Redskins will provide fantasy football owners one last opportunity to shine in Week 12.
For Colin Kaepernick, Frank Gore and Vernon Davis owners, Monday's matchup is an exciting one as Washington's defense has struggled mightily all season long. Although San Francisco's defense will present a number of challenges for Robert Griffin III, Alfred Morris and the rest of the Redskins' fantasy stars, the potential for a big performance is always there in the NFL.
With kickoff right around the corner, here I'll project the final stat line for each of the top stars set to take the field in Monday night's prime-time matchup.
49ers vs. Redskins Fantasy Projections

| | |
| --- | --- |
| Robert Griffin III, QB | 20/35, 235 YDS, 1 TD, 1 INT, 5 RUSH, 20 YDS |
| Colin Kaepernick, QB | 16/23, 200 YDS, 2 TDS, 7 RUSH, 50 YDS |
| Frank Gore, RB | 22 RUSH, 105 YDS, 2 TDS, 2 REC, 17 YDS |
| Pierre Garcon, WR | 7 REC, 90 YDS, 1 TD |
| Alfred Morris, RB | 18 RUSH, 80 YDS, 1 TD, 2 REC, 10 YDS |
| Vernon Davis, TE | 5 REC, 60 YDS, 1 TD |
—
Robert Griffin III, Washington Redskins, QB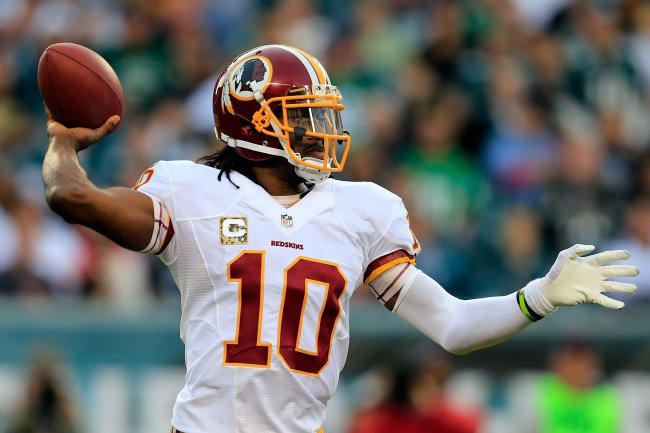 Rob Carr/Getty Images
Look for Robert Griffin III to struggle on Monday night against what has been an impressive San Francisco defense to this point in the season.
Only four defenses have been stingier against opposing quarterbacks than the Niners' this year, and that doesn't bode well for RG3. San Francisco is allowing just over 13 fantasy points per week to opposing passers and only Carolina and Tennessee have surrendered fewer passing touchdowns.
When you add in the fact that Griffin is completing just 59.7 percent of his passes and averaging one interception per game, it becomes even more clear that he's poised to struggle this week.
Week 12 Projection: 20/35, 235 YDS, 1 TD, 1 INT, 5 RUSH, 20 YDS
Frank Gore, San Francisco 49ers, RB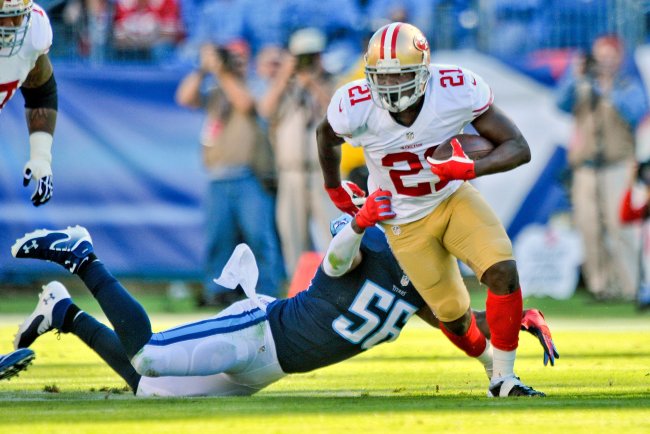 Jim Brown-USA TODAY Sports
While RG3 is set to struggle against the Niners' stout defense on Monday night, San Francisco's Frank Gore should be able to turn out one of his better performances this season.
It's definitely not crazy to project Gore to surpass the 100-yard mark for the first time since Week 6. After all, Washington has given up the second-most fantasy points to opposing running backs this season, allowing them to pick up 96 rushing yards and 51.5 receiving yards on average.
On top of that, Washington's defense has surrendered 14 total touchdowns to opposing backs in 10 games.
If Gore can touch the ball 20-25 times Monday, he's sure to finish with more than 100 yards and a pair of scores.
Week 12 Projection: 22 RUSH, 105 YDS, 2 TDS, 2 REC, 17 YDS
Alfred Morris, Washington Redskins, RB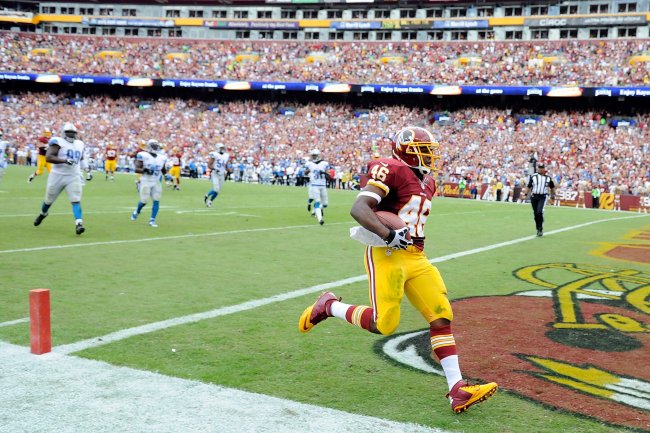 Greg Fiume/Getty Images
Fortunately for the Redskins, Alfred Morris has been running hard and San Francisco's defense has been somewhat vulnerable against opposing running backs this season. The Niners rank 21st in the NFL in fewest fantasy points allowed to opposing backs in 2013.
NFL RB Leaders: (Rushing yards)
1 LeSean McCoy 1,009
2 Marshawn Lynch 925
3 Alfred Morris 918
4 Adrian Peterson 851
5 Jamaal Charles 803

— NFL on ESPN (@ESPNNFL) November 23, 2013
But keep in mind that the San Francisco defense is allowing almost five fewer points to opposing backs than Washington's defense. Therefore, don't expect Morris to have quite as much success as Gore on the ground.
Fantasy owners can be encouraged by Morris' consistency this season as he's rushed for at least 81 yards in every game since Week 6. If there's a concern, though, it's that Morris hasn't scored more than one touchdown in a single game this year after doing so three times as a rookie in 2012.
Week 12 Projection: 18 RUSH, 80 YDS, 1 TD, 2 REC, 10 YDS
Follow Bleacher Report Featured Columnist Patrick Clarke on Twitter.