Matchup analysis is just as important as the initial draft itself in fantasy football. What good would it do owners who craft an amazing team but struggle to know when to play the right lineup?
Nada. As is the case any week, Week 5 is chock-full of matchups that will either sink or elevate fantasy teams based on the skill of the owner making the decisions.
It can feel like walking through a minefield when it comes time to select which matchups to roll with, but we're here to help.
Below are three matchups simply too risky to flirt with this week. Enjoy.
Tennessee RB Chris Johnson vs. Kansas City
First of all, Chris Johnson does not like fantasy owners very much:
Public service announcement: I can care less about fantasy football. Key word fantasy. As long as we win I'm … http://t.co/8mu7lqgOag

— Chris Johnson (@ChrisJohnson28) September 30, 2013
U r the head coach n the owner of ur fantasy team so u should be mad at urself I didn't ask any of u to draft … http://t.co/kIDXyMPvo3

— Chris Johnson (@ChrisJohnson28) September 30, 2013
Then again, he has a point. The mini tirade via social media came after Johnson rushed for just 21 yards on 15 carries against the New York Jets last week.
On the season, CJ?K is averaging just 3.3 yards per carry and has yet to tally a 100-yard game. He hardly runs pass routes and does not see goal-line carries anymore, so this dip in production was not exactly hard to see coming.
Week 5 sees Johnson go up against Kansas City, owner of the No. 7 overall ranked defense and a top-two unit against the pass. With Ryan Fitzpatrick the starter the Chiefs will be able to load the box and shut down Johnson in a big way.
Avoid at all costs.
Chicago QB Jay Cutler vs. New Orleans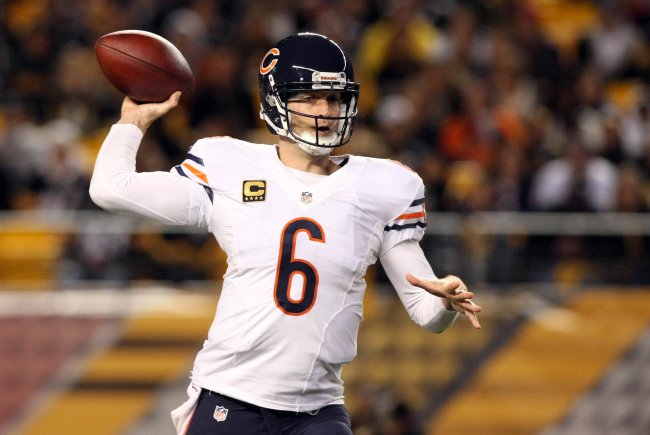 Jason Bridge-USA TODAY Sports
Before the season it would have been easy to chalk this matchup up as a must-start for Chicago Bears quarterback Jay Cutler, but New Orleans has turned out to have a much better defense than anticipated thanks to Rob Ryan.
New Orleans has already sacked quarterbacks 12 times this year and Cutler happens to play behind a line that has a minus-17.6 grade for pass blocking, according to Pro Football Focus (subscription required).
LM: #Bears QB Jay Cutler says Saints defense presents a lot of challenges and is a different group under DC Rob Ryan.

— Chicago Bears (@ChicagoBears) October 3, 2013
It's not as if Cutler has been amazing to this point anyway. He has only thrown for over 300 yards once in four attempts with eight touchdowns, six interceptions and two lost fumbles.
While the Chicago offense has been better thanks to new head coach Marc Trestman, Cutler is still not a reliable fantasy starter. That is especially the case against a rejuvenated Saints defense capable of applying consistent pressure on quarterbacks.
Indianapolis RB Trent Richardson vs. Seattle Seahawks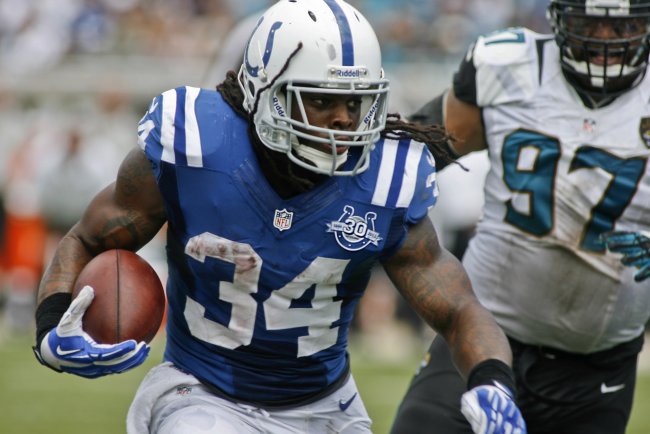 Phil Sears-USA TODAY Sports
While a big name courtesy of his trade to a better team, Trent Richardson has done little during his first two games as a member of the Indianapolis Colts.
In those two games, Richardson has spent his time learning the new offense and the tendencies of the blockers in front of him while rushing for just 95 yards and two touchdowns, both of which came in short-yardage situations.
Is Trent Richardson worth a start this week?
Is Trent Richardson worth a start this week?
As Stephen Holder of the Indianapolis Star points out, Richardson is now the starter with Ahmad Bradshaw missing time with an injury, and the coaching staff is not concerned with his lack of production to this point.
It's fine the coaching staff has no worries, but fantasy owners should this week. At some point Richardson will be a smart play, but he's most certainly not while still new to the system and tasked with going against a stout Seattle defense that gives up just over 100 yards per game on the ground.
This would be different if Richardson had been with the team for eight games, but at this point in the development process, Richardson needs to be avoided.
Follow B/R's Chris Roling on Twitter for more news and analysis @Chris_Roling